People would come in their millions to Peru to see the exquisite citadel, high up at 2,430m in the Andes, only discovered under the jungle in 1911 by American historian Hiram Bingham. And yet, thankfully, they canít all cram into the sacred masterpiece, where giant granite temples, ancient agricultural terraces, sacred stones and sundial, were all cut from the rock, with not one bit of mortar used to piece it all together. Because UNESCO takes its commitment to heritage very seriously, threatening to remove this iconic 15th century Andean arcadia from its World Heritage Status list, if it didnít start managing the crowds. Consequently, in 2011, the government limited visitors to 2,500 per day. Entrepreneurs have sought to build hotels, bridges, cable cars and offer fly pasts Ė all rejected. So, if you want to see the jewel, join the queue for the train or the trails like everyone else. You wonít regret it.
See our Machu Picchu travel guide for more details.

Machu Picchu map & highlights
---
MAKE THE MOST OF YOUR TIME
Part of the mystery of Machu Picchu is getting your head around the ins and outs of the journey. Which is why booking your Machu Picchu holiday with an expert tour operator will help piece it all together. Beautifully, neatly and without any use of mortar. Taking the train from Cuzco to Machu Picchu is a magnificent way to see the Andes, or if you want to trek in the footsteps of Incas, literally climbing the stones they laid as pathways to their heaven, the Inca Trail is the iconic route to take. Permits are limited to 500 per day, so book early. What arenít limited are the views of the Andes, and in particular Huayna Picchu, pointing upwards like a proud protector of this Incan wonder.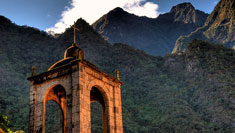 Aguas Calientes
Aka Machu Picchu Pueblo, this final stop before Machu Picchu is a very hot one. Not only in terms of its thermal springs, but also because of the crowds staying here to start their ascent to Machu Picchu, 1.5 hoursí trek away (30 mins by bus) at dawn. With plenty of restaurants, the Machu Picchu Museum and Quechua craft stalls, you can also hike to Putucusi Peak, with virtuosic views of Machu Picchu.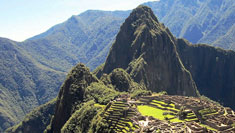 Huayna Picchu
It is always worth escaping the crowds to see Machu Picchu from afar, and although this "young peak", aka Wayna Picchu, is almost as iconic as the ruins, shadowing every selfie, fewer people climb it. Partly thanks to number restrictions, at 400 people per day, but also vertigo; this veritably vertiginous two-hour trail juts up to 360m higher than Machu Picchu, requiring the use of ropes, rope bridges and total resolution.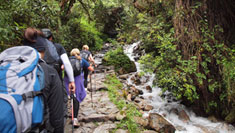 Inca Trail
The iconic trek through Andean arcadia, following Inca-laid stone paths. Strictly regulated, with 500 trekking permits per day, including porters and guides, this books out months in advance. The 3-4 day hike at high altitude passes traditional Quechua villages, through alpine tundra and cloud forests, camping en route. Alternative and equally dramatic routes, with no permit caps, are Salkantay and Lares.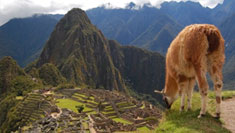 Machu Picchu main site
The 15th century Incan citadel is an archeological arcadia, stretching over 13km2. Astounding even staunch historyphobes Ė if not for the the Sacred Solar Clock, the Temple of the Sun, the Royal Quarters or the Temple of the Three Windows, then for the setting alone. Perched on a 2,430m peak in the Andes above the Urubamba River valley, it always begs the question Ė how the hell did they do that?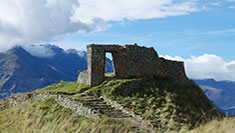 The Sun Gate
The point of entry for hikers who have climbed up along the Inca Trail. The real name is Inti Punku in Quechua, dedicated to the sun god, Inti. Once a fortress for the citadel, with views beyond the beyond, trekkers rush here for sunrise. But in fact, it is often misty at dawn, so consider chilling and avoiding the crowds. Daytrippers hike out to it for the views, about an hour from the citadel.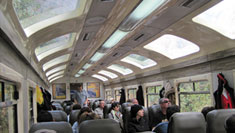 Train to Machu Picchu
The train from Cuzco, 3.5hrs through Andean foothills, Urubamba River and Sacred Valleys, terminates at Aguas Calientes, where you hike for 1.5 hours or take a shuttle to Machu Picchu. Perfect for tailor made holidays, choose the budget Expedition train, Vistadome or Hiram Bingham. The latter two have panoramic views (Bingham being the big bucks bubbly en route package). Best views are from LHS going up and RHS coming down.

Hello.
If you'd like to chat about Machu Picchu or need help finding a holiday to suit you we're very happy to help.
Rosy & team.
01273 823 700