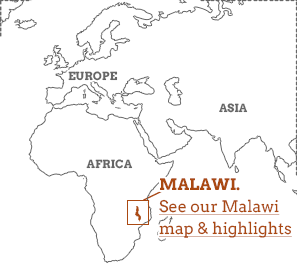 Diminutive Malawi is actually one of Southern Africa's least visited countries, with many travellers favouring better known safari destinations such as Zambia and Botswana, but to visit this landlocked region is to get an everlasting impression of Africa's diversity. There is just so much there to fill the time of the intrepid traveller. Wildlife abounds – you'll spot hippos, crocodiles, black rhinos and even lions and leopard, thanks to recent reintroduction programmes; it's also a twitcher's utopia with over 400 species of bird recorded.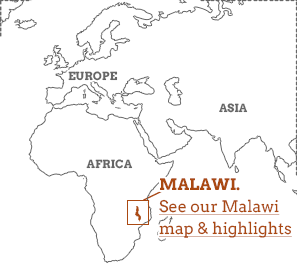 Malawi's strength is in its diversity: you can scramble up misty mountain peaks one day, glide down a hippo-filled river the next and finish off with some snorkelling off a near-deserted, palm-lined beach.

And what of the phenomenal landscape upon which this wildlife lives? On the one hand there are looming mountains and wild forests ripe for trekking, and on the other Lake Malawi, the country's very own sparkling inland sea fringed with golden beach and lapped at by luminescent waters. Not only that, but the country is safe, friendly and reasonably easy to negotiate, making it just as rewarding for self drivers as those on small group tours.
Malawi is...
varied, beautiful and full of opportunities for adventure.
Malawi isn't...
frenetic and full on. Pack your patience and take your time.
What we rate and what we don't
Community visits
Community tourism is less well developed in Malawi than in, say, Kenya, but if you get the chance to visit a village and meet local people, grab it. Such trips are usually very relaxed and unstaged, providing the opportunity to chat, learn how to pound maize, eat and drink some local food with villagers and get a glimpse of life as a rural Malawian.
Dzalanyama Forest Reserve
Incorporating the steep sided hills that form the border between Malawi and Mozambique, the Dzalanyama Forest Reserve is a peach of a place for hiking, surrounded by butterflies and birds that love the miombo woodland here. There are lots of walking trails, from easy to strenuous, and you can cool off in natural pools and streams. If you fancy staying overnight, there's a pretty forest lodge set amongst the trees.
Nyika National Park
Nyika National Park's location in northern Malawi means it doesn't make it onto most itineraries, which typically focus on the south. A shame, because its rolling grasslands, pristine miombo woodland and clear streams are particularly beautiful. Sitting at over 2,500m Nyika enjoys a permanently temperate climate, too, unlike the shores of Lake Malawi. Look out for Crawshay's zebra, roan antelope, mountain reedbuck, leopard, hyena and serval, plus over 425 species of bird.
Self drive holidays
Malawi's a great destination for a self drive holiday, its small size keeping journey times down. Set off with a carefully designed self drive itinerary that includes maps, plus all accommodation and activities booked for you. Malawi has good roads and driving here is pretty straightforward, so you can putter between national parks and Lake Malawi, stopping at roadside markets or viewpoints when you like.
Lake Malawi
One of the Great Rift Valley lakes, beautiful Lake Malawi lies at the heart of a national park of the same name, one of Africa's few freshwater aquatic parks and a UNESCO World Heritage Site. A perfect place to wind down, stay on its shores or islands to snorkel, kayak and swim, spotting the lake's endemic and colourful cichlid fish, or take a boat cruise to its remote bays and coves.
Lilongwe Wildlife Centre
Slap bang in the middle of Malawi's capital, Lilongwe Wildlife Centre is the country's only wildlife sanctuary. It welcomes volunteers on its rescue and rehabilitation programmes, to help with animal husbandry, orphan care, wildlife rehabilitation, vet clinic support and observations. There's often the chance to spend a day or so visiting local schools and communities, too, with education and outreach teams.
Liwonde National Park
Liwonde National Park, on the Shire River, is Malawi's best known game park, delivering gorgeous scenery and a stellar cast of creatures: elephant, sable, waterbuck and reedbuck, as well as zebra, eland, hippo and buffalo. Game drives and boat trips take you close to the animals, and a guided walking safari brings smaller animals and plants into focus, and provides a truly immersive, intimate experience.
Wildlife
Malawi may not have a big reputation as a safari destination, like neighbouring Zambia, but it's home to exciting, exotic wildlife, from elephants and hippos in Liwonde, zebra, leopard and hyena in Nyika. Impressive conservation work has seen the reintroduction of black rhino to Liwonde and lions were reintroduced to Majete Wildlife Reserve in 2012, with two translocated to Liwonde in 2018 after Majete's population grew so successfully.
Domestic flights
Though some tailor made trips weave an itinerary together around numerous short internal flights, Malawi is easy to enjoy by road, which helps keep your holiday carbon emissions in check. Unlike in many African countries, Malawi's roads are tarmacked so although drive times can be longish and you may be delayed by cattle wandering into the road, driving here is straightforward and enjoyable.
Lilongwe
Malawi's capital is a tad underwhelming, with no discernible city centre but instead, hubs of buildings linked by roads through scrubby bush. The Malawian parliament is based here, and there are lots of government buildings, but the city lacks the character and charm of Blantyre and although still relatively safe compared to many of Africa's other capitals, it's perhaps the edgiest place in this peaceful country.
'The warm heart of Africa'
This description of Malawi is routinely trotted out and while there's certainly no denying that Malawians are friendly people, overselling the 'warm heart' bit does risk tarring every member of the population with the same lazy and patronising 'happy natives' brush. Expect a warm welcome but do spend time getting to know local people on village visits, to learn more about the lives behind the smiles.
Trophy hunting
Trophy hunting is not legal in Malawi and recently the country has gained a reputation internationally as a wildlife tourism destination, having made huge strides in conservation. But as recently as December 2018, the government debated introducing trophy hunting inside Malawi's protected areas. Happily, this was rejected, with the threat of illegal activity and damage to Malawi's 'warm heart' reputation cited. Long may the ban hold.
If you'd like to chat about Malawi or need help finding a holiday to suit you we're very happy to help.

Eating & drinking
Nsima, Malawi's staple food, is made from ground corn. It's made into a thick porridge then rolled into balls. At its simplest, it's served with a 'relish' of beans, cabbage or tomato (great if you're veggie) but also comes with meat or fish. If you can stand the heat, add the local chili called kambuzi as a side.

Fish is a key part of the Malawian diet, caught in Lake Malawi. Chambo is a tasty tilapia fish from Lake Malawi, and usipa, a small sardine-like fish, typically air dried and eaten whole.

In the south, ngumbi is an African termite that's low in fat, high in lean protein and, allegedly, very tasty indeed.

Tea is grown in southern Malawi and you can take a tea tasting tour at Satemwa Tea estate, founded here in the 1920s.

Malawi is half the size of the UK and Lake Malawi takes up almost a third of the country.

People & language
The official languages of Malawi are English and Chichewa, a Bantu language spoken widely throughout southeast, southern and eastern Africa (it's the official language of Zimbabwe, too). The chewa are the largest ethnic group in Malawi. As with all languages, Chichewa continues to evolve, and there's some difference between the traditional Chichewa spoken in villages, and what's spoken in Malawi's cities.
"Moni" is hello. "Zikomo" is thank you.
"Muli bwanji?" is how are you? If you're fine say: "ndiri bwino."
Gifts & shopping
There's a long and respected tradition of wood carving in Malawi, and the best place to pick up some is at the Kungoni Centre of Culture and Art where students of carving come to sharpen their skills.

On Likoma Island, find beautiful and unique textiles, lighting and interior pieces made from locally sourced, recycled and natural materials by the women at the Katundu artisanal workshop. The workshop was set up with the aim of empowering women through artisanal training and a sustainable income.

Explorer David Livingstone nicknamed Lake Malawi 'the lake of stars' after seeing the lanterns of the myriad fishing boats on it at night.

How much does it cost?
Local beer in a bar: 80p
Nshima and relish in a local restaurant: £1
Large bunch of bananas: 60p
One mango or four tomatoes: 5p