Where to go on a Maldives small ship cruise
Maldives small ship cruises go in search not only of peace and quiet, pristine beaches and shimmering reef, but also real island life with community spirit that is worlds apart from the resort tourism that the Maldives have become famous for. They also seek out spectacular Maldives marine wildlife, although you don't need to do too much seeking, it has to be said. The Vaavu Atoll and South Ari Atolls are particular favourites for reef and whale sharks and Guraidhoo and Dhangethi are wonderful islands to visit for grassroots community experiences.
1. Dhangethi
This traditional fishing island is celebrated for boat building traditions, and dhoni boats bob on calm waters near the pier. It is an island where you can really enjoy community life, with its population of nearly 1,000, and a luscious green interior framed by the obligatory Maldivian white beaches. Just south is famous dive spot, Dhangethi Corner, a sloping reef teeming with bat fish, turtles, and white tip reef sharks.
2. Guraidhoo
One of the inhabited islands in the Kaafu Atoll, Guraidhoo only measures one kilometrs by one kilometres, yet it is home to over 1,800 people. It has a real local, traditional feel to it, and it is a popular stop off for small cruises because of its great surf and snorkelling spots. Reef snorkelling will proffer much magic, including box fish, porcupine and banner fish.
3. Madivaru
An idyllic island that is most famous for its nearby Rasdhoo dive site, and also a stunning lagoon which is just three metres deep, yet heaving with fish. Sandbanks attract birdlife and reefs are home to manta rays between February to April, and reef sharks, turtles and octopus bask here too. These sandbanks are wonderful for strolling out to from the main island, and make perfect, water enveloped picnic spots.
4. Maldivian culture
The joy of staying on a boat is that you get to dip in and out of different communities, rather than being limited to one private resort. Visit mosques, learn about fishing traditions and sample local curries or the national dish of garudhiya. One of the loveliest traditions is grilling fish on the beach, enjoying fine mocktails (alcohol is illegal for local people) and afternoon snack time known as hedika.
5. Vaavu Atoll
This atoll is made up of Felidhu Atoll and the Vattaru Reef, as well as the Fetteyo Kandu dive site, considered one of the best sites in the world. Grey reef sharks, jack and tuna occupy the nearby ocean mouth along with vast schools of red snapper, and there is plenty of coral and caves. The island itself has the obligatory white sands and aquamarine littoral loveliness.
Whale sharks & South Ari Atoll
6. Whale sharks & South Ari Atoll
Also known as Alifu Dhaalu Atoll, this is the land of luxurious, private beach 'huts' and designer beach wear. But for those on a wildlife cruise, the real celebrities are the year round population of whale sharks. This is the only place in the world with permanent residency of this stunning species. Consequently there are plenty of marine biology experts out there to lead you on marine safaris.


If you'd like to chat about Maldives cruising or need help finding a holiday to suit you we're very happy to help.

Cruising in the Maldives travel advice
Ruth Franklin at our Maldives small ship cruises supplier, Secret Paradise, reveals some of her secrets:
Activity tips
"Snorkelling, as you can imagine, features daily when cruising the waters of the Maldives and we often get asked 'Do I need to bring snorkel, mask and fins? We would advise to bring along your own mask and snorkel as this means you'll be assured your mask fits your face properly and is comfortable and less likely to have leakage. We find that peace of mind goes a long way. A mask and snorkel is small and light and should take up very little space in your suitcase. Fins, which are the cumbersome part, are available to hire or if you have booked a snorkelling tour with us will be included within the package. This means you won't have to try and find room for them in your bag and leaves you space for other essentials!"
"Experience the myriad colours of a Maldivian sunset from a sandbank or uninhabited island with only the sound of the waves and maybe a few birds for company."
Cultural tips
"Do visit a local island and experience the real Maldives. Discover culture and tradition and the warm hospitality of Maldivians."
Best time to visit
"With a tropical climate, plenty of sunshine and temperatures around 30°C throughout the year, there is never a bad time to visit the Maldives. However, for comfortable small boat cruising conditions we would advise to avoid the wet season (southwest monsoon) from mid-May to Mid September when winds are stronger and in-sheltered waters more choppy."
Food tips
"If you're looking for a culinary experience then I'd recommend Fuvahmulah or Thoddoo as they are agricultural islands that produce a lot of fruit and veg. Fuvahmulah also has a unique beach, Thundi, which is made up of tiny, tiny, pebbles that have been polished by the waves to give a beautiful shiny effect."
Packing tips
"You can pack very lightly when cruising the Maldives. There is no dress code and, most of the time, you will not even need shoes. Light weight, casual, non-synthetic clothing (cottons and natural fibres are best) which appropriately cover the body, when in company of the local communities. For snorkeling, a T Shirt or rash vest is advised as protection from the sun. Sunscreens, after sun lotions and personal hygiene products – Please adhere to 100ml restrictions for anything you wish to carry on hand-luggage on flights. Sunglasses and hats. And also an underwater camera – The Maldives below sea level is worth a few photos. Ear Plugs might be useful, particularly if you are a light sleeper or are on board a boat and want to avoid the sound of fellow passengers at close quarters!"
More Maldives cruising articles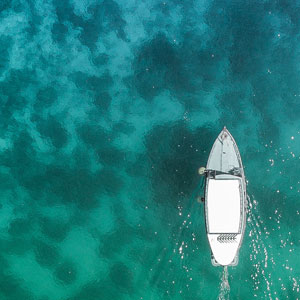 Sailing through these turquoise waters with a handful of other like minded water babies.
Take a traditional boat and a handful of inquisitive visitors and add hundreds of uninhabited islands.