The vast Philippines archipelago acts as gatekeeper between the Pacific and the South China Sea, sitting squarely on trading routes used by Chinese, Indians, Malaysians, Arabs, Austronesians and more, many of whom settled here throughout centuries. When the Philippines became part of the Spanish Empire in the 1600s, further links were established with the Americas. Catholicism dominated, cities and residents took on Spanish names and Filipino cuisine was given a Latino twist. Even its name, Filipinas, came from King Felipe II.

The Philippines' isolated location means it is ignored by Southeast Asia's tourist crowds, but with its coral reefs, traditional culture and stunning beaches, that won't be the case much longer.

Organised holidays to the Philippines make navigating between islands simple. Hike around natural amphitheatres created by ancient rice terraces, and meet the villagers whose ancestors created them centuries ago. Take a bamboo bike tour around Manila's historic walled centre, and cruise between islets on a snorkel safari, which lets you float over shallow, colourful reefs. Our Philippines travel guide reveals just why it's worth flying just that bit further, to explore this fascinating, multicultural archipelago.
The Philippines is...
the same size as Italy (by land area), but it has the fifth longest coastline in the world.
The Philippines isn't...
dangerous. Like many countries, it has its shady areas – but with over 7,600 islands, it's certainly not difficult to get well away from them.
Philippines map & highlights
The Philippines' 7,641 islands stretch some 1,850km north to south; you're never going to explore the whole country on a single holiday. Rather, trips tend to focus on one or two of the main island groups: Luzon, Visayas and Palawan. Most tours begin with a tour of the crowded capital, Manila, and much of Luzon – including the rice terraces – can be explored by road from here, or perhaps an internal flight. If you're heading to other islands, you'll take a short flight to your next base, such as Puerto Princesa on Palawan, for example. You'll generally be using private transport with the odd public jeepney (bus); boat and ferry transfers are also used, particularly between the smaller Visayas Islands.
1. Bacolor, Pampanga
Mount Pinatubo erupted in the early 1990s, covering the nearby town of Bacolor in lahar – a sludgy combination of volcanic ash and rainwater. Each year more lahar runs down the volcano's slopes, burying the town deeper and almost entirely submerging its 16th century parish church. The hardy residents cling on, however, constructing ever higher stilt houses and rebuilding the church floor at the level of what used to be the choir loft.
2. Bohol
Bohol's 'Chocolate Hills' are one of the Philippines' most iconic landscapes. These 1,268 cones and domes are covered in grass that turns cocoa brown in the dry season. But there is more to Bohol than these mounds. Its Tarsier Sanctuary protects these tiny, saucer-eyed primates, while Loboc River cruises reveal troops of macaques. Offshore, turtles feed on sea grass and snorkellers can spot barracudas, octopus and huge rays.
3. El Nido
El Nido is many people's vision of paradise. Towering limestone cliffs give way to white sand beaches, lapped by turquoise water. The forest shelters over 100 bird species – some of which are endemic – and El Nido is the gateway to the pristine archipelagos scattered across the bay. You can lose days here, island hopping by boat, and snorkelling or scuba diving over vibrant coral reefs and the marine life that inhabits them.
4. Manila
Densely populated Manila is a love-it-or-loathe-it metropolis, but it is undeniably fascinating. City tours – on foot or by bamboo bike – take in the historic walled district of Intramuros and its 400-year-old stone church, which stands in contrast with the skyscrapers of Makati financial district. The Chinese Cemetery is filled with impressive monuments, and you can't leave Manila without trying lechón roast pig.
5. Palawan
Palawan has stunning natural offerings, some of which could be straight out of Avatar. Kayak by night through a mangrove forest illuminated by fireflies, stay in a cottage on a private beach, and take a boat tour along Sabang's surreal 'underground' river. Ugong Rock makes an echoing noise when tapped; 'Ugong' means 'sound' in Tagalog. You can climb the steps inside its stalactite-filled cave and zipline back down.
6. Rice terraces, Luzon
Five of Luzon's rice terraces have been declared UNESCO World Heritage sites, including those at Banaue, Batad and Mayoyao. Dating back over 2,000 years, these stone walled terraces form impressive natural amphitheatres. Steep hikes take you through stunning scenery to traditional farming communities and indigenous Ifugao villages to learn about their curious relationship with their ancestors.
7. Vigan
The oldest surviving Spanish colonial city in the Philippines is best explored in the traditional way – by horse and cart, known as a calesa. You'll see beautifully preserved stone houses, a 16th century cathedral and stop off at the Padre Burgos Museum, set in an 18th century house. Vigan is a great place to sample local food, which is heavily meat based, with Longganisa sausage and empanadas on the menu.
8. Visayas Islands
The cluster of smaller islands at the heart of the Philippines, the Visayas are surrounded by thriving reefs and colourful marine life. Snorkel safari holidays are the way to go; short boat rides take you out from an island resort to explore a variety of underwater scenes. Observe schooling sardines, sea turtles, lionfish and harmless whitetip reef sharks. Combine with canyoning excursions and waterfall swims.
If you'd like to chat about Philippines or need help finding a holiday to suit you we're very happy to help.

More Philippines articles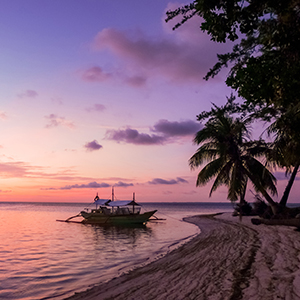 Read our month by month guide to discover the best time to go to the Philippines.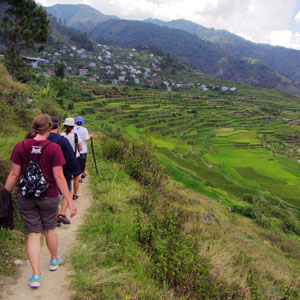 The best Philippines small group tours are those that avoid foreign-owned resorts and touristy Boracay.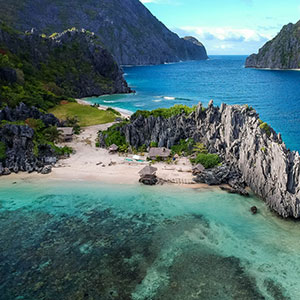 Discover the best snorkelling sites, and when to go, with our guide to snorkel safaris in the Philippines.