SNORKEL SAFARI HOLIDAYS IN THE PHILIPPINES
The Philippines consists of well over 7,000 islands and islets, boasting an impressive total of 36,000km of coastline. There are some sublime stretches of sand lapped by the South China Sea to the east and the North Pacific Ocean – the Philippine Sea – to the west. Thanks to the Philippines' location slap bang in the middle of the tropical Coral Triangle, the underwater world is equally as biodiverse as what you'll discover on land. Soft coral reefs, including huge walls of giant gorgonians, support an inordinate amount of marine life with sea grass, coral blocks and bommies (coral outcrops), creating exciting and still untouched environments just below the surface.
However, humans have played their part in many of the Philippines marine areas. Dynamite fishing, large boats and dragging anchors have destroyed coral close to the shores of popular tourist resorts such as around Boracay Island. To get the most out of a snorkel safari holiday in the Philippines you need to join a tour operator that not only knows the best spots to snorkel, by boat and off the beach, but also understands the need to protect the environment through responsible tourism.
If you'd like to chat about Philippines or need help finding a holiday to suit you we're very happy to help.
BEST SNORKELLING SITES IN THE PHILIPPINES
Cebu Island
Although Cebu has certainly succumbed to development, especially in and around Cebu City, head to the Moalboal Peninsula in the southwest, around 90km from the capital, and you'll discover some of the Philippines' best snorkelling sites. Despite an influx of travellers looking for the perfect beach, Moalboal has retained much of its underwater credibility with coral reefs following the coastline to provide snorkellers with spectacular underwater scenes, not least of all the swirling silver shoals of sardines. Alongside the coral you'll find sea ferns, anemones and sponges supporting a colourful variety of tropical fish including barracudas, lion fish, groupers and the relatively harmless – unless provoked – white-tipped reef sharks. A short boat ride away, the uninhabited island of Pescador offers up turtles, sea snakes and brightly coloured star fish can all be found living amongst gardens of soft coral.
Bohol Island
Lots of travellers visit the island of Bohol, to the east of Cebu, for its hundreds of undulating limestone hills. These wonderful grass-covered lumps and bumps turn brown during the warmer season to give them the name 'Chocolate Hills'. Snorkellers, however, will head away from the Bohol mainland to the inhabited islands of Panglao and Cabilao. Staying in the seaside village of Anda on Bohol or a small beach front resort on the north coast of Cabilao, is the best way to access unlimited snorkelling either by boat or right from the beach. Cabilao's house reef, especially, is incredibly varied with abundant, multicoloured anemones, walls of soft coral gorgonians, sea sponges and waves of sea grass. Turtles, barracudas and frog fish can all be found off Bohol with secret snorkelling spots such as Sandingan coral garden, the Gorgonia Wall and the towering soft coral outcrops (bommies) at Bamboo Reef just a few of the sites to be revealed on an organised tour.
RESPONSIBLE SNORKELLING IN THE PHILIPPINES
Choosing a tour operator which utilises the services of local Filipinos is the best way to ensure that you not only get to snorkel in all the best spots, but you'll also be providing sustainable work for islanders. This also encourages local people to conserve coral reefs and fish stocks because they understand the value of responsible tourism. Dynamite fishing and carelessly placed anchors cause untold destruction to the coral reefs here, and by working with local communities, responsible travellers are helping to turn the tide when it comes to marine conservation.
Responsible snorkel safari holidays in the Philippines will teach you about the underwater world as well as providing the best quality snorkelling gear and small boats so as not to negatively impact the environment. Many of the snorkelling sites offshore from Cebu and Bohol islands only take about 20 minutes to reach by boat which lessens the environmental impact and allows for more time in the water.
Small group snorkel safaris are certainly the best way to experience the Philippines as guides and instructors will ensure your safety both in and out of the water. It's often the case that snorkellers can lose all track of time whilst staring at vibrant coral reefs. Keeping hydrated and watching out for sunburn are just a couple of reasons why responsible tours help you to stay safe with guides ensuring you're aware of the hazards that can befall mesmerised first-timers.
Only observe, never touch and only book a snorkel safari with a tour operator that supports island communities and pays marine park fees. Conserving the marine environment of the Philippines is incredibly important and it's only when you get to see an untouched and thriving coral reef and compare it to an underwater area that's been completely devastated that you'll truly understand why.
WHEN TO SNORKEL IN THE PHILLIPINES
Summer in the Philippines falls from March to May with less wind and drier conditions resulting in calmer seas and excellent visibility for snorkelling. From June onwards, conditions become a little more windswept and wet as the summer monsoon– known as habagat – comes in from the southwest and tends to stick around until the end of October. Slightly overlapping the summer monsoon season during September or October is the winter monsoon – known as amihan – which bring cooler and drier conditions, especially closer to the coast.
July to November is low season in the Philippines due to the wet and unpredictable weather. Big storms can spring up at any time which can scupper a day out on a boat, and swirl sand to muck up underwater visibility. The November to May high season is drier with lots of blue sky days. This season brings plenty of tourists to the beaches of southwest Cebu and prices will often rise accordingly. November to May is the best time to go snorkelling in the Philippines but be prepared for small group spaces to get booked up fast.
More about Philippines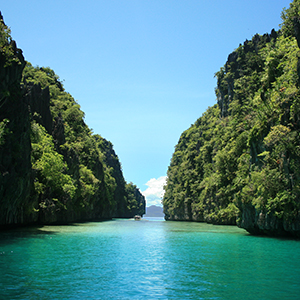 The Philippines has long been overlooked by tourists, but its turquoise waters, well preserved colonial towns, thriving reefs and indigenous culture rival that of any other country in Southeast Asia.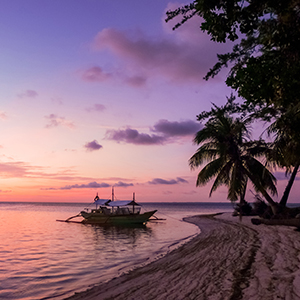 Read our month by month guide to discover the best time to go to the Philippines, whether you're after clear seas for diving, dry trails for hiking, or cooler temperatures for sightseeing.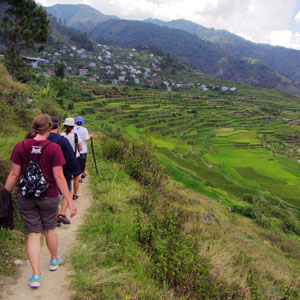 The best Philippines small group holidays avoid the tourist trail to Boracay. Instead, an indispensable local guide will lead you to one of the other 7,000-plus islands.