Top single use plastic free holidays
Although many of our holiday companies and customers have been practising reduced plastic lifestyles for a long time, they can't always guarantee that everyone around them is doing the same. For example, a walking holiday company might advise you to bring your own refillable water bottle, but the local inn might insist on plastic beer glasses for the garden. Or the hotel is unwilling to let go of their mini toiletries bottles, plastic bin liners or laundry bags. Below are some holidays that have worked hard across the board to pretty much eliminate single use plastic. Neither we nor they are claiming perfection, but near as dammit. The map is small, but this is our call to action for others to join us in our war against plastic.
Our Plastic free Holidays
1. Art holiday, Puglia
2. Red Sea diving, Egypt
3. Sketching in Sri Lanka

1. Art holiday, Puglia
Study art and handicrafts with a local expert who knows not only all about Puglia's traditional culture, food and architecture, but also the damage done to the coast by single use plastics. They work only with accommodations that also commit to eliminate disposable plastics, so that you can enjoy the natural and cultural heritage of Puglia knowing that you are contributing to a wider regional movement. Bravo! Read more about our
art holiday in Puglia
2. Red Sea diving, Egypt
Divers were shouting about single use plastics long before anyone, and one of our Red Sea dive resorts is leading by example. They have banned food wrap, provide cotton bags for shopping, work with local markets to reduce plastic and insist on reusable water bottles. Travellers can fill these up from the hotel water station, which they aim to make self-filtrating soon. They want their beautiful Red Sea green – and clean. Read more about our
Red Sea diving in Egypt holiday
3. Sketching in Sri Lanka
The suppliers of this stunning sketching and art holiday understand Sri Lanka's Buddhist and ancient cultural landscape, while also valuing its natural beauty. This is why they are working with local people to show them that natural and traditional is best: who needs plastic when you have banana leaves? Single use plastic was introduced to keep tourists happy, not residents; this company strives to reverse this trend. Read about our
sketching in Sri Lanka holiday
Our top Plastic free Holiday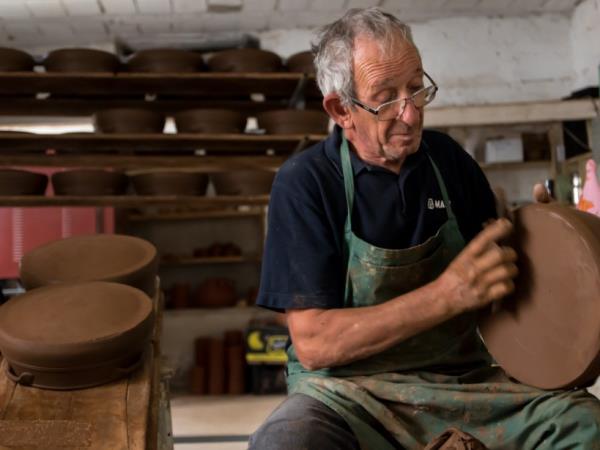 Enjoy South Italy avoiding single-use-plastic
From
€1700

to

€1750
8 days
ex flights
Small group travel:
2018: 20 Oct, 27 Oct, 3 Nov, 10 Nov, 17 Nov, 24 Nov, 1 Dec, 8 Dec, 15 Dec
2019: 12 Jan, 19 Jan, 26 Jan, 2 Feb, 9 Feb, 16 Feb, 23 Feb, 2 Mar, 9 Mar, 16 Mar, 23 Mar, 30 Mar, 6 Apr, 13 Apr
Hello. If you'd like to chat about Plastic free or need help finding a holiday to suit you we're very happy to help. Rosy & team.
Where to go on a plastic free holiday
Lynne Helal-Gillis from our supplier Dive Urge Resort, Dahab, Red Sea, Egypt:
"I think that Egypt recycles a lot more rubbish than the UK does, as it is another way to make an income here. There is a great group called Don't Mess With Dahab, as well as many fab souls who live here, deeply committed to making Dahab plastic free. Polystyrene trays were used by a lot of safari companies here, which drives me insane. It is not that hard to use real plates and cutlery instead. I campaigned to stop these horrid trays being used at the local Friday Market and some members of Sea Shepherd set up a stall offering rental plates… which was brilliant."
Luigi Piero Grieco from our supplier, Idillio d'Arte in Puglia, Italy:
"We have selected only partners who are committed to being environmentally friendly and avoid single use plastic. The hotel has been doing a great job for years with everything at breakfast, in the restaurant and rooms served in porcelain, glass dishes, and using metal cutlery as opposed to plastic. All restaurants too, just use porcelain, glass dishes, and metal cutlery on their tables. Furthermore we distribute fabric bags and glass bottles to be reused and explain in the introduction evening, where and how to avoid the use of single use plastic objects, due to our experience on the ground."
Convert currencies