Amongst towering oaks, wolves and lynx reside concealed, as bison stand oblivious, shrouded in steam. Alongside them, beaver, elk and more than 250 species of birds, too, make the most of one of Europe's most important wetland habitats. This is a side to Poland that's way beyond weekend city breaks where Białowieża forest and the Biebrza marshes provide protection for some of Europe's most magnificent mammals, and the onset of snow offers ample alternatives to the allure of Christmas markets.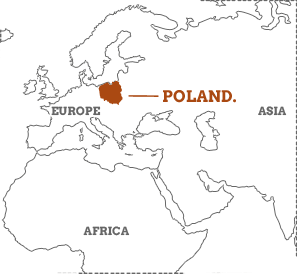 Poland has risen like the proverbial phoenix to rebuild Old Town districts and protect Europe's primeval forests without compromising contemporary city settings.

Head south and the Carpathians form natural borders with Slovakia as trails over the High Tatras tempt hikers and cyclists to discover life in the mountains as told by the Goral people. Investigating the atrocities of the past is equally as important as revelling in the positivity of proud Poles and trips to Krakow and onwards to Auschwitz will open your heart, and mind, as you embark on what can be a challenging and enlightening experience way beyond average expectations.
Poland is...
rebuilt and ready to reignite your love of city sightseeing and getting lost in the sanctity of nature.
Poland borders seven countries as well as the Baltic Sea, and explorations south, over the Carpathians into Slovakia and the Czech Republic, are often too much to bear for hikers and bikers. Straddling the northwest border with Belarus, Bialowieza forest provides natural habitat for over 800 European bison and continue for two hours north and you'll find one of Europe's largest and most important wetland areas, the Biebrza marshes. Round trips in an anticlockwise direction take cultural sightseers on an architectural odyssey of rebuilt old town districts with Warsaw, Gdansk, Torun, Wroclaw, Krakow and Zakopane, in the High Tatras, all achievable highlights during a week away.
1. Gdansk
Nowhere is Poland's post war rebuilding project more evident than Gdansk. This seaport suffered considerably in WW2 and reconstruction efforts eradicated all traces of Germanic influence with French, Flemish and Italian-style architecture now dominating. Follow pedestrianised thoroughfares lined with former merchant houses, to historic fountains and St. Mary's, the second largest brick church on earth.
2. Krakow
Synonymous with Wieliczka and Bochnia salt mines, Wawel Royal Castle and one of the world's most challenging historic locations – the Auschwitz-Birkenau memorial and museum. Krakow is also a bastion of the arts with operas, theatres and galleries combining wonderfully well with live jazz hangouts and the historic townhouses, churches and dominating Cloth Hall, found in the main market square.
3. Tatra National Park
The High Tatras boast more than 250km of trails leading past limestone gorges, vast cave systems and breathtaking views over the Valley of Five Lakes. Point to point treks to high altitude mountain huts offer opportunities to scale some of Poland's highest peaks whilst more level gradients lead through forests of beech, spruce and silver firs as well as inviting opportunities to cross into Slovakia.
4. Torun
The rumoured birthplace of Renaissance astronomer Copernicus features Poland's highest collection of Gothic houses as well as medieval city walls, a ruined Teutonic castle and Torun's very own leaning tower. Keep an eye out for gingerbread houses and waffle windows before brushing up on your Polish and visiting the ethnographical museum or strolling past the illuminated Cosmopolis fountain at night.
5. Warsaw
WW2 put paid to most of Warsaw's historic buildings; however, reconstruction projects, particularly in the UNESCO old town, have preserved 17th century townhouses overseeing markets and outdoor cafes. Follow Krakowskie Przedmiescie from the Old Town to Zamek Królewski (the Royal Castle) and disappear down a less touristy side street en-route to the Barbican, one of Warsaw's last remaining fortifications.
6. Wroclaw
Not only was Wroclaw the joint 2016 European Capital of Culture but it's also hosted many other international art, literature and sports events. The pedestrianised medieval central square is home to one of Europe's largest markets, and numerous other notable landmarks – from the Old Town Hall to a multimedia fountain and Poland's largest model railway – ensure Wroclaw is a city you'll never forget.
If you'd like to chat about Poland or need help finding a holiday to suit you we're very happy to help.