BEST TIME TO VISIT POLAND

Vodka in Wroclaw and Warsaw in winter will warm you up although wolf and bison tracking in Bialowieza National Park will make a much deeper impression.

Białowieża's primeval forest is incredibly atmospheric during the winter with thick snow providing ideal tracking conditions before returning to log cabins for steaming bowls of bigos (Hunter's Stew). Further south, the snow-covered slopes of the High Tatras attract almost as many visitors as the Baltic beaches during the summer although hikers should consider spring the best time to visit Poland for exploring outdoors. Summer finds plenty of sunshine while a few extra layers make the autumn all the more bearable, especially when accompanied by fabulously fiery forest foliage followed by cultural sightseeing in Krakow or Warsaw outside of peak season.
Things to do in Poland…
Go down to the woods. There aren't many places left on earth where you can experience the thrill of seeing a fully grown bison appearing from the mist but thanks to a conscientious rewildling project in Białowieża forest, there are now around 800 bison roaming free in protected primeval habitat. Aside from bison, Białowieża is also known for its wolf packs and visiting during the winter months with a guide unveils tracks in the snow to set pulses racing.
Get active down south. Zakopane in the foothills of the High Tatras has become a real magnet for outdoor action with hiking, cycling and caving during the summer followed by Nordic cross country skiing when the snow falls. Dunajec cycle path, especially, is an incredibly scenic route and follows river valleys and ancient tow paths to forgotten Goral villages and past shepherds' huts before crossing the limestone Pieniny Mountains en-route to Slovakia and beyond.
Understand Auschwitz. Situated about an hour outside Krakow and steeped in the unnerving familiarity that stems from indelible images engrained on history books, newsreels and collective national psyches, Auschwitz-Birkenau is impossible to ignore on a trip to Poland. A visit with a local guide is certain to haunt and inform in equal measures as well as providing a stark reminder of why contemporary society needs to learn not to strut to the same bigoted beat as the past.
Things not to do in Poland..
Opt out of winter. Nordic cross country skiing on the border with Slovakia is a great way to explore the High Tatras during the winter with a hearty Polish breakfast all that's needed to keep you warm until sitting down to barszcz (beetroot soup) for lunch. A fresh blanket of snow is also just what's required to spot wolf, deer, elk, beaver, pine martin or bison tracks in Białowieża National Park which is why wildlife tracking is definitely one of many reasons not to opt out of winter in Poland. Forget your binoculars. It's impossible not to hear drumming woodpeckers echoing throughout the primeval forests of Poland with trips to the wetland areas of Biebrza marshes certain to get twitchers reaching for bird books quicker than a polecat up a pine tree. White-tailed eagles, waxwings, hawfinches, buzzards, shrikes and whooper swans are all known to inhabit an incredibly important breeding ground for wetland birds – don't forget your binocs. Go to the zoo. Most of Poland's major cities have zoos and it has to be said that there's still a long way to go before rewilding projects become the norm and animals are released into the wild rather than being kept for human entertainment. Wildlife watching in Poland is extremely accessible in Białowieża National Park alongside boat trips around Biebrza marshes which may well unveil beavers and elks alongside cranes, storks, waders and greater spotted eagles.
Our top Poland Holiday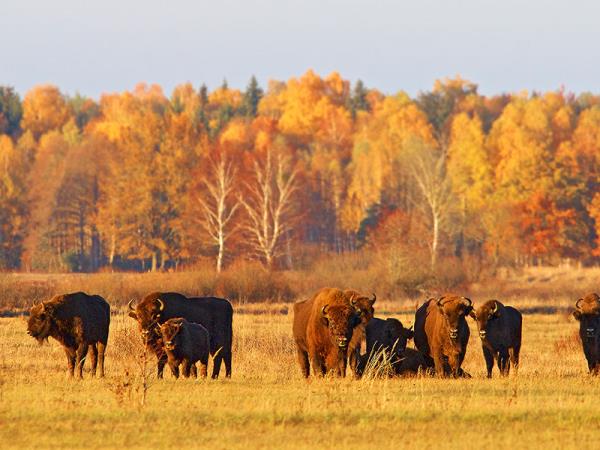 Short break wildlife adventure in the Bialowieza Forest
From
PLZ3450
4 days
ex flights
Small group travel:
2023: 6 Oct, 17 Nov
If you'd like to chat about Poland or need help finding a holiday to suit you we're very happy to help.

Winter weather watch
Tomasz Jezierczuk, wildlife guide for our tour partners Wild Poland, shares some insider insights:

"Winter in Poland can either be cold and snowy or windy and rainy. You can expect everything from the weather here. The coldest months of the season are January and February where temperatures often drop to -20°C and there are frequent intervals of snow."
Where & when to track wildlife
Where & when to track wildlife
"I just can't picture a situation where I haven't seen bison while being in Białowieża forest. Winter is the easiest time and summer can be tricky, without the help of a good wildlife guide. There are also three to four packs of wolves in the forest (about 30 individuals) and, again, I can't picture a time when I didn't find wolf tracks in winter but summer is difficult as soil often turns into a solid 'brick'."
Flight of fancy
"The best places to see migrating birds and thousands of wildfowl are the Biebrza marshes (Biebrza National Park) and the mouth of the Warta River (Warta River Mouth National Park). Particularly spectacular is the spring migration of ruff in the Biebrza marshes."
Cycle out of Krakow
"If you're looking for nature not too far out of Krakow then check out Saspowka valley in Ojcow National Park – around an hour's cycle from the city centre."
Something for the suitcase..
Something for the suitcase..
Gosia Knas, Polish expert at our tour partners Exodus, shares her local knowledge:

"Oscypek is a highlander smoked cheese to buy in Krakow. Very specific, but very good! Polish vodka is considered one of the best in the world so buy a small bottle of Belvedere while you're in Warsaw. Visit a 'milk bar' for pierogi (dumplings) or grab a zapiekanka (sandwich) if on the go."

"In Krakow, visit Cepelia, Polish Art and Handicraft Foundation to browse for some small, unique souvenirs. While up north, search for original gingerbread cakes - they don't get any better!"
Visiting the big cities
"In Warsaw you may want to check out the old Fotoplastikon, a stereoscopic theatre based on the Kaiserpanorama system of rotating stereoscopic images. It's working and it's based in original location since it was open in 1905, making it the oldest in Europe."

"If you are in Gdansk in the summer (July/Aug), you must visit St. Dominic's Fair. It is the largest open-air trade and cultural event in Poland and one of the largest such events in Europe. It has enjoyed over 750 years' of tradition; it was established by the Pope Alexander IV in 1260."
At Responsible Travel, we think the best people to advise our travellers are often... other travellers. They always return from our tours with packing tips, weather reports, ideas about what to do - and opinions about what not to.

We have selected some of the most useful Poland travel tips that our guests have provided over the years to help you make the very most of your holiday – and the space inside your suitcase.

...Put a tour together with the guides who are very passionate and knowledgeable about life in the forests and you are in for an unforgettable holiday.

"Krakow is beautiful – buzzing but laidback at the same time – with great food and the most interesting places to see and visit. The walking tour gave a great insight into the history while Auschwitz was thought provoking but not to be missed. The Salt Mine is a must see – awesome. The good weather made the views from the top of Zakopane brilliant." – David Harris

"Poland is a beautiful country with amazing wildlife and a must for any animal/bird enthusiast. Put a tour together with the guides who are very passionate and knowledgeable about life in the forests and you are in for an unforgettable holiday." – Rosemary Richards

"Take some extra nibbles, dried fruit, bars, nuts etc as packed lunches ok but needed something extra. Mozzies get you through your clothes!" – Julie and James Dore

"Travel light and at Warsaw Airport a 250 metre walk to the bus-stop outside the new airport building for the no. 175 bus (2.40 zlotys) will save you GB £10 taxi fare." – Mr C B Proctor

Make sure you bring a light fleece sweater and a real rain jacket – it was cold the day it rained (in July).