Travelling in Sabah with kids

For children, the toughest thing about Sabah would probably be the long-haul flight. For such a far-flung, exotic destination, it's surprisingly family-friendly.

Forget snoozing lions and grazing zebra; Sabah's wildlife is active and abundant, with bizarrely human orangutans foraging for fruit, giant squirrels soaring through treetops and unsightly, flatulent proboscis monkeys sure to cause hysterical laughter. The culture is accessible and inviting for those travelling in Sabah with kids, with longhouse-style lodging, cultural performances and craft workshops. The emphasis is on education, and guides and interpretation centres are fascinating and informative. Crime is minimal and driving distances manageable; mosquitoes and leeches are a greater problem, though both can be deterred so preparation is the key.
Our Sabah family Holidays
Activities for families in Sabah
Tunku Abdul Rahman National Park
You don't need to spend hours travelling to reach fantasy islands and idyllic beaches. Tunku Abdul Rahman National Park is just 15 minutes by boat from KK, and protects coral reefs and islands dotted with stilt houses and tropical forests. Kids will love snorkelling with bold fish and paddling in the clear waters; the main beach on Manukan Island has lifeguards and picnic benches. A 1.5km trail takes mini-Robinson Crusoes right across the island.
Sepilok Rainforest Education Centre
Sepilok Rainforest Education Centre started life as a centre for local schoolchildren. Now open to the public, it remains child-friendly. The huge canopy walkway is in fact a wobble-free "bridge" – safe for even the youngest of children. Orangutans and flying squirrels can be seen in the treetops, while gardens containing pepper, coffee and vanilla plants reveal where food comes from. This is a phenomenally informative excursion – adults will be as gripped as kids.
Monsopiad Cultural Village
Give kids a taste of Sabahan life at Monsopiad Cultural Village, a "living museum" named after a fearsome, headhunting warrior who lived on this spot three centuries ago. Half-day tours from KK reveal traditional Kadazandusun dance, music, costumes and food, though kids might be more intrigued by the collection of 43 skulls, from those beheaded by the warrior himself.
Our top Sabah family Holiday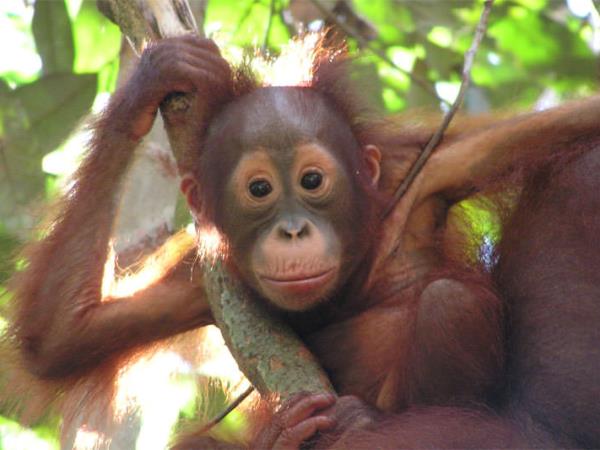 Discover the best of Borneo in just under 2 weeks
From
£2385
10 days
ex flights
Tailor made:
Everything is tweak-able, giving you the freedom to build a unique and personal trip for your chosen date. Upgrade your accommodation for all - or just part - of your trip, slow down the pace with few extra nights here and there or add a few more active adventures along the way
If you'd like to chat about Sabah or need help finding a holiday to suit you we're very happy to help.

Travelling in Sabah with kids
Daniel Waters is a Borneo expert from our adventure holiday specialists, Wild Frontiers. He shares his tips on travelling in Sabah with kids: "It's a pretty safe destination. The Malays are very hospitable and it's a lot easier to travel round than you might suspect. There are lodges that look after children very well, and children really love Sepilok Orangutan Rehabilitation Centre. At feeding time you get 50 or 60 macaques that are just jumping around everyone, and the kids just loved it when I was there. There is a lot of walking involved to get the most out of the destination, so as long as they are able to cope with that, they'll be fine."
Nicki Hollamby, from our tailor made holiday specialist Audley Travel, shares advice on travelling in Sabah with kids: "Kinabatangan River is great for families, because although you might be staying in simple accommodation, there's no trekking involved, you're just pottering up and down the river on a boat, looking at the wildlife. You've got other areas in Sabah where you're going deep into the rainforest and it's not necessarily very good for children, because the whole idea is that it's rustic and active – whether you're in a luxury lodge or not. But the boat on the Kinabatangan is really relaxing."