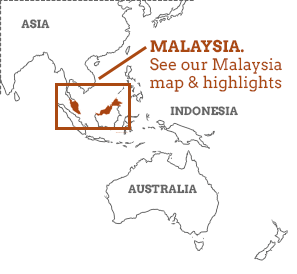 A muddled mix of Muslim, Hindu and British ingredients combine across Malaysia to present a captivating and slightly conservative cultural soup. Opposite coasts boast a bounty of beautiful beaches with the Perhentian and Langkawi Islands promising plenty of treats, both above and below the waves. Further inland, lush green forest trails combine with hill stations and butterfly farms to help the Cameron Highlands stand out from the more bizarre attractions of Genting, whilst Georgetown and Malacca are dream destinations for anyone embarking on an artisan-inspired, UNESCO odyssey.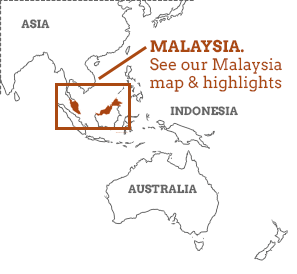 Searching for Malaysia's one true identity is like picking apart a tapestry interwoven with Chinese, Indian and Islamic threads that has long been embroidered with colonial and capitalist influence.

Food is fundamental to all Malaysians and hearing the expression 'dah makan?' (Have you eaten?), during a homestay visit, is usually followed by a veritable banquet of regional dishes to welcome guests into the fold. If you're looking for one iconic image of Malaysia, Kuala Lumpur's twin towers may spring to mind; however, as with most soups, it's probably best to add a pinch more spice.
Malaysia is...
a country of two halves, both literally and figuratively
Malaysia isn't...
truly Asia; it's a sort of mix between cultural mash up and tropical loveliness
WHAT WE RATE & WHAT WE DON'T
Malacca
Enjoying a couple of drinks overlooking the river at sunset makes a visit to Malacca well worth it, but thanks to a huge selection of museums, exhibiting everything from Islamic art to the world's bees, there's plenty to look forward to even on a cloudy day. Ruined Portuguese forts or Jonker Walk in Chinatown; if you're looking for cultural comparisons, Malacca's definitely merit a couple of days.
Bako National Park
Just 40km from Kuching, Bako has long provided sanctuary for many of Borneo's wild animals within protected rainforest, mangrove and coastal habitats. As the only way into Bako is by boat this feels like an adventure right from the start with ocean eroded rock formations and chances to spot proboscis monkeys, flying lemurs and slow lorises, all to be anticipated on a visit to Bako.
Berembun Forest Reserve
Berembun Forest makes for a really convenient escape if you're pushed for time or just fancy a few nights surrounded by nature. Jungle treks to secret tiered waterfalls, visits to the wet market in Seremban and bird watching tours in search of more than 300 species, including five types of hornbill; Berembun maybe just an hour from KL but it's another world away entirely.
Penang National Park
Not many beaches in Malaysia do wild and windswept as well as Penang with dolphins, jellies and turtles skirting the shore whilst crab-eating macaques and monitor lizards prowl over golden sands. Follow jungle tracks over melting roots and through fern forests before emerging onto a deserted beach littered in moon shells or keep walking uphill for panoramic views from lighthouse peaks.
Sepilok
Sepilok Orangutan Rehabilitation Centre invites a peep at Malaysia's most iconic animals from close quarters – especially if you visit during twice-daily feeding sessions. Logging and hunting are both responsible for orangutans entering Sepilok and finding out more is certain to pull at the heart strings as well as inspire positive action against Borneo's unsustainable and illegal industries.
Protected Rainforests
Over half of Malaysia is tropical rainforest with the national parks of Taman Negara, Penang and Endau-Rompin, all playing their part in protecting natural environments for generations to come. Building a rainforest expedition into an itinerary is the best way to discover the country's unique ecosystems with expert local knowledge certain to help you explore from an educated perspective.
Snorkelling
Dive boats offer access to the mesmerising marine world surrounding Lankayan, Perhentian and Tioman islands although it's equally rewarding to don a mask, snorkel and flippers and wade into warm waters, right off the beach. Snorkelling in Malaysia is definitely recommended with island hopping letting you compare fish-filled coral gardens before returning to shore to soak up the sun.
Langkawi Island
The main island within the Langkawi archipelago offers settings for sun, sea and duty-free without the propensity for profit that has struck numerous other Southeast Asian idylls further up the coast. Although Langkawi Island's beaches can get busy, particularly in the south, they're still not too overdeveloped with a cable car to the top of Gunung Machinchang one of the best ways to take it all in.
Kuala Lumpur's Malls
If you like air-conditioned shopping malls than you're in luck as KL is swamped in them to offer visitors an undercover experience without ever having to step foot within the much more authentic Chow Kit wet market or Kampung Baru night market. Forget Petronas; head to Petaling Street instead for an authentic, lively and exciting intro to Malaysia, without the shiny corporate bits on the side.
Feeding monkeys
A trip to Batu Caves, or the remote beaches on Langkawi Island, such as Tengkorak, will involve monkeys. Although they may look like fun from a distance, close up they're a whole different prospect and if you feed them they will come back for more. Monkeys can be aggressive and will happily steal from children or unsuspecting sunbathers – you have been warned.
Western food
It would be a real shame to miss out on the multicultural dishes available in Malaysia. Indian, Chinese, Middle Eastern and traditional Malay are all on offer, with Mamak and Nyonya street stalls offering the tastiest and most affordable options. From night markets in Malacca to homestays near Kuala Kangsar, dipping into local fare is much more rewarding than searching for home comforts.
City hotels
Book into a bungalow near Berembun or an Inban longhouse on the Lemanak River but whatever you do, try to avoid spending too much time in an all-inclusive high-rise city hotel. Thankfully, the majority of the country's coastline has remained relatively untouched so keep up the good work and opt for local guesthouses or homestays to get a true sense of life, without the corporate twist.
Our top Malaysia Holiday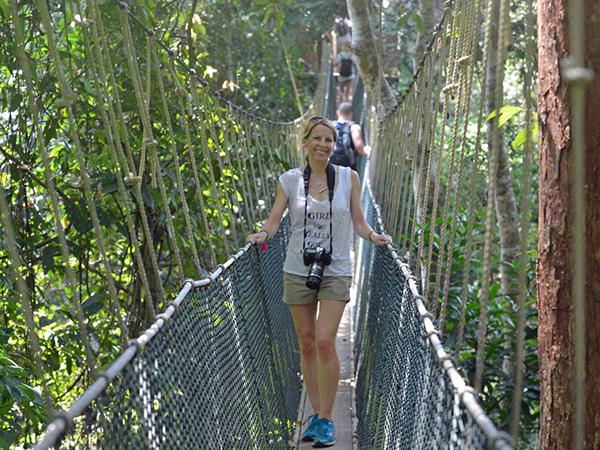 An authentic glimpse of Malaysia's highlights in two weeks.
From
£1128
14 days
ex flights
Tailor made:
Everything is tweak-able, giving you the freedom to build a unique and personal trip for your chosen date. Upgrade your accommodation for all - or just part - of your trip, slow down the pace with few extra nights here and there or add a few more active adventures along the way
If you'd like to chat about Malaysia or need help finding a holiday to suit you we're very happy to help.

Eating & drinking in Malaysia
Malay food is typically rich and spicy. Dishes to try: nasi goreng, laksa (coconut broth with noodles), nasi dagang (coconut rice and fish curry) or char kway teow (stir-fried flat rice noodles).
KL's Little India, Chinatown and Central Market, as well as the central shopping district, Bukit Bintang, which includes Jalan Alor food court, contain loads of street stalls; a must for foodies.
Some of the seafood on the coast is superb but be aware that prices are usually by weight so do the maths before you get hit by a much larger bill than anticipated, especially with lobster and crabs.

If you find yourself surrounded by selfie-hunting local lads, a polite
'Tidak, terima kasih'
(No thank you) or
'Itu sudah cukup sekarang'
(That's enough now) will usually be respected.

People & language
Native Malay people account for half the population of Malaysia with indigenous Orang Asli, Chinese and Indian communities making up the majority of the remaining ethnic groups. Sunni Islam is Malaysia's official religion although Buddhism, Christianity and Hinduism are also practiced.

English is widely spoken but learning a few words in Malay is always appreciated:
Selamat pagi = Good morning
Terima kasih = Thank you
Nama saya ialah... = My name is...
Tiada masalah = No problem
Tidak, terima kasih = No thank you
Itu sudah cukup sekarang = That's enough now
Gifts & shopping
There are several classes and workshops where you can try traditional batik painting, which, alongside a cultural experience, makes for an original piece of art to take home.

If you'd prefer a souvenir that's been created by an expert, most shops in KL's undercover Central Market state what's authentic and what's not, whereas it can be a bit hit and miss within the surrounding open-air street stalls.

Petaling Street in KL and Jonker Street in Malacca are ideal for bagging a bargain so look around before settling on a price. Be fair though – consider the time and craftsmanship that has gone into a piece, rather than just aiming for the lowest price.

When visiting mosques, Hindu or Chinese temples, you should remove shoes and dress conservatively with long sleeves and long trousers – with head covered if entering a mosque.

How much does it cost?
Meal for two in mid-range city restaurant: £12
Plate of char kway teow from a street stall: £1
Breakfast buffet in a hotel restaurant: £4.50
Metered return taxi ride to Batu Caves from KL: £23
Return train trip to Batu Caves from KL: £1

10% service will usually be added to a restaurant bill, although most Malaysians will round up the total and leave as an extra tip. An average salary for a waitress in Malaysia is about £1.50 per hour.
Brief History of Malaysia
Slashing and burning rainforests to make way for crop growing has been an agricultural technique used in Malaysia since the Stone Age although settlers along the coast and around rivers would also turn to fishing to supplement food supplies. Around the 3rd century AD, thanks, in part, to trade with India, Malayan people began to adopt Hinduism and Buddhism into what was already an extremely civilised society with further evidence of Indian influence to be found written within early laws and scriptures.
Read more