Best time to visit Malaysia

Dancing in warm rain, mist rising from the jungle or escaping the heat in an air-conditioned mall; no matter when you visit Malaysia, every cloud has a silver lining.

Even nocturnal temperatures rarely fall below 20 degrees (apart from the fresher highlands), which tends to offer mosquitoes an array of uncovered banquets. In general, the west coast is wetter over the summer (May-Oct) whilst the east coast and Cameron Highlands find more showers from Sep-Dec. Then it's Borneo's turn for the worst of the weather before handing the umbrella to KL for March and April. Basically, if you don't mind a daily deluge to relieve the heat and humidity, the best time to visit Malaysia is pretty much all-year-round.
WHEN TO VISIT MALAYSIA & WHEN NOT TO
The turn of the year, around late November, December, January and early to mid-February, finds the worst of the weather on the Malay Peninsula's east coast as well as around the westerly shores of Sarawak. On the flip side, the rainy season for Sabah and mainland Malaysia's west coast, tends to take place around September and October with sea crossings and rainforest trails sometimes affected by heavy downpours for a couple of hours, usually in the mid to late afternoon. Sandwiched between February and September, just after the rainy season, is the best time to visit Malaysia; with less rain and an abundance of tropical foliage making March, April, May and June much drier and less busy months to visit. The best time to spot wildlife on the Malay Peninsula, in places like Taman Negara, is the dry season from March to October, with March and July the best months for bird watching, in general, and Aug/Sept the best time to see thousands of hornbills around Temenggor Lake in Perak. July, August and September can get hot and humid with the threat of forest fires from neighbouring Indonesia starving some city streets of sunlight and fresh air. Best advice is to head to the Cameron Highlands or escape to the west coast to avoid the summer haze. Around the start of the year, Jan and Feb, Chinese New Year gets into full swing with Petaling Street in KL alive with red lanterns and the occasional fire cracker. This time of year is also when Hindu and Tamil communities celebrate Thaipusam with the temples at Batu Caves, just outside KL, and around Penang, attracting large crowds for the national holiday.
Kuala Lumpur Weather Chart
Our top Malaysia Holiday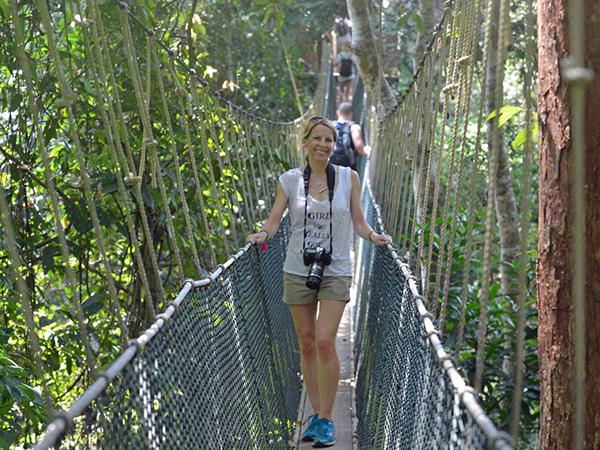 An authentic glimpse of Malaysia's highlights in two weeks.
From £1128 14 days ex flights
Tailor made:
Everything is tweak-able, giving you the freedom to build a unique and personal trip for your chosen date. Upgrade your accommodation for all - or just part - of your trip, slow down the pace with few extra nights here and there or add a few more active adventures along the way
If you'd like to chat about Malaysia or need help finding a holiday to suit you we're very happy to help.

WHAT HAPPENS WHEN IN MALAYSIA
Chloe Mckellar, from our supplier Rickshaw Travel, shares her favourite time to visit Malaysia: "Chinese New Year starts with the new moon rising between 21st January and 20th February. It's an amazing time to be in Malaysia, particularly Malacca, Kuala Lumpur and Penang, with lots of red bunting, traditional street food and colourful, noisy parades. I find this time of year really interactive and easy to join in with celebrations, although lots of hotels get booked up well in advance."
FESTIVALS & EVENTS IN MALAYSIA
Did you know about...?
Ramadan is the ninth month of the Islamic calendar which involves Muslim adults undertaking an obligatory fasting period as decreed in one of the Five Pillars of Islam to commemorate the first time the prophet Muhammad was visited by the archangel Gabriel.
Chloe Mckellar, from our supplier Rickshaw Travel, shares her experiences: "I enjoyed travelling during Ramadan because a lot of places in smaller areas close for the day but mid-afternoon onwards local people will sell sweets and savoury items outside their homes. You don't get that at other times of the year. Also, when the sun goes down, lots of restaurants put on huge banquets. However, I'd avoid the end of Ramadan as traffic is busy and travel plans can get disrupted. Travel in the first couple of weeks and chat to your guide about what they do and what they think of Ramadan."