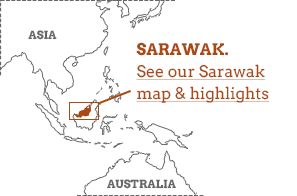 A snow-white Renaissance English fortress from the days of the White Rajahs and a 19th century South Indian mosque; perhaps not what you'd expect to find riverside in Malaysian Borneo, but just two of the many charms you'll find in Kuching, the gracious capital of the Malaysian state of Sarawak.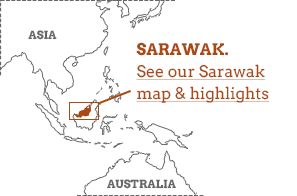 An enchanting cultural mosaic of living jungle, swamp forest and ancient animal species, Sarawak truly is the luxuriant natural hothouse of which Darwin once spoke

More extraordinary too is that very best of Sarawak's attractions are natural. The largest state in Malaysia, it packs an almighty environmental punch in the form of 30 national parks, each alive with everything from coastal swamps to gigantic cave systems that protect and nurture some of the world's most diverse ecosystems. Travel within two hours of Kuching and you'll reach some of the Earth's most ancient rainforest jam-packed with proboscis monkeys; within a week you can immerse yourself into an exotic world of primordial flora, endangered fauna, and a community of indigenous tribes that live collectively in traditional longhouses.
Sarawak is...
a wild adventure of jungle, river and rainforest
Sarawak isn't...
a trip to Borneo, it's a Malaysian State with a very strong identity of its own
Eating & drinking in Sarawak
The durian fruit: its innards look like slugs and it smells like death. Double dare you.

'Langkau' is Sarawakian moonshine, drink it and you will absolutely party like it's 1999, but the next morning you will feel like your head is in a vice. Stick to beer?

'Daging masak itam' is a local black beef rendang made with loads of garlic, shallots, palm sugar and prunes. The taste? Heavenly. Your breath? Devilish.

Tanjung Lobang is northern Sarawak's oldest recreational park and is known locally as Brighton Beach.

Our top Sarawak Holiday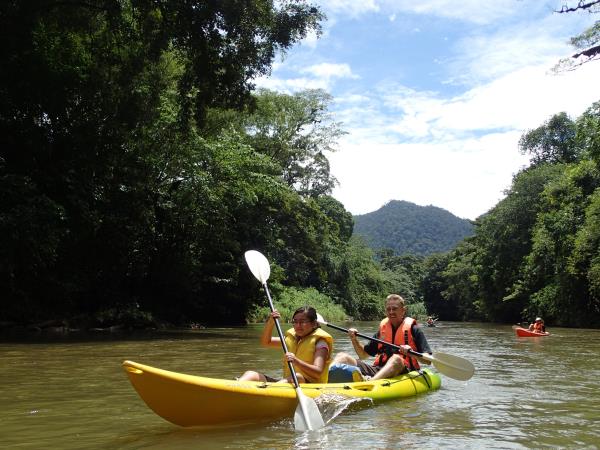 An action-packed holiday got the whole family to enjoy!
From
£995
9 days
ex flights
Tailor made:
Everything is tweak-able, giving you the freedom to build a unique and personal trip for your chosen date. Upgrade your accommodation for all - or just part - of your trip, slow down the pace with few extra nights here and there or add a few more active adventures along the way.
If you'd like to chat about Sarawak or need help finding a holiday to suit you we're very happy to help.

People & language
Ready, steady, concentrate: half of Sarawak's population is made up of Malays and Chinese, while indigenous tribes make up the other half. The state's largest tribe, the Iban, constitute 30 percent of the population and they, along with the Melanau, comprise the Sea Dayaks who actually live along the river valleys. The Land Dayaks live up in the hills, represented largely by the southwestern Sarawakian Bidayuh, and the Orang Ulu, which include the nomadic Penans, live in upriver regions. Phew.
Say thank you to an Iban: 'tabik basa'
A phrase you'll definitely hear more than once – 'aram ngirup mih kitai!' – 'let's all drink!'
Gifts & shopping
Sarawak Craft Council is a non-profit shop in Kuching selling a selection of crafts from many ethnic groups.

The Bidayuhs are a collective of indigenous tribes known for their skill in creating tambok: woven backpacks and rattan baskets. They are as durable as they are decorative, but due to modernisation the craft is dying out – grab one while you still can.

Never buy items made from tortoiseshell, coral, feathers or any other endangered species; if there is a market, the locals will supply, so don't buy into the cycle.

At 2,000ft long, 1,427ft wide and 377ft high, the Sarawak Chamber at Gulung Mulu National Park is the largest cave in the world.

How much does it cost?
A beer: £1.80
Bus ticket (Kuching
– Bako): 30p
A brief history of Sarawak
The history of modern Sarawak is closely related to the adventures of an Englishman, James Brooke after his advent to Sarawak in 1839. With a boundary extending from Tanjung Datu to Batang Samarahan, Sarawak then was one of Brunei's territories and was ruled by its Governor, Pengiran Mahkota. Politically, the country was in a state of turmoil with the natives constantly in rebellion against Brunei's authority. To restore order, the Raja Muda of Brunei was sent but failed in his mission until Brooke returned the following year and offered his assistance. As a reward for his success in pacifying the revolts, Brooke was installed as first Rajah if Sarawak in 1841 and so began the reign of the White Rajahs under the Brooke family which was to last more than a century.
Read more

Responsible Travel would like to thank the Sarawak tourist board for their sponsorship of this guide