Benefits of a short tour to Sarawak

Sarawak's intoxicating blend of unique culture, wildlife, cuisine and history, mean it is a world apart from other Southeast Asian destinations, and an enticing addition to longer itineraries on the mainland.

Sarawak occupies the northeast corner of Borneo, one of the largest islands in the world, and is just a hop, a skip and a jump from Kuala Lumpur and Singapore, both of which are under two hours away by air, as well as several other regional airports. With regular daily connections, it's perfectly convenient to fly over for a week or so to see orangutans, which are only found in Borneo and Sumatra, discover traditional Iban lifestyles with a longhouse stay, or to explore the culture and heritage of Kuching.
Most Sarawak tours get started in the state capital of Kuching. Based in this cosmopolitan riverside city you can easily make daytrips to key destinations such as Bako National Park, Semenggoh Nature Reserve and various Iban villages, as well as exploring the fascinating history of the White Rajahs through forts, museums and palaces. Many trips don't stray much beyond Kuching; after all, when you have key cultural landmarks, proboscis monkeys and orangutans and Iban longhouses nearby, and the potential to mix city with rainforest and beach (ideal for families) – there's no real need to travel far.
If you do want to head further afield to other popular Sarawak destinations including the towns of Sibu and Miri, and Mulu National Park, or indeed the neighbouring state of Sabah, then we would normally recommend travelling overland. On a short tour, however, you don't want to spend half your time on the road, so itineraries will usually be based around quick internal flights. The planned expansion of the Pan Borneo Highway will eventually make driving a lot quicker and more convenient.
You may be travelling as part of a small group tour with a fixed itinerary, or on a tailor made tour that allows you to add in a day here or there if preferred, and to customise your activities to a degree. And of course if you want to look at a longer stay then Sarawak offers beach retreats, practically endless opportunities for trekking, and the option to go further north, into Brunei and Sabah.
Getting away from it all in Sarawak
Despite years of tragic deforestation that is thankfully becoming more restrained, Sarawak still has large swathes of rainforest, with some 30 protected areas and astonishing levels of biodiversity, from immense monitor lizards to bearded pigs, endangered orangutans ('the old man of the jungle') and several species of hornbills, the state symbol. This wilderness makes for a deep contrast to more urban environments, so Sarawak is a natural escape for those on mainly city-based tours.
Any Sarawak itinerary is likely to take you to at least a handful of its wildlife-packed national parks, and on a short tour the obvious first place to start will be Bako, which is Sarawak's oldest and smallest national park, just north of Kuching. Despite its size, Bako displays an impressive range of terrain from thick jungle to beautiful white sand beaches and towering rock stacks off the coast, and inhabitants such as macaques and almost 300 proboscis monkeys with their curiously large noses.
At Semenggoh Nature Reserve, you can meet semi-wild orangutans as they come to feed at the former rehabilitation centre (mostly between June and November). This is another very popular excursion for visitors that have little time but are keen to see these incredible great apes in their natural habitat.
Our top Sarawak Holiday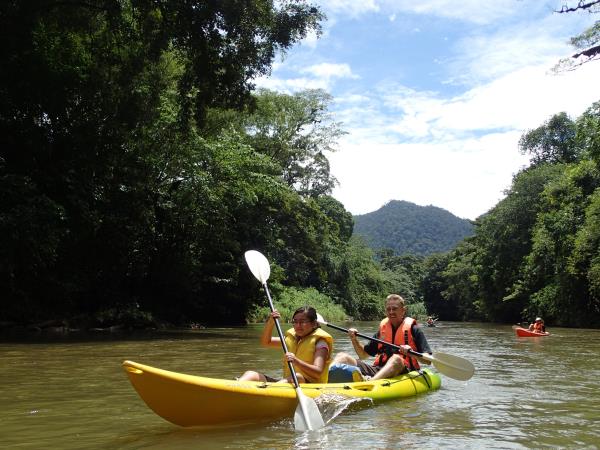 An action-packed holiday got the whole family to enjoy!
From
£995
9 days
ex flights
Tailor made:
Everything is tweak-able, giving you the freedom to build a unique and personal trip for your chosen date. Upgrade your accommodation for all - or just part - of your trip, slow down the pace with few extra nights here and there or add a few more active adventures along the way.
If you'd like to chat about Sarawak or need help finding a holiday to suit you we're very happy to help.

Sarawak culture on a short tour
You may not be in Sarawak for long, but that certainly doesn't mean you can't get a taste for its vivid culture. Many people like to visit an Iban or Bidayuh village, perhaps for an overnight stay in a longhouse, to discover traditional skills such as shooting a blowpipe or making rattan handicrafts. The Annah Rais longhouse in a Bidayuh village, for instance, is just 40 minutes' drive from Kuching. The experience does tend to get more authentic the further you get from Kuching, but even visiting a village near the city is a fascinating and memorable experience, perhaps travelling in by boat and taking a hike through the rainforest with your hosts.
Another must when in Sarawak is learning about the White Rajahs, the former British rulers of Sarawak. Their dynasty was founded by the adventurer James Brooke, and has left its mark throughout the state with many wooden forts and other landmarks, particularly around Kuching, such as the Astana palace, the Old Courthouse and Fort Margherita. The Sarawak Museum, built by the second White Rajah in the style of a Normandy townhouse, holds a superb ethnographic collection, a very useful primer to the state's tribes and their customs. An interesting
Heritage Trail
on both sides of the Kuching waterfront can be explored either on foot or by bike, and covers all of the key sites as well as several lesser-known places.

Responsible Travel would like to thank the Sarawak tourist board for their sponsorship of this guide