Sarawak is Malaysia's largest state, much of it protected land through a system of 30 protected areas including national parks and nature reserves (not all them open to the public however, and we're certainly not complaining about that). From towering cliffs to mangrove swamps, strips of ancient rainforest clinging to mountains, pristine white beaches, vast cave systems home to millions of bats and vibrantly colourful coral reefs, Sarawak nurtures some of the planet's most precious biodiversity.
Any trip to Sarawak will feature at least a few national parks on the itinerary, as many of these wilderness areas are happily very easy to reach. Bako National Park, for instance, the oldest park in Sarawak and one of the smallest, lies just outside Kuching, while the orangutan population of Batang Ai National Park is revered by the Iban people, who often host travellers in their longhouses.
Local guides accompany you as you cruise along rivers in traditional, longtail boats, or walk trails, binoculars in hand, in search of everything from bearded pigs to huge monitor lizards, dolphins and of course orangutans. For the more adventurous and energetic, there is even the option for an itinerary that sees you cycling between parks, covering some 200km over nine days.
A bonanza of biodiversity
Bako National Park
For a park that covers only 27km2, Bako National Park contains an incredibly impressive range of vegetation and wildlife. Besides a healthy population of proboscis monkeys, Bako has over 150 species of birds, plus long-tailed macaques and otters, and rare Irrawaddy dolphins are sometimes seen here too. There have even been reports of clouded leopards. The rainforest is knitted with scenic walking trails but it is the coastline which is the real stunner, all glorious white-sand bays, rocky headlands and arches, and imposing rock stacks out in the sea that make boat trips a must.
Bako Buntal Bay
There is superb potential for birdwatching on Sarawak, with over 500 species to be found in different parts of the island. Of some 20 significant birding areas, Bako Buntal Bay is particularly notable for the large numbers of migratory water birds that frequent its coastal habitat, many of them threatened species.
Miri-Sibuti Coral Reefs National Park
Among the most renowned dive sites in Sarawak for its outstanding visibility and range of coral and marine life, Miri-Sibuti Coral Reefs National Park also has a number of wreck sites including a decommissioned oil rig. Late March to November is the best time for diving, with waters getting warmest from May onwards.
Niah National Park
Surrounded by thick primary rainforest that is rich in flora and fauna, Niah National Park is a fascinating natural and cultural landmark. Here you can see one of the world's largest cave entrances, ancient burial sites, Iron Age cave paintings and the remnants of 'death ships' – boat-shaped coffins that transported the dead to the afterlife.
Kuching Wetlands
15km outside the state capital, the Kuching Wetlands National Park is a maze of protected waterways and tidal creeks thick with mangrove, where monkeys chatter noisily, kingfishers perch on branches, and crocodiles keep a lazy but watchful eye on passing boats.
Gunung Mulu National Park
This UNESCO World Heritage Site, close to the border with Brunei, is home to gibbons, sun bears, pythons and eight species of hornbills, but the main event is actually underground. The park has several absolutely vast caves, including Deer Cave, which is best seen at sunset when some three million bats
swarm out
in search of food. It's an incredible spectacle.
Batang Ai National Park
Forming a small part of a much larger wildlife reserve dedicated to the conservation of what is one of Borneo's few viable orangutan populations, Batang Ai National Park is normally entered by longtail boat, piloted by the indigenous Iban people that see themselves as guardians of the endangered apes. Gibbons, langurs and hornbills are also commonly seen among the branches.
Kubah National Park
Sarawak has an amazing 60 species of frog, and the best place to see them is Kubah National Park, a short hop from Kuching. Here a landscape of streams, ponds and waterfalls provides habitat for tree frogs, swamp frogs and flying frogs, and the Matang narrow mouth frog, commonly found in pitcher plants and, at around the same size as a pea, one of the smallest in the world.
Gunung Gading National Park
Named for Sir Thomas Raffles, founder of Singapore, who discovered it, the rafflesia is the heaviest plant in the world, weighing up to 10kg, and among the rarest. In Sarawak your best chance to see it is in Gunung Gading National Park but be warned; this otherworldy looking and carnivorous plant only blooms for a few days every year, and to attract insects in order to reproduce, it gives off a pongy stench of rotting meat.
Tanjung Datu National Park
Proving that small is beautiful, Tanjung Datu National Park is at 14km2 the smallest park in Sarawak but among the most attractive. What really makes it stand out is its coastline, which is prime nesting territory for two highly endangered species of sea turtle: green and olive ridley. You can watch the turtles coming ashore between April and September.
Our top trip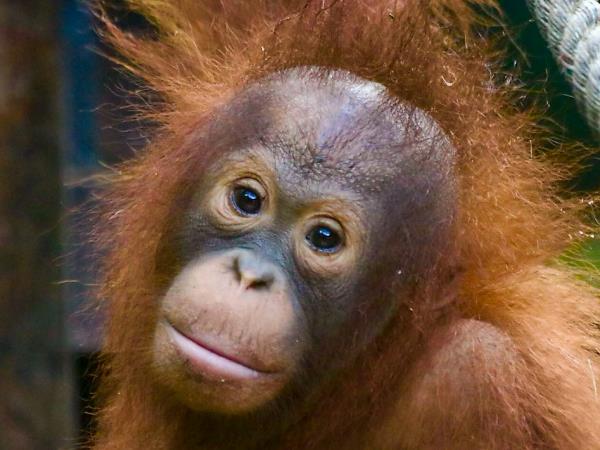 Volunteer at an award-winning orangutan rehabilitation centre in Malaysian Borneo
From
£795

to

£1995
8 days
ex flights
Small group travel:
2023: 5 Dec, 19 Dec
2024: 5 Jan, 19 Jan, 5 Feb, 19 Feb, 5 Mar, 19 Mar, 4 Apr, 12 Apr, 19 Apr, 5 May, 19 May, 5 Jun, 19 Jun, 4 Jul, 12 Jul, 19 Jul, 5 Aug, 19 Aug, 4 Sep, 12 Sep, 5 Oct, 19 Oct, 4 Nov, 12 Nov, 19 Nov, 5 Dec, 19 Dec
If you'd like to chat about Sarawak or need help finding a holiday to suit you we're very happy to help.

The Old Man of the Jungle
There are only around 100,000 orangutans left in the wild on Borneo, and their remaining habitat continues to shrink. Conservation efforts are boosted considerably by tourism, and two of the best places to see the orange-haired 'Old Man of the Jungle' are the Semenggoh Nature Reserve, an hour's drive from Kuching, and the Matang Wildlife Centre in Kubah National Park.
Semenggoh is home to a number of semi-wild orangutans that were rescued from illegal captivity, orphaned or injured, and taught how to survive in the forest again in these safe environs. That rescue program has now been transferred to Matang, where rehabilitation efforts include feeding the apes a diet of bananas and milk to supplement the fruit they find in the forest.
In both places you can watch from walkways as the orangutans swing down from the trees just in front of you. For those that are interested in an even closer look (and seriously, who wouldn't be?) there is the option of an orangutan conservation holiday where you help out at Matang Wildlife Centre, laying out food and cleaning enclosures – but no cuddling, sorry.
Notes from our Sarawak wildlife holiday reviews
"Local guides were fantastic with such a wealth of local knowledge about the culture, history, fauna and flora and biodiversity of the parks. Well worth booking." – Suzanne Gaffney

"As a child I loved animals and dreamed about seeing the orang u tangs in their natural environment. As a 54 year old man I realised that childhood dream the first day of my holiday to Borneo. I stood in the sepilok rainforest park and on the trees top pathway just a few metres away from a wild female orange u tang with her baby. It completely blew me away. I was so lucky and blessed and have been left with memories I will never forget" – John Oliver

Responsible Travel would like to thank the Sarawak tourist board for their sponsorship of this guide