The omen birds will advise when to start clearing, the season for burning and planting and harvesting. In all your endeavours they will guide you. They will watch over you and warn you of the outcome of whatever you undertake. When a project prone to failure or misadventure is likely to befall you, they will caution you. You should heed their voice.

- Where Hornbills Fly: A Journey with the Headhunters of Borneo, by Erik Jensen
The beauty and ecological importance of birds and bird watching in Sarawak have been held in high esteem for generations here, as the indigenous Iban people have long worshipped the bird-god Sengalang Burong. And so when you see the exquisite carvings of the rhinoceros hornbill, crafted in wood by the Iban, they are far from the tacky world of trinkets. Known as kenyalang, they were traditionally carved as part of sacred rites before tribe members went on their notorious headhunting raids. Today, thankfully, they represent the reverence that is given to nature and humankind in Sarawak, not only by the Iban, but by people throughout this vast, biodiverse state.
The rhinoceros hornbill is both Sarawak's state bird and the national bird of Malaysia, and they can grow to a huge size, sometimes as large as an adult swan. They are always high on the list of priorities of any ornithological odyssey, of course, but with 22 designated Important Bird Areas (IBAs) in Sarawak, you won't be disappointed when it comes to finding other species throughout the state.
Bako Kuching Wetlands National Parks and Bako-Buntal Bay Important Bird Area
Closest to Kuching, the state capital, you have a wide array of birdlife; two of the favourite protected areas being Bako and Kuching Wetlands National Parks. The former stretches along the Muara Tebas peninsula, is part of the Bako-Buntal Bay Important Bird Area and a haven for wetland birds such as the endangered winter visitors: Far Eastern curlew and spotted greenshank. There are also resident bulbuls and large billed blue flycatchers and, for those in search of a very special gift sighting, the Christmas frigatebird is a critically endangered beautiful sight to behold.
Kuching Wetlands National Park, just 15km from the capital, makes for a fine feather friend finale to a bird watching holiday in Sarawak, before taking flight yourself. Take a boat trip through these estuarine waterscapes filled by Sibu Laut and Salak Rivers as you look out for a superb array of birds among the mangroves and creeks. These include kingfishers, white-bellied sea eagles and the rare lesser adjutant stork. And few things will make a birder happier than spotting the exquisite endemic, Bornean bristlehead. Never to be upstaged by birds, however, the park's proboscis monkeys and Irrawaddy dolphins will also undoubtedly add to your farewell in pure Sarawakian splendour.
Kubah National Park
Hard to miss, given that it is just over 20km from Kuching, the landmark limestone peaks and rainforest habitats are accessible via walking trails that open up a veritable birding bonanza. Species include plenty of blue beauties, such as the blue-banded pitta, Bornean blue flycatcher and the large-billed blue flycatcher as well as the stunning Bornean Bristlehead.
Gunung Penrissen Important Bird Area
With spectacular views across the Kalimantan border from the magnificent heights of the Penrissen Range, this is also a place to zoom in on the immediate environs too. With forested walking trails, you can spot the pygmy white-eye, white-throated fantails as well as various flycatchers. Seeking more than flies are the stunning black and white Blyth's hawk-eagles which soar elegantly over the Penrissen peaks.
Our top Sarawak Holiday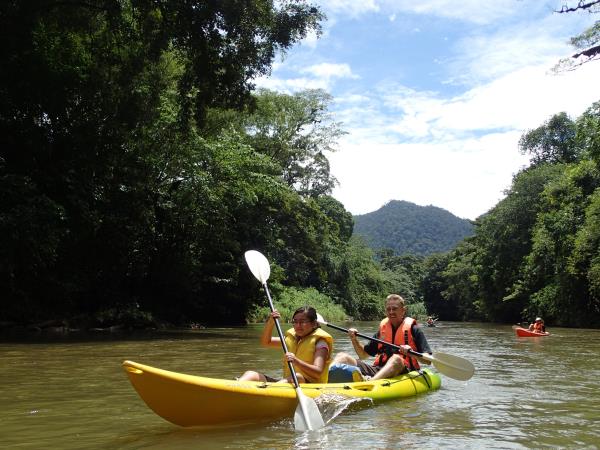 An action-packed holiday got the whole family to enjoy!
From
£995
9 days
ex flights
Tailor made:
Everything is tweak-able, giving you the freedom to build a unique and personal trip for your chosen date. Upgrade your accommodation for all - or just part - of your trip, slow down the pace with few extra nights here and there or add a few more active adventures along the way.
If you'd like to chat about Sarawak or need help finding a holiday to suit you we're very happy to help.

Gunung Mulu National Park
Starting in the north, where the Orang Ulu still thrive, Gunung Mulu National Park is one of the most well equipped parks in terms of access, with boardwalks, canopy walks, observation towers and excellent walking trails. With a unique biome that segues from lowland to montane forest, as well as its iconic limestone massif of jagged pinnacles, you will find all eight species of Sarawak's hornbills here, just some of the 263 bird species to be found in the park. Most of these are in the lowlands, and therefore accessible, with 'near threatened' species, as categorised by Birdlife International, including the oriental darter, lesser fish-eagle and Bornean frogmouth. The specific Important Bird Area within the park is known as Mulu – Buda.
Paya Maga Highlands
Stretching up as high as 1,860m at the top of Gunung Matalan, the Paya Maga plateau, covered in montane heath forest, is also held in high esteem by birders in search of the Bornean black oriole, a black and red oriole endemic to Sarawak. Brimming with other species – many of which are seen in the areas mentioned above – it is the oriole that birders have their binoculars focused on.
Lambir Hills National Park
Lambir Hills National Park in the far north is worth the trek to see why this region is celebrated as an IBA. Fairly compact, you have chances not only to see its 237 bird species but also a variety of other wildlife such as flying squirrels and various species of monkey all claiming this waterfall-rich paradise as their own. Spending a few days here is like being given a kid's kaleidoscope, as you take in all the different colours and spectacles of birds, from the blues of the large billed blue flycatcher, kingfishers or the blue headed pitta, to the heart stopping yellows of the yellow-rumped flowerpecker or the grey-bellied bulbuls. Another treat here is the sight of a Rajah Brooke's birdwing butterfly, a fleeting fancy you will never forget.

Responsible Travel would like to thank the Sarawak tourist board for their sponsorship of this guide