Sarawak adventure holidays
When thinking about far-flung places that instantly evoke 'adventure', it's all too easy to bypass lesser known destinations such as Sarawak in favour of 'big hitters' – Nepal for trekking perhaps, or Canada for sea kayaking - but those that do are missing a trick. Sarawak, a Malaysian state that stretches along the northwest coast of Borneo, is a place of dense rainforest and vibrant green plateaus snaked across by the toffee-coloured waters of the Sarawak River; without question the luxuriant natural hothouse which British naturalist Alfred Russell Wallace studied and wrote about, and whose work famously inspired Darwin - it's nothing less than an explorer's dream.
The very best of Sarawak's attractions are natural, and it's within nature that you'll find some incredible adventure and adrenalin activity opportunities. So not only are you privy to experiences that only a minority actually find, but you're pursuing them in an absolutely authentic setting – so dense is jungle in Sarawak that even the trees lose track of whose bright green leaves belong to whom, and man is most definitely bottom of the pecking order.

What isn't at the bottom of the pecking order, however, is protected land. Because Sarawak plays host to a whopping 30 national parks, opening up trekking infrastructures and jungle adventures to the type of travellers who go nowhere without their hiking boots. Gunung Gading National Park, for example, sprawls across four jungle-clad mountain peaks with a dense primary rainforest that's traversed by crystalline streams and tumbling waterfalls. There are 16 colour-coded jungle trails in Bako National Park which should keep any hiker happy; proboscis monkey spotters should opt for the Telok Delima trail and follow the grunts, while those with a touch of the Indiana Joneses about them should take on the Telok Limau, a seven-hour trek through rich rainforest, scrubland and swamps. Perhaps leave your leather jacket at home though.

The uplifting experience of walking through rainforest laden Batang Ai National Park is not merely because of the landscape, but because you will feel as if you are walking through time. And space, into the beautifully preserved world of the Iban people, the local community and Sarawak's largest tribe which, although proudly traditional, is keen to share its living culture with the world. You can take on a day-long trek with community guides in search of orangutans or, for full on immersion in Iban life, stay overnight in one of their stunning longhouses, constructed to house at least 10 families under one roof, with a central space for visitors.
Gunung Mulu National Park also became a UNESCO World Heritage Site in 2000, because of its spectacularly dramatic karst limestone landscapes. And with karst comes caves. Not just poke your head in and shout for echoes caves, but seriously wacky 'Sarawackian' caves. Such as Clearwater, where only 12 people at a time are guided through 1.5km of subterranean scapes, with crabs, snakes, bats and all. Or Deer Cave which is one of the largest cave passages in the world, where your otherworldly expedition finishes with you not only coming back out for air, but the huge colonies of bats that inhabit them joining you, in search for their almost by clockwork evening feast of flying insects. Another gem is the Sarawak Chamber, accessible after a three hour hike, wading down a river canyon, then up a bouldered slope to one of the largest enclosed spaces on earth. Now that is a trip.
Our top Sarawak Holiday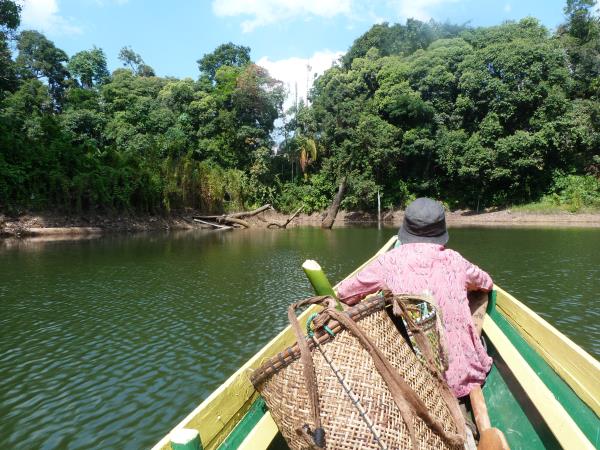 A unique experience in the untouched, beautiful Sarawak.
From
£998
8 days
ex flights
Tailor made:
Everything is tweak-able, giving you the freedom to build a unique and personal trip for your chosen date. Upgrade your accommodation for all - or just part - of your trip, slow down the pace with few extra nights here and there or add a few more active adventures along the way
If you'd like to chat about Sarawak or need help finding a holiday to suit you we're very happy to help.

Swapping paddle for saddle, the Sarawakian jungle covered mountains, ancient trails and back roads are all part of a cycling expedition into the Penrissen Highlands. Although mountain biking trails, in particular, are also popping up now in places like Bau, such as the Bratak and Kampung Opar Trails where old forest tracks, roots and rocks, bends and boulders proffer perfect terrain for MTB'ers to do their grunts and grinds. Because adventurers love a challenge or two on their travels. And Sarawak certainly raises the bar, enabling hikers to explore and summit, bikers to pump, paddlers to put in and climbers to conquer challenges. All off the beaten track. Because that, fair adventurers, is Sarawak.

Responsible Travel would like to thank the Sarawak tourist board for their sponsorship of this guide