Orangutan conservation in Sarawak
When is a sanctuary not a sanctuary? When it is in Sarawak. Because the legal definition of places that are created in order to protect and conserve the highly endangered orangutans of Sarawak, the largest state in Malaysian Borneo, is quite simply 'an area'. Which is wonderfully simple, as it automatically stops visitors from imagining these special places to be zoos or wildlife parks. Wildlife conservation areas are far from that; they are zoned off areas of wilderness habitats where orangutans can still live safely, but where they have become 'habituated', in order that experts can help feed, breed and undertake every deed possible to keep the rapidly dwindling populations from dying out altogether.
And when is a conservation holiday not a holiday? When it is in Sarawak. Because in general, they are referred to as 'projects' or 'volunteering placements'. As extraordinary as they are, in that conservation volunteers are making a difference between life and death, they are not holidays in the conventional sense of the word. They are all-hands-on-deck trips to save this 'old man of the forest' – which is how the word orangutan translates from the Malay. JUST 100 years ago over 300,000 orangutans roamed the forests of Borneo and the neighbouring island of Sumatra. Today, there are thought to be only around 100,000 in Borneo in total, most of them lost due to habitat destruction for logging, forest clearing for farming and forest fires. So, this is serious conservation work, where volunteers won't be able to have direct contact with orangutans, due to the high risk of them catching human disease; even a common cold could kill a baby orangutan. However, the work is invaluable, ranging from cleaning cages that house injured and rescued orangutans, planting fruit trees to re-establish all important habitats or building structures for them to swing on. So holidays they are not. Heroic acts of conservation, they certainly are.
Volunteering with or visiting orangutan conservation areas in Sarawak often starts within just half an hour of arriving in its capital, Kuching, at the Matang Wildlife Centre. Located within Kubah National Park, this refuge for rescued orangutans is in a contained area of rainforest where the animals are nursed in preparation for, hopefully, their re-release. Day visitors can observe feeding sessions, while longer volunteer placements include working on the infrastructure and learning animal husbandry techniques. Then onto the Semenggoh Orangutan Centre, again caring for semi-wild orangutans which have been injured or orphaned, or kept illegally as pets. Semi-rehabilitated adults are most likely to be spotted out and about at feeding times, when they dangle on vines carefree and Gene Kelly-like with their graceful movements, just swinging in the rain. Read more about
volunteering with orangutans
Orangutans are eerily human and, ironically, many conservationists believe that it is this similarity to humans (they share 96 percent of our DNA) that has endangered them so. Hopefully it is payback time now, however, and humans can be the ones to save them from their almost terminal diagnosis. A lot of conservation organisations focus not only on rehabilitation and reproduction, but also a complete re-education of local communities for whom orangutans have just been pests in the past. Or a source of income or, sometimes, just pets, which of course kills them. Conservation organisations also focus on re-educating consumers and companies that allow the biggest killer of all to happen – the destruction of rainforest habitats for palm oil, used the world over in food and cosmetic products.
Our top trip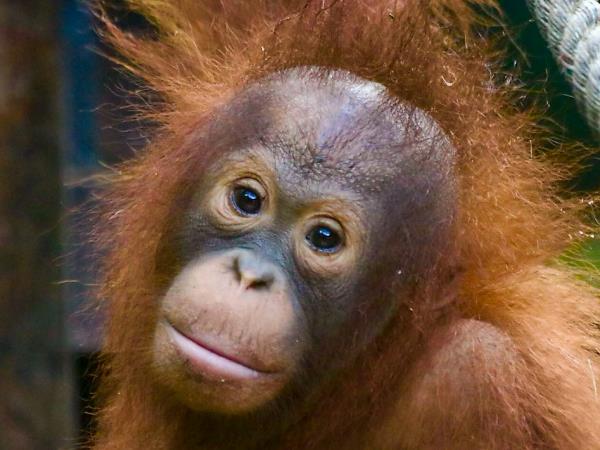 Volunteer at an award-winning orangutan rehabilitation centre in Malaysian Borneo
From
£795

to

£1995
8 days
ex flights
Small group travel:
2023: 5 Dec, 19 Dec
2024: 5 Jan, 19 Jan, 5 Feb, 19 Feb, 5 Mar, 19 Mar, 4 Apr, 12 Apr, 19 Apr, 5 May, 19 May, 5 Jun, 19 Jun, 4 Jul, 12 Jul, 19 Jul, 5 Aug, 19 Aug, 4 Sep, 12 Sep, 5 Oct, 19 Oct, 4 Nov, 12 Nov, 19 Nov, 5 Dec, 19 Dec
If you'd like to chat about Sarawak or need help finding a holiday to suit you we're very happy to help.

Community led conservation projects are what are really creating a change in Sarawak, however, and these also provide some of the most fascinating and life affirming experiences for visitors keen to contribute to orangutan conservation efforts. The finest examples of this is among Sarawak's Iban tribes in the Batang Ai National Park, where 90 percent of the state's orangutans live and where the Ulu Menyang Wildlife Conservation Area has recently been created. This, like other park initiatives, is managed by the indigenous Iban people, who are the ancestral custodians of these lush landscapes, the mountains and the jungle as well its rare wildlife, including the orangutans. Conservation trips here are the real thing, travelling into remote parts of the park along the river, and staying in traditional longhouses within the community.
Volunteers can participate in the rehabilitation centres, working hand in hand with the Iban, who value the exchange of knowledge and common need to care for the orangutans, just as much as visitors do. You may not be allowed to have contact with the 'Old Man of the Forest', but communicating with some of these wise old men of the Iban, trekking with them in the forest, learning their traditional handicrafts, fishing and cooking with them, or simply sharing sunrises and sunsets is something you will never forget. Ultimately, orangutan conservation isn't about areas, or sanctuaries or centres. It is about people, their positive interaction with nature, their historic understanding and newly regained respect of precious primates. It is about knowledge and care for future generations. No matter what tribe you come from, or what words you use.

Responsible Travel would like to thank the Sarawak tourist board for their sponsorship of this guide