Travelling in Sarawak with kids

Dense jungle, proboscis monkeys' dangling from trees, and a smiling indigenous community - Sarawak is perfect for families in search of adventure

Travelling in Sarawak with kids is about inspiring their little minds with intriguing cultural experiences, exploring wildlife they've only ever dreamt of, and trying new things. They might get bored walking round the supermarket, but they'll probably trek for miles in the rainforest; you might think they're picky eaters, but if they watch an Iban cooking fish in a bamboo stem over an open fire and our money's on them trying it. You'll need to be an adventurous family and you'll need sun lotion and insect spray too, but open your mind to the Sarawakian way of life and it'll really open your kids' eyes.
Activities for families in Sarawak
Sarawak Cultural Village.
Craft making, cooking, singing songs – this 'living museum' that does local life with bells on. Sprawled across 17 acres, there are 150 village inhabitants happy to demonstrate the diverse customs of Sarawak's ethnicities. Kids love it, and you'll get to watch them squirm with embarrassment as you try your hand at tribal dancing.
Kuching Cat Museum.
Just in case the heavens really open, it's always good to have an alternative activity to trekking lined up for your kids – cue, the Kuching Cat Museum, an homage to al things feline housing 2,000 exhibits, artifacts and statues about cats of the world. A bit bonkers, but brilliant for a rainy day.
Caves
Sarawak is home to some of the world's most fascinating cave systems – the Sarawak Chamber at Gunung Mulu National Park is the largest cave in the world standing at 2,000ft long, while the 'Rock Hole' at Lobang Batu is a cave within a mountainside that's bathed in ethereal shades of green and blue.
Our top trip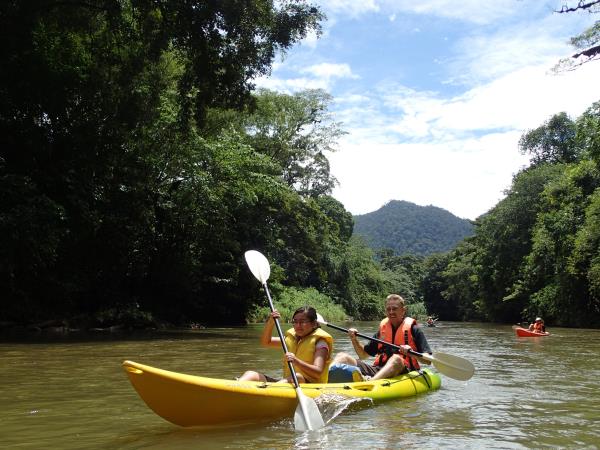 An action-packed holiday got the whole family to enjoy!
From
£995
9 days
ex flights
Tailor made:
Everything is tweak-able, giving you the freedom to build a unique and personal trip for your chosen date. Upgrade your accommodation for all - or just part - of your trip, slow down the pace with few extra nights here and there or add a few more active adventures along the way.
If you'd like to chat about Sarawak or need help finding a holiday to suit you we're very happy to help.

Responsible travel asks the experts
Stef Studley, from our supplier Regent Holiday, shares her opinion on Sarawak as a family destination: "I've organised trips for families to Sarawak before, but it tends to be a destination for not very young children because a lot of the time the accommodation can be of a standard that wouldn't work with a baby or toddler, but if you've got a family with children that are interested in the outdoors and wildlife, and not computer games, then I think it works as a destination for 5-years-old and above. I think a lot of people regard Sarawak as a slightly poor relation to Sabah, but that doesn't do it justice: it can be a lot quieter than Sabah, which is no bad thing and it has such a lot to offer, particularly in terms of cultural experiences as well as wonderful wildlife; it's a great balance for families."
Nicki Hollamby, from our supplier Audley Travel, shares her tips on travelling in Sarawak with kids: "If I was doing a family trip to Borneo, I'd spend half the time in Sarawak because you can base yourself in Kuching and do daytrips. It's a brilliant city with plenty of character, and it's more of a cultural capital, whereas in Sabah, it's all wildlife and beach. In Sarawak you can stay overnight with communities, which – when done properly – is really great for both the tourists and the tribes. Then you can go kayaking through the mangroves looking for the river dolphins and visit Bako National Park, but it's a daytrip so it's not too intense for kids. Then you come back to your comfortable hotel in the evening, go out and eat some of the local food, go to the markets... but you're not really isolated in the rainforest, and I think that's really good for families."

Responsible Travel would like to thank the Sarawak tourist board for their sponsorship of this guide