A trans-national tropical rainforest bridging the wild, green space between Malaysia's Lanjak-Entimau Wildlife Sanctuary and Indonesia's Bentuang-Karimun National Park, Sarawak's Batang Ai National Park lies at the headwaters of the Batang Ai and the Lubang Baya rivers.
A 240km2 biodiversity hotspot that teems with animal and plant life, for any traveller – particularly those mesmerised by the thought of watching fireflies dance over the water by night, or catching a glimpse of an orangutan living in the trees – Batang Ai represents the pinnacle of both adventure and nature travel. A remarkable landscape of true 'otherness', it is a fascinating environment where the orangutan is King, the indigenous Iban people of the forest his court, and the rest of us mere spectators.
Only found in the rainforests of Sarawak, Sabah and the Indonesian Kalimantan, the Bornean orangutan is a highly endangered species, but, with the highest orangutan population density in the whole of central Borneo, the Batang Ai National Park is an unsurpassed destination in which to see them. Factors such as deforestation, a rampant logging industry and indiscriminate hunting, have all contributed to a decline in wild orangutan numbers worldwide, but at Batang Ai they are a highly prized and protected asset. Only to be found in the rainforests of Sarawak and Western Kalimantan, the Borneo orangutan (Pongo pygmaeus pygmaeus) is an endangered species, and the Batang Ai area is a good place to view them. Travel company Borneo Adventure and local Iban communities, working in conjunction with the Sarawak Forest Department and the Wildlife Conservation Society, conducted orangutan nest surveys; the outcome resulted in the State declaring an additional 150 sq km as a "high value conservation area," which will not only provide shelter from deforestation and logging, the main cause of loss of habitat for wildlife, but also ensure a continual supply of food and nutrition to the local people.
This is good news for both the orangutans and the local Ibans. Without question, it is the mutually beneficial relationship between the orangutans and the local Iban residents that makes the Batang Ai National Park so special. Forming a co-operative body in order to participate positively in tourism and help the Sarawak Forest Department in the conservation of the park, the local Iban community – which make up some 30% of Sarawak's population – are fully involved with park management and wildlife conservation endeavours across Batang Ai. A fantastic example of how to get conservation right, this not only helps to protect its precious orangutan population, but in turn ensures the Iban can continue to practice their traditional ways of life, many of which depend on forest produce.
This theme of symbiosis is one that extends throughout Batang Ai; the Iban have lived in and around the park for over 400 years, making up an essential part of its overall ecosystem and contributing to its wonderfully unique mix of terrain. A fertile combination of mixed lowland, tall dipterocarp hill forest and secondary forest, the park lays claim to over 1,000 species of tree, and close to 200 herbs, shrubs and climbers - it's said that almost all of these leaves are either useful, medicinal or edible and the Iban are testament to this. They can recognise and gather over 140 kinds of medicinal plant (rumours persist of a native chief who once survived an unfortunate chainsaw accident by the quick administration of Straits rhododendron to his bleeding stump); they use wood, fibres, bamboo and resin to build homes and transport; and they eat around 150 varieties of wild fruit and jungle vegetable.
Our top trip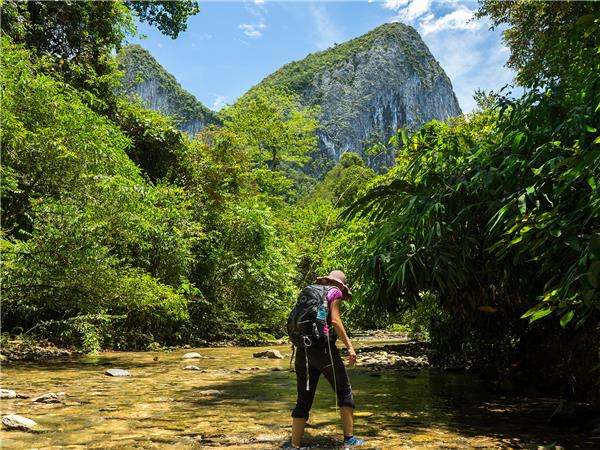 Encounter orangutans and hike through virgin rainforest
From
£1207

to

£1535
10 days
ex flights
Small group travel:
2024: 29 Feb, 14 Mar, 21 Mar, 28 Mar, 4 Apr, 18 Apr, 25 Apr, 2 May, 16 May, 30 May, 6 Jun, 13 Jun, 20 Jun, 27 Jun, 4 Jul, 7 Jul, 11 Jul, 18 Jul, 25 Jul, 1 Aug, 15 Aug, 22 Aug, 29 Aug, 5 Sep, 12 Sep, 19 Sep, 10 Oct, 17 Oct, 31 Oct, 14 Nov, 28 Nov
2025: 27 Feb, 6 Mar, 13 Mar, 20 Mar, 27 Mar, 3 Apr, 10 Apr, 17 Apr, 24 Apr, 1 May, 15 May, 22 May, 5 Jun, 12 Jun, 19 Jun, 26 Jun, 3 Jul, 10 Jul, 17 Jul, 24 Jul, 7 Aug, 14 Aug ...
If you'd like to chat about Sarawak or need help finding a holiday to suit you we're very happy to help.

Of course, it isn't just the human population of the Batang Ai National Park, or the long-limbed orangutans that make up vital links in its glorious chain of life-giving ecosystems; the park is also home to a remarkable and hugely diverse host of other wildlife including Bornean gibbons, whose distinctive, high-pitched whooping calls can be heard echoing through the canopies, and slow loris, who prefer to prowl at night. Besides rare clouded leopards, bearded pigs, and giant squirrels whose body and tail length can measure in at one metre, dozens of other mammals – many of which are quite shy and hard to spot – can be heard before they're seen lurking in the lowlands. Sarawak's state bird, the spectacular rhinoceros hornbill – which the Iban believe acts as a messenger between men and gods – can be found sat among the trees with its black and white plumage and distinguishing orange horn, and you'll even find two types of river turtle and a phenomenal 52 species of frog.
By far the most exciting and rewarding way to experience Batang Ai's thriving mix of landscapes and wildlife is to explore one of its five trails – the park itself can only be accessed by traditional longboat, or dug-out canoe, and every trail, though carefully plotted, is an adventure into the unknown each beginning near the park headquarters, but veering off in different directions. The shortest and simplest trail, the Padalai, is 1.8km long and passes through an atmospheric Iban burial ground peppered with burial jars before following the course of the Batang River, passing by pig wallows and clear patches of forest floor, and finally descending at the top of the picturesque Wong Padalai rapids. By contrast, the more challenging 7.6km Sium Trail begins with a thrilling climb and a journey through undulating hill forest and across vivid green and blue lakes, before descending rapidly to follow the flow of the Beritik River, a body of water shrouded in spiritual mystery.
At a time in the world's history, and certainly in the history of tourism, where 'artificial' encounters and experiences are an increasing problem, regarded solely as profitmaking for travel agencies and government bodies alike, Batang Ai National Park is as 'real' as it gets. The rainforest sounds you hear, some like the clumsy clatter of a cutlery draw, might mean an orangutan has underestimated the height of a trellis of palm leaves; rustles and snuffles through dark, dense foliage can reveal mammals most of us never knew existed; and solid black lines of ants marching purposefully are sure to cross your path. It is another world entirely, and it is captivating.

Responsible Travel would like to thank the Sarawak tourist board for their sponsorship of this guide