Thereís only one way to see the very best of Malaysia: bolt on an extra week in Borneo. Just a three-hour flight away from Kuala Lumpur, itís an island of many nations: Malaysia and Brunei have planted their flags in the sand in the north, while Indonesia has scooped the south. Itís also an island of many flora and fauna, including some of the most biodiverse forests on the planet.
Organised trips are one of the best ways of squeezing the most out of your Malaysia and Borneo holiday, and they can be as hands-on or hands-off as you fancy. Tag along on a small group adventure (say, wildlife watching or mountain trekking) and travel with people you wonít want to leave behind on the last day. Or opt for a tailor made itinerary thatíll be crafted around exactly how many days you want to spend at the Sepilok Orangutan Rehabilitation Centre (all of them!) and whether youíd like some alone time at a beach lodge.
Trips tend to stick to Malaysian Borneo, so you donít have to faff around with extra border crossings and visas. Make sure you put aside a good two weeks, though. Most holidays to Malaysia and Borneo last between 12 and 16 days, starting and ending at Kuala Lumpur on the Malay Peninsula. Donít worry about the distances; a long drive or ferry can often be swapped for a quick domestic flight.
Thereís another perk to organised travel Ė the indispensable knowledge and language of your guides. Theyíll teach you a few words of Malay and point out the unmapped noodle houses, offering you a chance to dig deep into Malaysian culture. Plus, all that local expertise will mean skipping hours spent rifling through train and plane timetables. Your guide or tour operator will know whether itís best (or just more fun) to drive one way and cruise back along the river.
The jungle VIP: orangutans
Thereís no getting around it Ė most people go to Borneo to
see orangutans
. And fair play to them. Borneo and Sumatra are the only two places you can glimpse orangutans in the wild; in fact, the word orangutan comes from Malay for person of the forest (
orang hutan
). For guaranteed sightings, swing by Sepilok Orangutan Rehabilitation Centre. Set up by German-British anthropologist Barbara Harrisson in 1964, itís risen to near celebrity status thanks to its patient, hands-off approach to rehabilitating rescued primates. Arrive at feeding time to see for yourself how the conservationists put down deliberately bland food to encourage orangutans to go off and forage for themselves.
A few more conservation centres share the Sepilok Forest Reserve. The Sun Bear Conservation Centre rescues honey-loving bears from captivity and habitat loss. Five minutes up the road, the Rainforest Discovery Centre takes you up into the rainforest canopy, where flying foxes and primates swoop from tree to tree.
Our top trip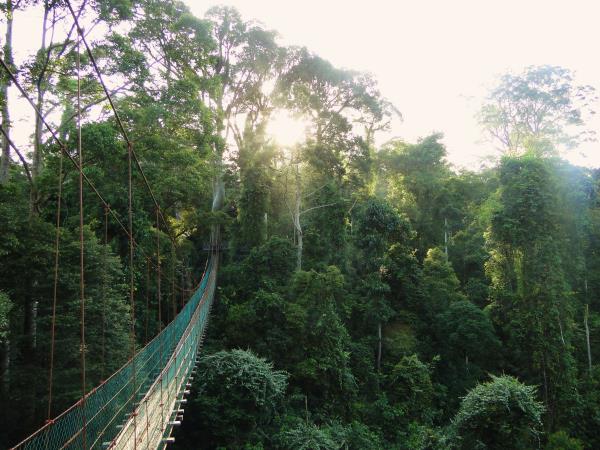 Wildlife adventure in the heart of Borneo
From
£5590
11 days
inc UK flights
Tailor made:
This trip can be tailor made throughout the year to suit your requirements
If you'd like to chat about Malaysia or need help finding a holiday to suit you we're very happy to help.

The Kinabatangan is one of the longest rivers in Malaysia, ducking and diving through the forested plains between Borneoís north coast and interior. An organised tour will put you in touch with an eagle-eyed local guide, who can answer all your questions about the primates clinging to the rainforest canopy or the crocs cruising alongside you. On a dawn boat trip you could catch an endangered Borneo pygmy elephant bending its knees for a drink. A night hike, perhaps? Itís all about the fireflies and owls.
Most tours stop off at the Gomantong Caves on the north side of the Kinabatangan River. The neck-craningly tall main chamber is practically gothic, crawling with cockroaches that feed on bat guano. But the most famous residents hide high above the boardwalks: swiftlets. Collectors harvest the prized, high-protein nests twice a year, which make the base of the Chinese fountain of youth recipe of birdís nest soup.
Gomantong Caves is a national park, so at an official level harvesting is now strictly regulated to protect recovering swiftlet populations. But scaling rickety scaffolding and massive piles of toxic guano is as risky as it ever was for the harvesters. Get your guide to fill you in on
the debate
surrounding birdís nest soup.
Mountain treks & tea hills
Mount Kinabalu (4,095m), in the Bornean province of Sabah, is the spire of Malaysia. To catch its best side, youíll need a guide to tell you about all the weird and wonderful flora and fauna youíll see in its foothills. A two-day trek climbs through a series of climactic zones that double as a greenhouse for around half the worldís flowering plant species. Itís like suddenly finding yourself off-planet: youíve got luminous mosses, carnivorous plants and fairytale fungi. And then there are the fiery rhododendrons and 1,200-plus species of orchid. The Rafflesia arnoldii (or corpse lily Ė charming) is a resident, too, and the biggest flowering plant in the world. Bat-like flying lemurs are the Ė quite frankly bizarre Ė topping, not least because they are not lemurs, and they glide Ė not fly.
The hike up Mount Kinabalu might be a well-trod route, but itís also a real challenge. You must be fit enough for a two-day, high altitude trek, and also prepared for changeable weather that gets chillier the higher you get. It all ends with a rope-assisted scramble up to the summit that more resembles abseiling than walking. The viewís worth it, of course. Most treks overnight in the dorms of a rest hut, so you can make the final ascent at dawn. Clearing skies often raise the curtains on long range views over Borneo and as far as the southern Philippines.
Fancy something a little less challenging? Take on the Cameron Highlands back on the Malaysian mainland, just a three-hour drive north of Kuala Lumpur. British hill stations perch on the low mountaintops, rolling out red carpets of strawberry farms and tea plantations.
You can go for a wander around neighbouring Taman Negara National Park while youíre at it. Itís one of the oldest remaining rainforests, with trails burrowing deep into the jungle, crossing suspension bridges and river routes. Alternatively, ditch the hiking boots completely and slip towards the cascades and pools of the Lata Berkoh waterfall by boat. Lesser known hikes like Taman Negara National Park tend to be the speciality of tailor made holidays.
Holidays to Malaysia and Borneo err on the adventurous side. But tailor made tours give you the chance to balance being on your feet in the forest with kicking back on a beach. Round off your trip by catching the boat from Sandakan to the sandy speck of Lankayan Island. Peaceful, unpopulated, obscenely pretty Ė a decent little coda to two weeks of touring. Your tour operator will sort you out with a seaside chalet with widescreen sunset views. All you have to do is swap your boots for flip flops.
Thereís another option: why not shake things up and start your holiday on the beach? Lovely Langkawi is only a half-hour flight from Penang on the Malay Peninsula. This archipelago speckles the Andaman Sea with almost 100 tropical islands crowned with beaches and jungles. Avoid the writhing tourist beaches and let time turn syrupy-slow as you cycle the pancake-flat beaches or explore mangroves by boat.
Most international flights nip in and out of Kuala Lumpur, so thatís where youíll probably start your holiday to Malaysia and Borneo. Really, itís just the excuse you need to tag on an extra day or two to explore a place that puts the multi in multicultural. Malay, Chinese, Indian and British cultures have all visibly had a hand in shaping KL.

While various trading nations have come and gone, the globe-trotting food scene has stuck it out. Most holidays include a food tour that will whisk you around Brickfields (AKA Little India), where sweet shops peddle cendol Ė a concoction of shaved ice, plum sugar and coconut milk jelly. Youíll also tackle fast-paced Chinatown. Some of the more traditional coffee houses are like taking tea in a grandparentís living room, wonky family portraits and all.

A guided tour is also a great way to get your bearings, taking you by the strikingly modernist National Mosque and the National Palace museum while giving you a potted history of an ever-changing country. Some of the best views come courtesy of the 88-storey Petronas Twin Towers. Not fussed about the queues and crowds? Sip a jungle bird rum punch (a KL speciality) at one of the many sky bars instead.