Best time to visit São Tomé & Príncipe

These islands do beauty in twos. There are two dry seasons: the short
gravanita
and the longer
gravana
. Two wet ones, too – but this is when the orchids are at their finest.

At the moment, just a handful of organised trips run to São Tomé and Príncipe, and they tend to visit in January, May and October. Two beautiful islands deserve two dry seasons. The first is December to February and the second is from June to September. The best time to go to São Tomé and Príncipe for bird watching – and there are a lot to watch – is October to March. February to May is when the heavens can open, but then paradise does need watering from time to time. Temperatures never waiver too far from the 27°C mark all year though.
When to go to São Tomé & Príncipe, month by month
Humpback whales visit the waters around São Tomé between late July and October, as they leave their summer feeding grounds in low latitudes in search of warmer climes for mating and calving. Independence Day is 12 July, with lots of carnival atmosphere going on. Although January, February and March are hot, it can be quite hazy on the coast, an effect known as bruma seca, caused by Saharan sands being blown westwards. Turtles nest between mid-November to early February, with eggs hatching 45 days later, so you can enjoy turtle watching into March as well. There are two rainy seasons: a short one during October and November and a long one from February to May. This longer one is the worst for mosquitoes, and as malaria is present in São Tomé and Príncipe, do come prepared. Bird watching is superb from October to March, although during January and February there is a particular feather frenzy as they all compete for beautiful colours during mating season. Príncipe parties in August when St Laurent's festivities take hold at the Auto de Floripes festival.
São Tomé and Príncipe Weather Chart
Things to do in São Tomé and Príncipe
Things to do in São Tomé & Príncipe …
São Tomé and Príncipe is a pretty much unknown utopia for keen walkers. Particularly São Tomé, where the infrastructure is developed just enough to discover trails within Obo National Park, which covers a third of the island. You can find some superb local guides here to lead you through its volcanic voluptuousness and virgin rainforest terrain. There are also two dry seasons, so you can avoid the heavy rains, but most trips don't run during the wet season anyway.
Stay in a plantation house, known locally as roças. The roças are heaving with history, and not always a positive one, as Portuguese colonists used slaves and bonded labour for years to exploit cocoa and coffee resources, even after other countries had abolished slavery. Many of the main houses were abandoned after independence in 1975, and slowly but surely they are being restored, many in a sustainable way. These are wonderful places to stay, be it on the coast, in the mountains or enveloped by farmland.
Learn about the local culture and history. There is a wonderful fusion of Portuguese and Central African influences on the islands. The Angolar Creole villages of São Tomé's south coast are a hive of music and dance, and the capital São Tomé city has a new wave of artists, local gastronomy, traditional dance and music. And chocolate lovers, be prepared for 'death by'.
Things not  to do in São Tomé and Príncipe …
Go hiking without a guide – unless you are very experienced. The walking trails are not very developed so you really do need inside information. Anyway, you will delight at having a local guide to point out many of the endemic bird species, or help you climb Pico de São Tomé, find a secret waterfall or a remote beach.
Expect to speak English. The official language is Portuguese, so it is definitely worth learning a few phrases before you head off. Forro is a Creole language spoken by about half the population. Also known as Sãotomense, it is a fusion of Portuguese, Bantu and Kwa. If you can learn a few words of this, you will make friends for life.
Ignore malaria warnings. It does exist here – although it is rare in populated areas – but do take all recommended precautions, especially during the rainy seasons.
Be shy. Sãotomeans are incredibly welcoming, open and warm hearted. Singing and dancing is at the heart of their culture, everyone shakes hands and hugs, and the population is very young, with over 70 percent under the age of 20. There is a lot of energy in the air, and they welcome guests with open arms. Sãotomeans enjoy good life, fine local produce, beer (although they aren't renowned for being heavy drinkers), and crime is pretty much unheard of.
Our top trip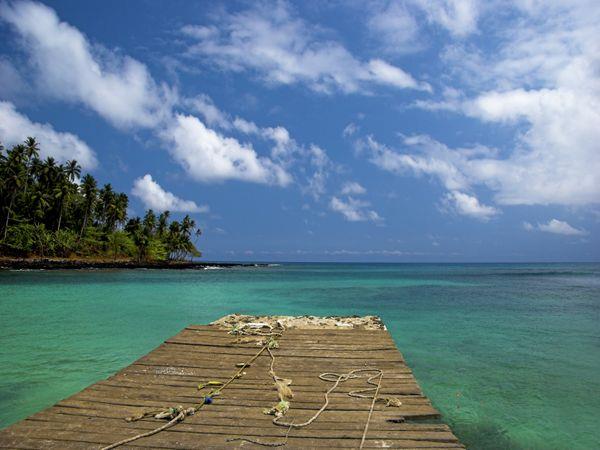 Island hopping & self-driving on four tropical islands
From
£4600
11 days
ex flights
Tailor made:
This trip can be tailor made throughout the year to suit your requirements
If you'd like to chat about Sao Tome & Principe or need help finding a holiday to suit you we're very happy to help.

Responsible Travel recommends
Jim Louth from our leading São Tomé and Príncipe supplier, Undiscovered Destinations:
Where to stay tip
"Tourism is at a very early stage of development in São Tomé but is beginning to increase. There are a number of luxury hotels but staying in one of the plantation houses (roças) will give you a real feel for the country. Many of the roças lie in ruins but some have now been opened for tourists to stay in. Surrounded by rain forests, they are perfect for walks, bird watching and discovering colourful and rare orchids. Simply renovated, these plantation houses have a small number of rooms, normally less than 10, and shared bathrooms. Generally there is no hot water, and electricity can be sporadic, but you can expect lots of character."
Food tip
"Traditional São Toméan food is delicious and the fresh fish is a real treat accompanied with beans and/or rice."
Responsible tourism tip
"As with all regions with an increasing but under developed tourist industry, travelling responsibly is vital. Please don't give anything to children who may ask for sweets, pens or gifts. This is not currently a major issue but if you do wish to donate, speak to your tour operator before travelling and they can suggest items to bring and donate to local charities."
Best time to go tip
"If you just wish to lie on a beach then the rainy season is actually a good time to visit. Personally, to really see the best of the islands and explore in more depth, then May and October are perfect for exploring. If visiting between August and October you may get lucky and see humpback whales, killer whales and dolphins off the northeast coast."
More Sao Tome & Principe articles