São Tomé and Príncipe travel guide
Once known as the Chocolate Islands, because cocoa was the main product of its colonial years under Portuguese rule, this stunning, tropical, dual island nation now has its eye on a much less tangible resource: the creative power of its youth. Because over 70 percent of the population of São Tomé & Príncipe, just 250km off the coast of Central Africa, is under 20 years old. This is the generation that has a chance to finally remove the shackle marks left by its colonists, where bonded labour was too long the norm.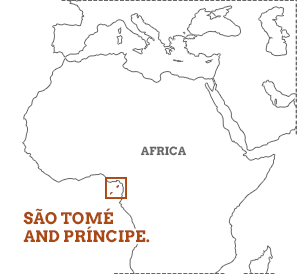 In São Tomé & Príncipe, we don't need to be too rich. The greatest richness should be focussed on our way of being: welcoming, living and sharing.

– João Carlos Silva, São Tomé plantation owner and cultural visionary
Only gaining independence from Portugal in 1975, many of the younger generation now recognise that the future is about preservation, not exploitation. Preservation of the rainforests, volcanic terrain, endemic wildlife, Sãotomean culture and coastal paradise. The fermentation of cocoa beans is an important part of the chocolate making process. And in many ways, as our São Tomé and Príncipe travel guide shows, responsible tourism is still in its fermentation stage here. Managed carefully and slowly, the end result will not only be democratic but also totally delectable.
São Tomé and Príncipe is...
a two island nation, although most tourism is on São Tomé. It doubles up on everything though. Beauty, friendliness and rainforest: nothing is done by halves.
São Tomé and Príncipe isn't...
a resort destination. It has hung on to its own identity, architecture and style, thankfully.
São Tomé and Príncipe map & highlights
There is just one main road that goes all around the island of São Tomé, and you will travel through many different landscapes on its 850km loop. These include the volcanic and virgin tropical terrain of Obo National Park, and the traditional Angolar Creole villages of the south coast, where turtles nest and fishermen fish. Plantation and colonial heritage is everywhere – some shabby, some far from it, and there is no finer example than the capital city, also called São Tomé. The island of Príncipe is a 35-minute flight from São Tomé, and yet still very quiet on the tourism front. Watch this space, though.
1. Bird watching
Go highlands or lowlands, mountains or marine landscape, and you will always spot stunning birdlife. Birders have these islands up there with the Galapagos for avian awesomeness. Obo National Park is the top spot with 230 species, 28 of them endemics. Which is a lot, for the nation's size. Look out for parrots, São Tomé grosbeak, dwarf olive ibis and São Tomé scops-owl among many others. Rolas Island is another top birding spot.
2. Obo National Park
Covering a third of São Tomé, this is naturalists' nirvana, with virgin rainforest, over 100 unique orchids and mountains that descend to white and black sandy beaches. Its iconic landmark is Pico Cão Grande, a huge rock that dominates with what can only be described as a phallic presence. Geologists prefer to call it a volcanic plug. Hike to waterfalls, Lake Amelia crater and keep your eyes peeled for endemic bird beauties.
3. Plantation houses
Particularly in the north of São Tomé, in the heart of cocoa plantations, there are some magnificent former plantation houses that have been restored into eco, exquisite places to stay. Known as roças, many are also locally owned. There are also many still left empty, or being taken over by jungle, but others are seeing themselves as hiking or cultural hubs, bird watching meccas or coastal chill out zones.
4. Porto Alegre
A fishing village at the heart of and gateway to the south's beautiful beaches, with precious spots such as Jalé Beach and Praia Piscina offering stunning, natural places to chill out. Swim, snorkel or kayak among the mangroves, and stay at a nearby ecolodge, looking out for nesting turtles in season. This is also gateway to the coastal part of Obo National Park. No wonder Porto Alegre translates as 'happy port'.
5. São João Dos Angolares
A small fishing village with big, beautiful ideas, thanks mostly to a local leader in responsible tourism who runs the main roça, or plantation house here. Stay here and visit coastal community projects, art projects, go bird watching for the endemic dwarf olive ibis or just enjoy Sãotomean culture through music, dance and beach life. And if you don't stay at the roça, definitely book it for dinner.
6. São Tomé City
If you like the idea of a beach right beside the museum, then this is your type of city. The capital and home to 60,000 people, it is a peaceful and pretty mélange of Romanesque churches, faded colonial architecture and sand dusted boulevards. The Presidential Palace and Independence Square are the historic highlights, with the International Centre for Art and Culture, Central Market and Ana Chaves Bay's beaches being the cultural ones.
If you'd like to chat about Sao Tome & Principe or need help finding a holiday to suit you we're very happy to help.

More Sao Tome & Principe articles