The Kyle Line rail holiday
The Kyle of Lochalsh railway station, close to Eileen Donach Castle which stands at the meeting point of three lochs, is the terminus for our
Kyle Line rail holidays
. This wonderfully underrated route takes you coast to coast through an extravaganza of exquisite Scottish Highlands landscapes, with the potential to cross over to the stunning Isle of Skye, and connect to another renowned rail route too, the famous West Highland Line.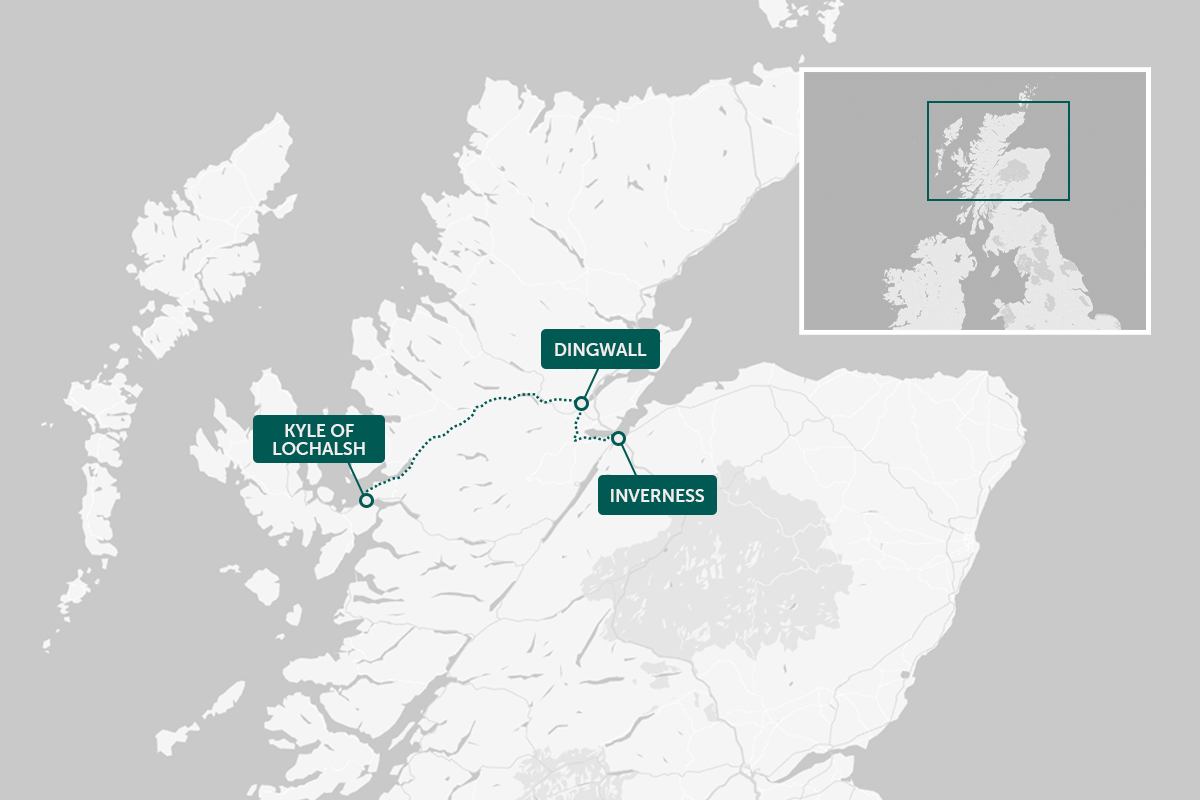 How long is it?
The Kyle Line is 120km long and takes about two-and-a-half hours, travelling on a single track for most of the way. Although it is often referred to as starting in Inverness, this branch line actually starts in Dingwall, just outside Inverness although it is linked to the Highland capital. It just branches west from Dingwall as the Far North Line branches, well, north, to Thurso.

This railway route is all a bit train-tastic really, taking you on a journey through highland greats known as the Torridon Peaks, home to nine of the famously sought after Scottish Munros. This track also winds its way through ancient forests and peaty bog, where deer roam freely and eagles soar. A great spot for deer watching is on the downhill slope between Loch Luichart to Garve, a village that comes up very soon after Dingwall. Another beauty to keep your eyes peeled for, soon after Dingwall, is the isolated peak of Ben Wyvis.
There are some charming stop off points along the way too, the village of Plockton being one of the prettiest. Sitting on the waterfront of a sheltered bay on Loch Carron, you can take in wild, low lying moorland all around that dips in and out of tiny bays, many with coral beaches, which you can explore by sea kayak.

Most people just do this journey in one go, however, heading en route to Skye, as the Kyle of Lochalsh is the access point for the causeway to this, the largest Inner Hebridean island. Although one of the busier islands, it is very easy to get off the beaten path here if you hire a car, or use the services of some very brilliant local guides.
If you'd like to chat about Scotland railway or need help finding a holiday to suit you we're very happy to help.

A word from our railway expert, Robert Kidd founder of tour operator McKinlay Kidd:
"Our clients just love a couple called Donnie and Peggy who are our tour guides on the island of Skye. They are very gentle people. When you first meet them you might think they are quite shy, but they are very passionate about where they live, and very knowledgeable. They actually run a local taxi company and then went into tourism because it is one of the main things you can do on the island. They have always lived on the island and so they have decided to share their knowledge with visitors. They have the most perfect customer ethos in terms of making sure everybody is having a wonderful time. They are very, very caring, and extremely professional too, which is why our clients just love going out with them."
History of the Kyle Line
Opened in 1870, this line only ran from Dingwall outside Inverness to Stromeferry, because the last section over so many waterways involved a lot of bridges and engineering. Twenty nine of them in fact. Thankfully, the final section was completed nearly thirty years later in 1897 although the economic viability of this line has always been an issue, and still is today. So do use it, you won't regret it, and if you can support the work of the
Friends of the Kyle Line
who have striven to keep it open for tourism purposes, even better.
More Scotland railway articles