There are train geeks, and there are rail gurus. They are two very different things. Geeks go train spotting and talk a lot about gauges and junctions. Rail gurus, however, are those who capture the awakening that many of us have when holidaying by rail, in words, images and in film. We feel that our railways holiday guide needed to include some of the gurus and the greats, who make you feel like you are rocking along in that carriage with them.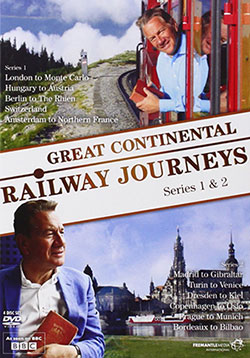 Michael Portillo's
Great Continental Railway Journeys
, available on DVD, has helped re-establish rail as a strong tourism option in many countries.
The Trans-Siberian Handbook
by Bryn Thomas is the definitive guide, with maps, photos, commentary, the works. And you'll have plenty of time for reading on this one, so you might want to immerse yourself
In Siberia by Colin Thubron as well
– a brilliant description of months spent travelling across Siberia not only by train, but also by bus, hitchhiking and a battered car. Makes for grim reading in parts, but will make you happy you opted for the Trans-Mongolian leg of the famous train journey.
The Man in Seat 61
, Mark Smith's books of rail travel in Europe and worldwide are Bibles for train lovers. He has been everywhere, seen everything, knows every gauge, connection and quirky detail. And loves the seat number 61, when possible.
Iron Road to the Isles: A Travellers and Tourist Guide to the West Highland Lines
by Michael Pearson – Published in collaboration Scottish railway companies to celebrate the centenary of Mallaig Extension, it's like having the most informed, and amusing travel companion sitting beside you along the way.
The Great Railway Bazaar: By Train Through Asia
, published in 1973, is Paul Theroux' famous travelogue about a four month train journey through Europe, the Middle East, the Indian subcontinent and Southeast Asia, and his return via the Trans-Siberian Railway. Even better, he retraced his journey in 2006 in
Ghost Train to the Eastern Star.
The Railway Children
by Edith Nesbit, the timeless classic, published in 1906, with the all time favourite film released in 1970.