Railway holidays travel guide

Vietnam's Reunification Express is not to be confused with the Orient Express, as there is nothing luxurious about it, except for the total immersion in real Vietnamese life. Which will stay with you for much longer than the taste of champagne. This is a train for people, not poncing about

Railways are like living museums. They weren't built for tourists originally, but for transporting food, workers or minerals. The minute you start to think about why a railway was built, and how many people have made this journey since its construction, you start to see the landscape in a completely different way. There are layers and layers of history behind those mountains and lakes that you are whizzing past. And so many stories. Which is why we all love to people watch on trains. Where is that man going to, as he steps off the train in a remote station in Scotland's Highlands? Why is the old woman crying as she hands the young man a hamper of food before he steps onto at train at Halong Bay, Vietnam? The joys of railway holidays is that you also get to step off the train and spend quality time in the places you have travelled through. It's like getting to walk onto the set of the film you have just been watching. See our railways holiday guide for more details.
What we rate & what we don't
Scotland railway journeys
All the railway lines in Scotland are pretty magical really. People talk a lot about the West Highland line, which is wonderful, but actually the hidden gem is from Kyle of Lochalsh to Inverness. And also the aptly named Far North Line from Inverness to Thurso and Wick. This is the northernmost railway line in the UK. Both have been pondered for closure at various times, so we mustn't let them go.
Spain to Morocco
This 13-day rail trip from Europe to Africa is one colossal cultural concoction. Starting in Malaga, Spain, take the Andalucia Express through the spectacular 'El Chorro' gorge, with stops in Cordoba and Alhambra Palace in Granada just for starters. Take a ferry across the Strait of Gibraltar to Tangiers, stopping for days in Fez, Rabat, Casablanca and Marrakech, each with unique cultural highlights.
Ireland
Not so famous for its rail journeys, as many of them were let go for motorway madness. However, some are not to be missed. Such as the Belfast to Derry/Londonderry rail journey, especially the last section up along the North Antrim coast, going along dramatic coastlines, past castles and cliffs. And the Dublin to Westport train, which takes you into the heart of the coastal and cultural West.
Southern India
Indian railways have come on leaps and bounds, and are one of the finest remnants of the colonial era, with a still extensive network. The train journey around Kerala and Tamil Nadu is one of our favourites taking in coast, temples, tea plantations and many other cultural delights. All in about 19 days, with nights in houseboats, coastal luxury hotels, and mountain villages. This really is one of the most spectacular ways to take in southern India.
Trans-Mongolian Express
Many say the best part of the Trans-Siberian Railway, the longest in the world, this is the section that goes from Moscow to Beijing, via Ulaanbaatar in Mongolia. Or vice versa of course. But whichever way you do it, it's rail-y big. Even this section takes three weeks and is full of startling contrasts - such as Moscow one day, Lake Baikal the next. From the wilds of Terelj National Park to burgeoning Beijing. It's quite a trip.
Reunification Express
Just as the name suggests, the restoration of this magnificent train line from Hanoi to Ho Chi Minh City in 1975 was part of the reunification of the Vietnamese people after years of war, which had led to closure of the line. It clings to the country's long slim coastal landscape, making it the perfect hop on, hop off experience. And one of the best ways to visit this fascinating country and meet its people too.
Machu Picchu
If you don't feel up to the four-day hike, this is the luxurious loco way up to Machu Picchu, departing from Cuzco. Rediscovered a century ago, this "Lost City of the Incas" has not lost its ability to astonish, with its panoramic Andean views. Ride the rails through the spectacular Urubamba Valley to the UNESCO site, which you can explore before catching the train back to Cuzco.
Japan
The train network is impeccable and way up there with Switzerland in terms of speed and efficiency. Most tourists travel by train, from the famous Shinkansen bullet trains going between, say, Tokyo and Kyoto, to the sleeper trains into the mountains in Sapporo. Best value is to buy a rail pass in advance of your travels. Tour operators will organise this for you.
Train booking websites
Online train booking systems were sent to try us. They are getting better, and some are clearer than others, but often you lose the will to live before you can say Gare du Nord. In addition, you often can't book more than three months in advance. Use an expert tour operator – they are train gods, not geeks.
Train at the end of the world
The world's southernmost train, in Patagonia, steams its way from the "End of the World" station into Tierra del Fuego National Park, but stops a long way short of the park's main attractions. You'll need a car, therefore, to get to the station from Ushuaia, and into the park at the other end, making the 40-minute journey seem rather overpriced and gimmicky – especially as the park entrance fee is not included.
Connectivity
The flying culture still dominates tourism in most countries, with train travellers often treated like second class citizens of the world. Which is why using a tour operator to coordinate your rail holiday is still the best option. They know all the answers and solutions that the national transport and tourism agencies should know, but don't. Because train lovers know that connectivity is the new cool.
Food
In general, it is always good to stock up on snacks before you board a train. There are exceptions, of course, but food and trains do not usually a happy marriage make. Bring dried noodles or powdered soups on the Trans-Mongolian Express as there is always a samovar of hot water. And stock up on fruit on Japanese train journeys, because it rarely appears on the menu anywhere else.
Is a railway holiday for you?
Go on a railways holiday if…
You enjoy people's stories. People get on and get off. Where are they going, what are they doing, who is meeting them? Every rail traveller has a story if you are open to them.
You are the designated driver all the time. Sit back and let someone else drive you for days on end.
You don't want to worry about driving, directions and arguments over maps. Bring a map with you, sit back and watch the scenery as you follow your route. It's one of life's joys.
You are organised. You can't just chuck everything into the back of a car, and you need to be able to get your luggage on and off the train easily.
Don't go on a railway holiday if…
You are a control freak. The Fat Controller is the one in charge on these holidays and you can't mess with his timetables. Or connections. You get restless easily. On most rail holidays you take one or two days out to explore and enjoy, so the railway journey itself is for total chillout. But it might be a twelve hour chillout. You enjoy bringing everything but the kitchen sink on holiday. You need to be able to get your own bags on and off trains quickly and easily. You are anti-social. Trains attract all sorts and it is much more fun to embrace that and enjoy the ride.
There are train geeks, and there are rail gurus. They are two very different things. Geeks go train spotting and talk a lot about gauges and junctions. Rail gurus, however, are those who capture the awakening that many of us have when holidaying by rail, in words, images and in film. We feel that our railways holiday guide needed to include some of the gurus and the greats, who make you feel like you are rocking along in that carriage with them.

Michael Portillo's Great Continental Railway Journeys, available on DVD, has helped re-establish rail as a strong tourism option in many countries.

The Trans-Siberian Handbook by Bryn Thomas is the definitive guide, with maps, photos, commentary, the works. And you'll have plenty of time for reading on this one, so you might want to immerse yourself In Siberia by Colin Thubron as well – a brilliant description of months spent travelling across Siberia not only by train, but also by bus, hitchhiking and a battered car. Makes for grim reading in parts, but will make you happy you opted for the Trans-Mongolian leg of the famous train journey.

The Man in Seat 61, Mark Smith's books of rail travel in Europe and worldwide are Bibles for train lovers. He has been everywhere, seen everything, knows every gauge, connection and quirky detail. And loves the seat number 61, when possible.

Iron Road to the Isles: A Travellers and Tourist Guide to the West Highland Lines by Michael Pearson – Published in collaboration with Scottish railway companies to celebrate the centenary of Mallaig Extension, it's like having the most informed, and amusing travel companion sitting beside you along the way.

The Great Railway Bazaar: By Train Through Asia, published in 1973, is Paul Theroux' famous travelogue about a four month train journey through Europe, the Middle East, the Indian subcontinent and Southeast Asia, and his return via the Trans-Siberian Railway. Even better, he retraced his journey in 2006 in Ghost Train to the Eastern Star.

The Railway Children by Edith Nesbit, the timeless classic, published in 1906, with the all time favourite film released in 1970.
Our top trip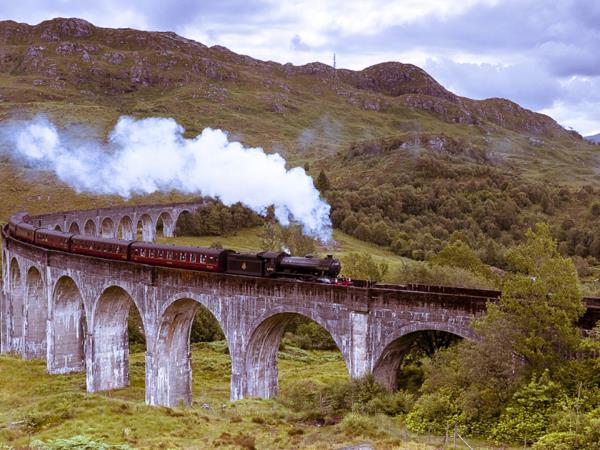 Experience authentic Scotland independently and car-free
From
£1395

to

£1525
8 days
ex flights
Tailor made:
This trip can be tailor made from April to the end of October.
If you'd like to chat about Railway or need help finding a holiday to suit you we're very happy to help.

Railway holiday packing essentials
It depends on how well equipped your train is, of course, but there are certain things you really want to consider bringing on a rail holiday.

A phrasebook for the country you are passing through. It could be a long journey without a simple exchange of a few words. A deck of cards or travel chess – they don't need words. An OS map – it's great to know what those snowy peaks in the distance are. A hipflask – never travel in Scotland without one, and having it topped up at the bar is always a good conversation opener. Babywipes or a flannel. Toilet roll. A small pillow, or one of our favourite new discoveries, the TRTL Sleep scarf. Earplugs = Zzzzzz. A corkscrew if you are bringing your own bottle. A flask of hot water and tea bags. Train tea isn't always the best. Flip flops or slippers. A sarong or small blanket. Booklight for late night reading, when others are sleeping.
Mark Smith, Man in Seat 61:
"Don't forget that on almost all Trans-Siberian trains, unlimited boiling water is available free of charge from the samovar at the end of each coach, so remember to bring a mug, spoon, coffee and a selection of cuppa soups. You can save money on restaurant car meals by bringing dried pasta or noodles, for example. My personal favourite is water-based drinking chocolate for a relaxing night-time drink each evening."