The Maharajahs' Express, Rajasthan
This express experience is fit for an Indian prince, or princess. On the Majarajahs' Express, opulence and flamboyance are just as important as superior seating and spacious, en suite sleeper cabins. Get a taste of colonial-style grandeur as you gently trundle around Rajasthan's Golden Triangle by train.
Who were India's Maharajahs?
Traditionally, the Maharajahs were India's great rulers or kings, men of noble blood. When the British Raj took control of two thirds of India in 1858, the remaining third was divided into 'princely states' to be overseen by Indians. These state governors were quickly elevated to Maharajah status despite some only being in charge of a small town or several villages. The romance and luxury of rail has long been associated with India's Maharajahs who'd fill entire carriages with their entourage for the purpose of formal functions or recreational pastimes, including hunting trips in the jungles of Central India. Many Maharajahs ordered the construction of their own train lines purely for personal pleasure, and their private carriages would exude pomp and regal finery to display their wealth and status.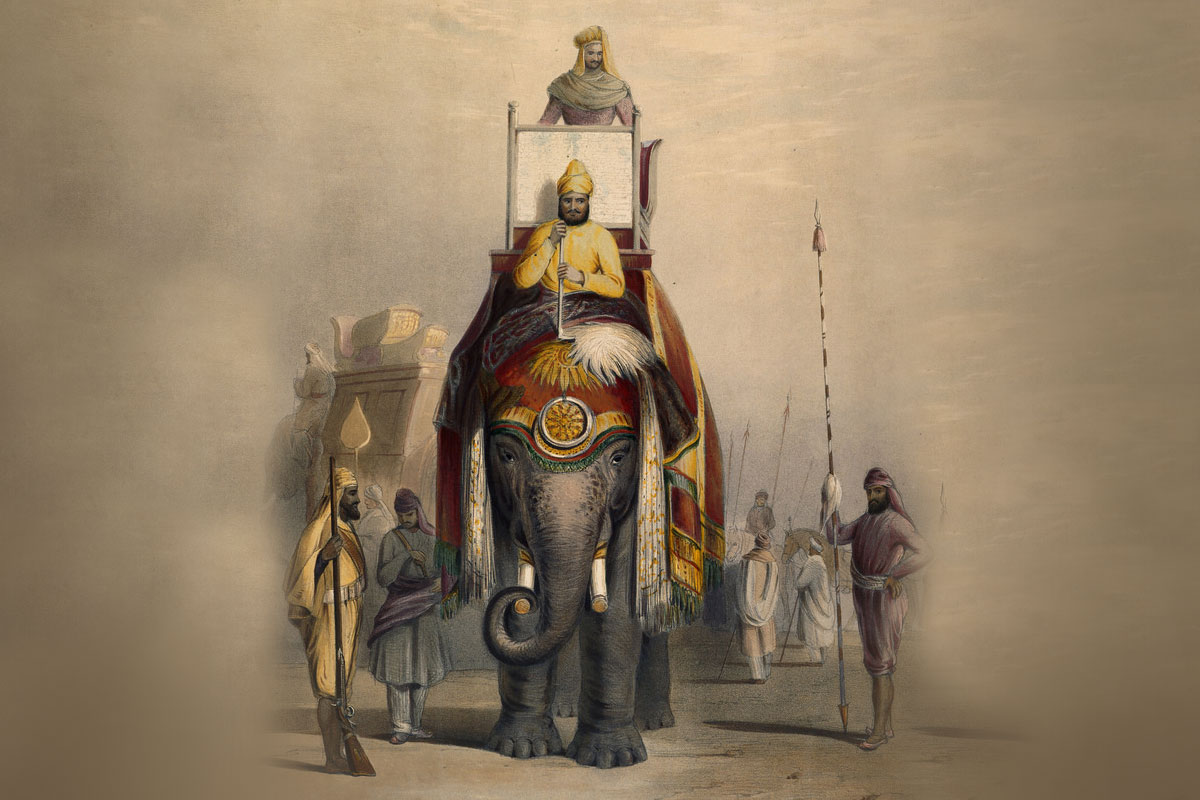 What is the Maharajahs' Express?
Although the Raj and the East India Company have long since departed, the elegance of the era prevails on contemporary luxury trains such as the Maharajahs' Express. Art deco interiors, featuring intricate carvings and silk-embroidered tapestries, are more than a match for 5-star hotels. Modern facilities combine with exquisite service and sheer nostalgia for an extra special experience. The observation compartments, English-speaking guides and a 24hr point of contact ensure passengers never miss a thing, either on or off the train.

Comparable to the Orient Express in terms of elegance and grandeur, the modern Maharajahs' Express – the inaugural journey was in 2010 – allows passengers to become acquainted with the finer things in life without overcrowded carriages or pre-packed sarnies, curling up at the corners. In fact, the dining car often becomes a trip highlight with bubbles, brunch banquets and extravagant evening eating encouraging eyebrows to rise and moustaches to twirl.

These days – sukar hai! – passengers can disembark to explore locations like Ranthambore National Park without the elephant rides and Raj-gifted rifles as they aim to spot tigers on safari before returning to the comfort of their cabin. Day trips to the Taj Mahal and Jaipur's Amer Fort inspire conversations and imaginations to flow with more verve once back on board. As most of the rail travel is undertaken at night, passengers can enjoy whole days off the train as well as evenings on. The gentle rocking of the train at night is enough to put anyone soundly to sleep, especially when combined with silk sheets and plush pillows.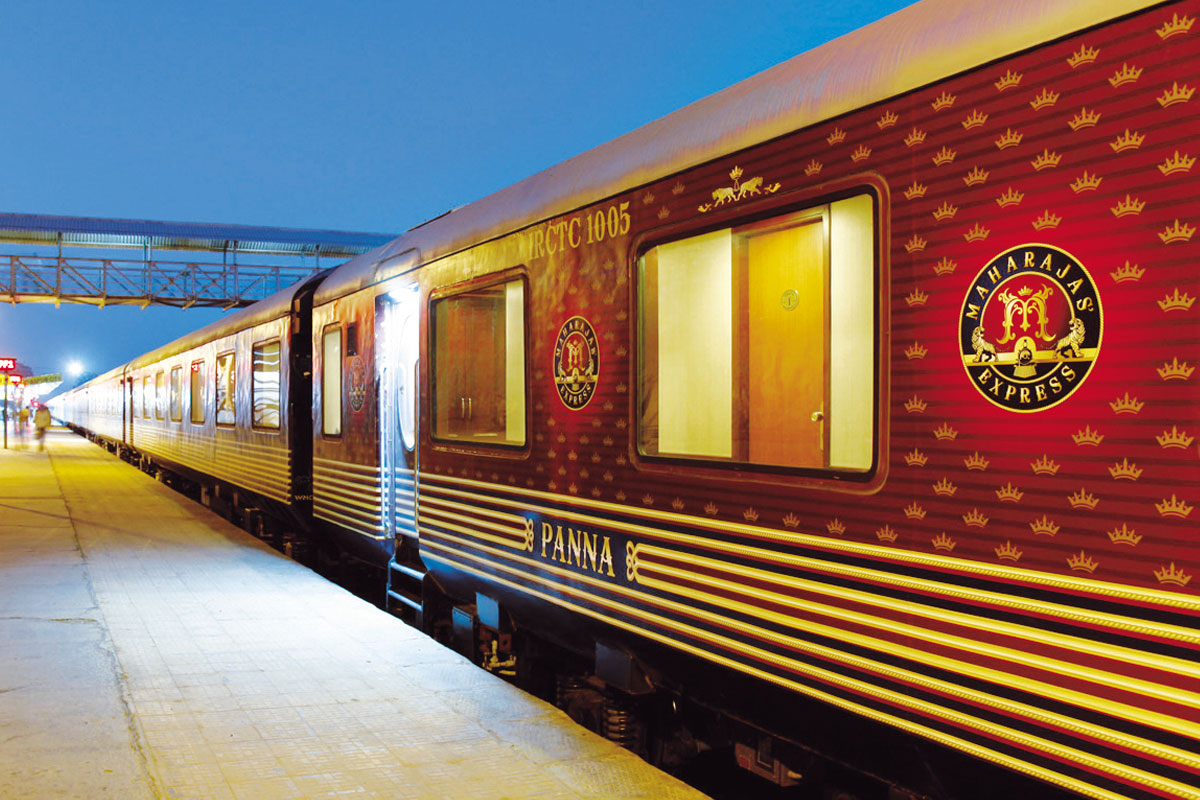 FACILITIES ON THE MAHARAJAHS' EXPRESS
The train has 14 carriages, measures up to a kilometre in length, and carries a maximum of 88 passengers. There are two or three private en suite cabins per carriage; these are extremely spacious and have their own window so you can watch the world roll by.

On a tailor made Maharajahs' Express holiday, your luxury cabin will be booked for you by your tour operator. There are different classes of cabin but, in the main, you can expect top European hotel standards with fresh linen, carpeted floors and wood panelling – no couchettes or hairy blankets here. Each carriage has a butler who can provide wake up calls, itinerary information and breakfast in bed, if you're interested. The train also has two dining cars and a couple of bars serving everything from coffee to cocktails. Meals are mainly Indian, with some international dishes available. Several meals will be taken off the train, often in palatial residences and heritage hotels. Some of these evening meals will be served quite late, but you can always enjoy a nightcap in the bar as you get back on board and wheels start to roll.
You can roam around the train, and disembark at stations to stretch your legs or purchase supplies; just listen out for the loud toot that tells you when the train is due to depart. When you reach a destination such as Agra or Jaipur, you'll be introduced to a local guide by your on-board tour manager. You might also be presented with a garland of flowers to welcome you to the station. Sometimes debarkation points will be quite a distance from your cabin – worth bearing in mind if you have a habit of accidentally leaving things in your room. Like your camera, again. One thing you will be happy to leave behind, however, is your luggage. Cabins are locked whilst you're off the train as it's cleaned, maintained and stocked as you see the sights.

Although gazing wistfully out of the window whilst on board the Maharajahs' Express is blissful, best we do recommend packing reading material, too. Get into a Mughal frame of mind with Beneath a Marble Sky by John Shors, for instance, or by browsing a book on bird watching in Ranthambore; you know what you need to train your brain. Yes, there's Wi-Fi, too. It's meant to be quite good, actually.
Our top trip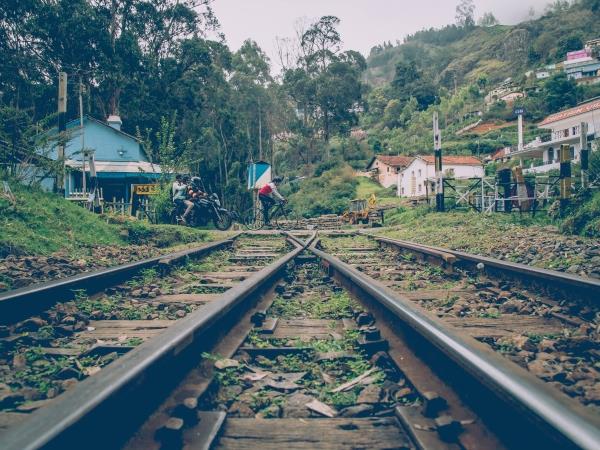 Rail trip visiting Kerala and Tamil Nadu
From
£2888
19 days
inc UK flights
Tailor made:
This trip can be tailor made to suit your dates and requirements.
If you'd like to chat about Railway or need help finding a holiday to suit you we're very happy to help.

Highlights along the rails
Agra: Awake to Agra, the former capital of the Mughal Empire, and delight in the domes of the Taj Mahal as the sun rises. There's plenty of time to visit the UNESCO heritage site of the Red Fort, too, just a couple of kilometres from the Taj Mahal.

Ranthambore National Park: There can be few animal experiences that are more iconic to India than seeking out tigers on safari in the jungles of Ranthambore. You just don't get this sort of opportunity on the line from Brighton to Victoria.

Jaipur: Let the capital of Rajasthan enliven your senses as you discover the final point on the Golden Triangle where the Amber Fort overlooks Maota Lake, just outside of the city limits. Jaipur has been coined the 'Paris of India', this is your chance to oh la la.