Walking in the Scottish Highlands
As winter walks go, this one has a nail-biting final stretch. Your group has been digging into the snow for several hours now, still with little sign of progress. Muscles are weary, the sun is sinking, and so is the temperature. Then, just as you're taking an interest in how fast the light is fading, starting to get a little nervous about spending the night exposed on a frozen Cairngorm mountainside, there comes a breakthrough.
The diggers have met each other in the snow halfway through and excavated a space. Now, you're all picking up your shovels and helping to widen it into a cavern, giving it structure with a vaulted roof. By nightfall, you're ensconced in a well-ventilated snow hole, wrapped up warmly in sleeping bags and clear of the cold wind outside, waiting for your guide to finish cooking up a replenishing three-course meal. You'll need it. Tomorrow morning you'll be climbing one of the highest mountains in Britain.
This is
the kind of experience
that Andy Bateman lives to provide for his travellers. With his partner Rebecca, Andy runs our travel partner Scot Mountain Holidays, offering expertly guided small group walking trips around their home base in the Cairngorms and further afield, to the Western Isles, Knoydart and Assynt, what Andy calls the 'Empty Quarter'. They welcome enthusiastic walkers back year after year – sometimes twice a year – and know one of the main reasons for that is the camaraderie they foster.
"Our trips, quite uniquely, provide everything in-house, either in the Cairngorms or in holiday lets elsewhere. We don't split people into different accommodations. That makes everything very sociable and relaxed, a shared experience throughout. Having a pint in the pub in the evenings, sitting down for a meal, the laughs and the stories, they're all just as much a part of the experience as climbing the mountains."
Andy fell deeply for Scotland after happy childhood holidays there. He and Rebecca have developed a range of holidays that they limit to around eight walkers, but because they offer everything themselves, from accommodation to wholesome home-cooked meals and guiding, there are technically no minimum numbers. But low take-up is unlikely. Whether you're bagging remote Munros,
combining walks with whisky tastings
, learning mountain navigation skills or how to dig a snow hole, you can expect plenty of good company.
Based in Aviemore – which can be reached on the overnight train from London, a journey that is as enjoyable as it is convenient – Andy and Rebecca are passionate about sharing their love for the Highlands with others. Their routes often take you to overlooked or lesser-known areas where you'll find unique views. And they make a point of employing local and highly qualified guides: people who don't just know how to get you up and down the mountains safely, but also know about the wildlife, plants, history and geology of the region.
"I see adventure tourism as being as much about cultural exchange as about engagement with nature," says Andy. "Our guides can introduce people to a family-run specialist whisky shop, a handful of distilleries, a cooperage where you can see the coopers at work. We run trips to a local woollen mill, and we always keep an eye out for little gems – shops, restaurants and other points of interest. We use locally sourced ingredients for meals as well: a friend delivers our grass-fed meat, for instance."
Robert Kidd, from our Scotland rail holidays partner McKinlay Kidd, is another strong advocate for getting out into the countryside: "We support the John Muir Trust, which protects Scottish wild land beyond the national parks. Scotland has this wonderful right to roam, but with that comes a need to protect flora and fauna. So they work on areas such as path maintenance and management, reforestation, restricting access to deer where necessary, trying to re-establish native forest."

The right to roam came with Scotland's Land Reform Act of 2003. Most land in Scotland is owned by just a handful of people (including the immensely wealthy landowners behind the Cairngorms Connect scheme which aims to restore species, habitats and ecosystems across a huge landscape). Since 2003, you can go pretty much anywhere without restriction for recreational or educational purposes, from mountain biking to hill running, walking or camping. Popular walks such as the Speyside Way and Badenoch Way both pass through the Cairngorms Connect area and there is a number of other marked routes linking bothie shelters. Visitors have an obligation to respect the environment and the interests of other land users.

With his love of geology and wildlife, born from a childhood of watching David Attenborough documentaries, as you walk the hills Andy will fill you in on Cairngorms Connect, the right to roam, and how the wood of the cask can so dramatically affect the quality of the whisky you're sipping.
Winter walking in the Highlands
"People often ask me what my favourite season is for walking in the Highlands and it would have to be winter, with the snow on the pine trees, and views that on clear days can go on forever. You can see Ben Nevis 80km away from the high Cairngorms. I know a lot of the other guides up here feel the same way."
Winter walking in the Highlands can be challenging, but with an experienced mountain guide such as Andy Bateman leading the way, you can leave the navigation and weather assessment to him, and just enjoy the fresh air. You'll need to be in decent shape, as walking on snow and ice requires effort, and you'll receive an explainer on how to use your crampons and ice axe before departure.
You can also learn how to dig a snow hole and spend the night in it, before ascending Cairngorm – at 1,245m, the seventh highest mountain in Britain – the next day. You don't need to be Ranulph Fiennes, but Andy will certainly have you working for your supper. "We teach snow holing as part of a wider expedition into the wilderness on the Cairngorm plateau about 1,100m up. It's hard work, digging for several hours, but then just as the light is going you break through, and widen the space up and you can get in, and we share a meal in our sleeping bags. Snow holes are actually safer than a tent, as you're in naturally sheltered areas. You could have a raging storm outside but the snow would muffle it completely. It's about zero degrees but because there's no wind chill factor, you're actually warmer than you might be in a tent on an exposed hillside in summer."
Our top trip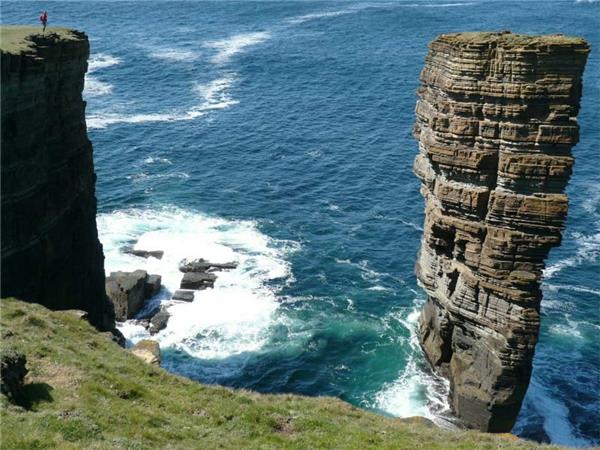 Discover the Orkney Islands on this wilderness walking trip
From
£2575
7 days
ex flights
Small group travel:
2024: 6 Apr, 20 Apr, 6 Jun, 15 Jun, 29 Jun, 24 Jul, 4 Aug, 17 Aug, 14 Sep, 28 Sep, 12 Oct
If you'd like to chat about Scotland walking or need help finding a holiday to suit you we're very happy to help.

A different kind of challenge is found in the West Highland Way, one of Scotland's most famous walking routes that starts just outside Glasgow and finishes at Fort William, near the base of Ben Nevis. Self guided holidays spend a week taking you through some of the Highlands' most wondrous scenery, past Loch Lomond and Glencoe, the heather-strewn Rannoch Moor, Rob Roy's prison and a battlefield once stalked by Robert the Bruce.
These are tailor made trips so you can add in a rest day here and there if you want (or a quick ascent of Ben Lomond if your legs are up to it). Highland hotels, mountain lodges and guest houses, handpicked for their character and warmth, are pre-booked along your route and 24-hour support is a phone call away should you need it. Route notes, as well as identifying different species of plant and animals you might encounter, will also show you how you can minimise your impact on the natural environment and respect that vital right to roam.
More Scotland walking articles