Scottish Highlands travel guide
There's an incredible sense of space in the Scottish Highlands, whether you're cruising across a misty loch, pausing for breath on a snowy Cairngorms hike, or stopped at a deserted railway platform in the middle of nowhere. Here are landscapes being gradually and ambitiously rewilded, ensuring predators such as pine martens maintain their vital place in the ecosystem. Here are dolphins and whales, eagles and wild cats, puffins and seals. Here are iconic rail journeys, mountain guides swapping stories and jokes around the table with their charges, and cruises taking you past crumbling castles.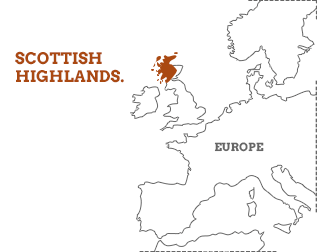 Explore the Highlands by rail, by boat, on foot – but get even a short distance from the road and you can feel completely alone.

If you take just one thing away from this travel guide, let it be this: leave the car at home. "I think if 2020 taught us anything, it's the joy of being outside," says Robert Kidd, from our Scotland rail holidays partner McKinlay Kidd. "Even if the weather is grey, getting out there is so positive for mental health. You come to the Scottish Highlands and once you get off the road, you're in the middle of all this fantastic raw nature in no time."
Read our Scottish Highlands travel guide for more.
The Scottish Highlands is…
best explored by rail, by boat or on foot. Escape the car and enjoy.
The Scottish Highlands isn't…
to be rushed, but savoured slowly, like a good whisky.
Our Scottish Highlands Holidays
Scottish Highlands map & highlights
When you picture Scottish landscapes in your head, you're most likely thinking of the Highlands. This vast area encompasses Fort William, gateway to Ben Nevis; the west coast and the Hebrides; the remote far north, as well as Loch Ness and parts of the Cairngorms National Park. The landscapes here are wildly romantic, all leafy glens and glass-surfaced lochs, misty mountains and ancient forests. Aviemore and Fort William make natural leaping-off points for walking, while rail routes such as the West Highland Line thread their way through scenery off-limits to drivers. And once you reach the end of the line, it's easy to hop over to the Hebrides or Orkney and board a small ship cruise.
1. Cairngorms National Park
The Cairngorms, the largest national park in the UK, provides habitats for many endangered species – habitats that the Cairngorms Connect project is restoring, winding back the centuries and reintroducing species to turbo-charge biodiversity. Aviemore is your base for adventure sports here, but there's no better way to explore the Cairngorms than hiking with an expert mountain guide.
2. Caledonian Canal
The Caledonian Canal is one of Scotland's great feats of engineering. Almost 100km long, it connects the east coast at Inverness to the west coast near Fort William, spanning 29 locks and four lochs, including Loch Ness. You can sail the canal aboard a restored fishing boat, hopping ashore regularly to stretch your legs and catch sight of deer, otters and red squirrels.
3. Far North Line
The Far North Line railway unfurls in a delightfully slow manner from Inverness to the northernmost part of Scotland, through rural landscapes well beyond the roads, with Orkney a natural extension. These are landscapes fertile with stories and song, from Vikings to monsters, where the meandering pace of the journey allows plenty of time to drink in some of the Highlands' finest scenery.
4. Glen Affric
Considered by many to be the most beautiful glen in Scotland, Glen Affric is a vast landscape composed of mountains, pinewood forests, lochs and moors, just west of Loch Ness. Here you can find an atmosphere of complete tranquillity as you learn traditional handicrafts such as spinning wool, needle felting, and dyeing fabrics using plants foraged from the surrounding countryside.
5. Inner & Outer Hebrides
Small ship cruises explore these idyllic islands off Scotland's west coast. Whales gather in summer to plunder plankton blooms. Huge and cacophonous colonies of seals bask on beaches. And you might spot birds, from golden eagles to puffins, through your binoculars. A few nights on Mull or Skye is the ideal finish to a rail holiday on the West Highland Line.
6. Isle of Skye
The largest of the Inner Hebrides, teeming with marine and birdlife, and offering a beautiful approach from the sea, Skye is a popular place for small ship cruise holidays. But there are many other ways to explore it: on a tailor made walking expedition, through its traditional arts and crafts with visits to local producers, or through its whisky via a distillery tour.
7. Knoydart
The Knoydart Peninsula on the west coast is a remote, wild place tempting for hill walkers and anyone with a passion for wildlife. Golden eagles, pine martens, otters, sea eagles and buzzards are frequently seen here. Come with a walking guide who knows the best routes through the hills and can also put a name to a face among the locals.
8. Loch Ness
The monster myth is overblown nonsense used to sell tea towels and fridge magnets (although the museum tracing efforts to find 'Nessie' is worth a visit). But Loch Ness itself is an immense and beautiful body of water, at its best under a moody sky. Cruises around Scotland's sea lochs may pause here, as might rail tours on the West Highland Line on their way to the coast.
9. Orkney
An archipelago of 70-odd islands off the Scottish mainland, Orkney is easily accessed by ferry from John O' Groats and best discovered with the help of an expert local guide showing you around its ancient sites, wild coast and RSPB reserves. Hoy is a magnet for walkers; Westray for birdwatchers; Stromness and Kirkwall, both on Mainland, for Viking stories, whisky and World War II history.
10. West Highland Line
The West Highland Line is 125km of sheer loveliness from Glasgow to Fort William, with a section on the historic Jacobite steam train a highlight. From the coast you can continue to the Hebrides, where you might have a local taxi at your disposal to get around. The trick is to slow your journey down to a crawl, adding at least one overnight stop.
Our top Scottish Highlands Holiday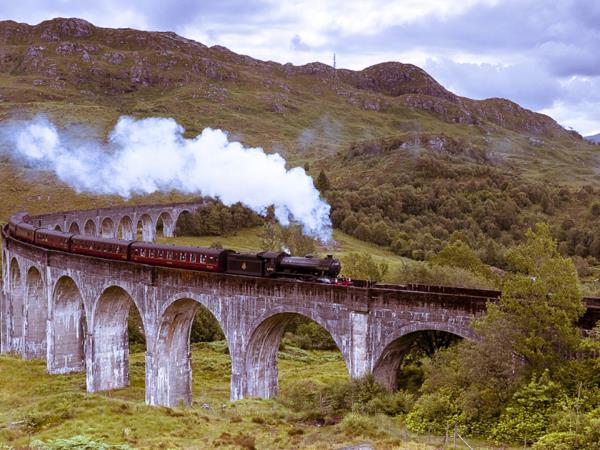 Experience authentic Scotland independently and car-free
From
£1275

to

£1345
8 days
ex flights
Tailor made:
This trip can be tailor made from April to the end of October.
If you'd like to chat about Scottish Highlands or need help finding a holiday to suit you we're very happy to help.

Things to do in the Scottish Highlands
Things to do in the Scottish Highlands
The best way to explore this region is by getting beyond the roads. Whether that's taking a classic rail journey like the West Highland Line and carrying on into the wildlife haven of the Hebrides, hiking the majestic Cairngorms with a knowledgeable mountain guide, tracking pine martens and beavers using night hides and canoes, or cruising the lochs of Argyll on a traditional fishing boat, you'll have a better time when you leave the car at home.
Brexit and the Covid pandemic both hit the Scottish Highlands hard, hollowing out the tourism industry that supported employment in many remote areas. When you go with our responsible travel companies, you're helping support local businesses. That might mean dining on meat supplied by a local butcher after a walk in the Cairngorms. It might mean using a local taxi driver to explore Skye after arriving by ferry. It could mean hiring a skipper to follow whales and dolphins in the Irish Sea. It always means your money stays longer and goes further in the local economy.
Watch the skies. Not for little green men, but for raptors. The ambitious Cairngorms Connect program is aiming to restore ancient habitats and natural ecological processes, and as part of that it's ensuring that birds of prey are safe there. You'll also find increasing numbers of raptors such as golden eagles, white tailed eagles, buzzards, ospreys and owls in the Hebrides. Another reason to keep looking up in the Scottish Highlands is that, in the winter, it's possible to see the Northern Lights. Clear nights in areas with low light pollution are your best bet.
Things not to do in the Scottish Highlands
Exploring the Scottish Highlands should be like savouring an excellent glass of whisky. It would be a mistake to rush them. Walking holidays give you plenty of opportunities to stop and drink in the fresh air and views, and while cruising the lochs you can't help but embrace a slower pace of life. Tailor made rail holidays let you shape the experiences according to your own preferences: adding a night here, a walk there, a tour of a historic castle there. You don't need a car to enjoy a stay in the Hebrides or Orkney, so don't assume that your holiday has to stop at the coast. Rail tours of the Scottish Highlands on the West Highland Line will frequently get the ferry over to Skye from Mallaig, while if you're on the Far North Line you can take a short voyage over to Orkney from John O' Groats. Your travel company will ensure you stay in the right place so that you can get around easily by public transport, or they'll arrange for a friendly taxi driver to be at your disposal. The beavers are back. The raptors are flourishing. There's talk of lynx making a return and there have been rumblings about wolf reintroductions in the Cairngorms for years now. But one beastie that almost no-one has any time for is the midge. Don't forget your natural bug repellent because they're a menace in summer, especially around dawn and in the evenings. However, they're much less common at higher elevations, so head to the Cairngorms for hopefully bug-free walking. And if you're cruising, you shouldn't be too bothered either, as they don't have the range to get too far from land.
More about Scottish Highlands