Wildlife in the Scottish Highlands
"I grew up on David Attenborough documentaries," says Andy Bateman, an expert guide and co-founder of our walking holidays partner Scot Mountain Holidays. "My passions are geology and nature conservation, so whether my walkers want to know about it or not, they get it!"
There are few places in Europe that can boast the range of marine and land mammals as Scotland, coupled with rugged and pristine landscapes that are world-renowned. And these landscapes are changing rapidly. The
Cairngorms Connect
project is an ambitious 200-year vision to restore habitats, species and ecological processes within the Cairngorms National Park. Landscapes from water courses to native woodlands and bogs are being rebalanced, helped by deer numbers being managed sustainably. Meanwhile animals including breeding raptors, red foxes and pine martens are being encouraged too, predators being integral parts of a healthy ecosystem.
"What you're seeing with these rewilding projects in Scotland is an ecosystem that's closer to one from before humans arrived here, or before we started to have a major impact on the environment," says Martin Royle, from our wildlife watching partners Royle Safaris. "That is a special thing. There are very few places where we can see or get a glimpse into the world before humans started to impact it. Scotland today is the best the UK has been for hundreds of years."
Martin and his team organise
wildlife safaris throughout the Scottish Highlands and islands
led by guides with years of experience, and accompanied by zoologists able to identify species and interpret their behaviours. You can join a small group tour on fixed dates or tell them what you'd like to see, and they'll create tailor made itinerary just for you. If you want to spot cetaceans feasting on a plankton bloom, a Scottish wild cat on a night-time prowl, or a beaver enjoying an evening paddle, they'll have you bobbing around in a local skipper's boat, sat in purpose-built hide, or perched in a canoe at precisely the right moment.
Our Scottish Highlands Holidays
A passion for predators
Rewilding and reintroduction projects, especially where predators are involved, often provoke fear and controversy. It's no exception in Scotland. Talk of lynx, and even wolves, making a comeback, especially triggers concern in rural communities, where they threaten livestock. Wildlife tourism, then, is an essential part of the toolkit for conservationists looking to make their case for rewilding.

"In general, Scotland is leading the way with rewilding," says Martin Royle. "The lynx reintroductions are getting more traction, and there has been incredible success in various projects (some official and some less so), such as the white-tailed eagles and the various beavers popping up everywhere. Pine martens are doing well and expanding their ranges and there are moose and reindeer living in semi-wild conditions on large private estates and in the Cairngorms. So the idea that the UK may get back to some level of pre-Ice Age fauna is more realistic now than ever before. And the success in tourism (particularly with the white-tailed eagles) is inspiring introductions in the Isle of Wight and Norfolk."
Our top Scottish Highlands Holiday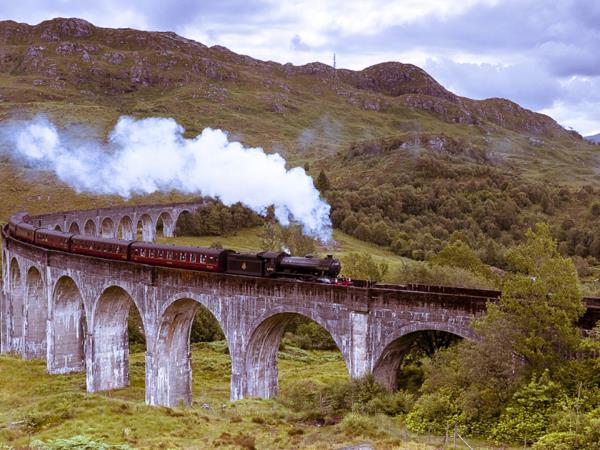 Experience authentic Scotland independently and car-free
From
£1345

to

£1425
8 days
ex flights
Tailor made:
This trip can be tailor made from April to the end of October.
If you'd like to chat about Scottish Highlands or need help finding a holiday to suit you we're very happy to help.

Where & when to see wildlife in the Scottish Highlands
Martin Royle and his team pride themselves on the network of contacts they've established around the world, so that they always know the best new locations for wildlife watching. You could be roaming a private estate in the Cairngorms by Jeep, where golden eagles, buzzards and osprey scout for prey from above, and badgers and rare pine martens come out on the hunt by night, illuminated by thermal imaging or high-powered spotlights. Alternatively, you might track the resident dolphins in the Moray Firth, or using hydrophones to listen in to underwater chatter between whales among the rugged islands of the Hebrides.
A safari could take you to Knapdale, where beavers returned to British landscapes for the first time in four centuries as part of a successful reintroduction program. "The Knapdale beavers are probably the easiest population to see in the UK" explains Martin. "We walk in the early morning and late afternoon or evening, staking out the banks and, where we can, canoeing around the waterways slowly and silently. Just waiting and looking for the ripples of swimming beavers. We usually find them on the other side of the water to where we are and just watch in silence. Unless they are out of the water when we find them (which is very rare) there is not a lot to see from beavers. The top of the head and little of the back and flickering tail as they swim around is all you really observe. But it is still a great feeling to see these species back in Britain."
Summer (early May to mid-August) tends to be the
best time for wildlife watching in Scotland
. You'll get the sunniest weather too of course, though be prepared to be savaged by midges in many areas. Fish throng around plankton blooms in the Irish Sea, which in turn attract predators, including seals, dolphins and whales. There's plenty going on back on the mainland as well, with deer, pine martens, red squirrels and raptors all doing their thing.
And though a hip flask definitely merits inclusion on the equipment list for winter wildlife watching holidays in Scotland, frosty landscapes and clear days can make for magical sightings, as Andy Bateman is happy to share: "On a typical hill walk in midwinter you might see mountain hares, grouse, snow buntings and red deer in some areas. The visibility can be amazing. On clear days you can see all the way from the high Cairngorms to Ben Nevis 80km away."
Wildlife cruises in Scotland
Robert Kidd, from our Scotland rail holidays partner McKinlay Kidd, identified early on the potential for stepping off the train and onto a boat to the Hebrides, one of Europe's most exceptional destinations for wildlife cruising. "You can't underestimate the value of going out for a while with a specialist guide here. Someone who knows what they're looking for and how to go about finding it is invaluable. I remember once going out with a birdlife guide on Mull looking for golden eagles and white-tailed eagles and learning not only what they look like, but things like the optimal wind conditions for flight. Whether it's wildlife or history, having someone who can give story and context is so useful."
When you take a
wildlife holiday in Scotland
, whether on land, sea or loch, you'll be provided with a comprehensive list of species you're likely to encounter based on successful sightings in the past. Some 24 species of cetaceans (whales, porpoises and dolphins) have been identified in Scottish waters, among them minke whales, Risso's dolphins and even orcas. That's on top of basking sharks, otters, seals and a flurry of marine birdlife, from eagles, puffins and oyster catchers to owls, cormorants and eider ducks.
You can take a week-long wildlife cruise aboard a restored fishing boat, or a day trip from islands and the coast as part of a longer holiday on the mainland. Popular places include Skye, which is reached through the Inner Hebrides and Rum, Eigg and Muck, as well as Mull via Iona. Otters and red squirrels frequently pop up along the Caledonian Canal, which links the east and west coasts of Scotland, while seals crowd white-sand beaches in Orkney as puffins bravely scale rocky crags. Large seal and puffin colonies are also found on the Treshnish Isles, an uninhabited archipelago near Mull, while the Kyles of Bute teem with birdlife.
Martin Royle sees a lot of positives: "We have very good and strictly governed rules when it comes to marine wildlife watching trips and from my experience the boats do adhere to these rules and regulations. We have increasing numbers of marine mammals around the UK, and better and more common sightings. That reflects not just that human interference is reduced or at a minimum, but also the increase in interest and the number of people looking for them. More and more people are starting to take pride in British wildlife and understanding that we have some of the best whale and dolphin watching in the world."
More about Scottish Highlands