Best time to visit the Seychelles

The October Creole Festival celebrates the Seychelles' cultural identity in spectacular style, particularly on Mahé, Praslin and La Digue.

Trade winds dictate much of the weather patterns in the Seychelles with buckets of rain blowing in from November to March and a drier south-easterly breeze catching the sails from May to September. With this in mind, the relatively wind free months of April and October are often considered the best time to visit the Seychelles with sea temperatures and visibility at a premium and little in the way of precipitation. The best time for bird watching coincides rather nicely with the best time to go hiking in the Seychelles with April through to October, culminating in the migration period, leading on to turtle nesting time that peaks between October and January.
Things to do in the Seychelles
Things to do in Seychelles...
Island hop. Small ships in the Seychelles are not only for those Martini moments, there's much more to it than that. This sort of craft, be it a wooden hulled sailing ship or motorised alternative, provides an opportunity to explore with an environmental conscious with trips from Mahé taking you to some intrinsically beautiful islands where colonies of sooty terns engulf granite edifices and cumbersome tortoises crawl over soft white sand.
Fish like a local. An early start gets you out of bed with the sun and as you stretch and pad outdoors the laughing cries of fishermen hauling nets into brightly daubed wooden fishing boats make the first coffee of the day taste all the sweeter. Prepare the bait, set sail and ably assist the experts catching the dish of the day prior to returning home in order to gut, sell and, eventually, cook and eat what you've caught.
Conservation projects. North Island is an absolutely stunning sanctuary for wildlife and there are several conservation and research projects to help keep it that way. Monitoring turtles, terrapins and tortoises is just a tiny part of the tasks allotted to volunteers with good fitness levels just as much an attribute as the ability to listen, learn and adapt to working six days a week on the honeymoon setting of choice for their HRH's Wills and Kate.
Things not to do in the Seychelles…
Citing Creole (Seselwa) as one of the Seychelles' three official languages, the others being English and French, shows just how seriously local people take their East African roots. Find out more about the musical journey of Sega, listen to a supernatural story (gris gris) on a veranda while supping cinnamon tea, or shine up your sandals for a Sunday church service; whatever you do, don't settle for the Seychelles without the Creole.
Forget to relax. Although it can be tempting to cram in as much as possible, sometimes it's just as important to sit down and breathe deeply just to experience real relaxation without the eclectic itinerary. One way to alleviate the activity levels is to book into a boutique spa where yoga, homeopathy and natural relaxation services pamper you into submission and let you recline at leisure and ruminate on just what it means to be truly at ease with all of your senses.
Forget your binoculars. Bird watching locations really don't get much more exotic than the Seychelles and if you can tell a shearwater from a cormorant or brown booby from a blue pigeon, then you're well on your way to feather festooned fun in the sun. Cousin Island, Vallee de Mai Reserve and Bird Island, obviously, offer just a few of the stunning locations that are bustling with birdlife.
If you'd like to chat about Seychelles or need help finding a holiday to suit you we're very happy to help.

The Seychelles travel advice
Wildlife & nature tips
Kate Herman, Hidden Beaches specialist at our supplier Audley Travel, shares her tips and advice for anyone travelling in the Seychelles:

"For the best spots for snorkelling I'd recommend St Pierre Island, in the Inner Islands, and Denis and Bird, in the Outer Islands. And during my visit to Bird Island, I was lucky enough to meet Esmeralda who is thought to be one of the heaviest and oldest tortoises in the world!"
Tips on getting around
"Island hopping around the Seychelles is easy and can be undertaken by either a small Twin Otter plane or a Cat Cocos catamaran. There's also a regular ferry service between Mahe, Praslin and the sleepy island of La Digue."
Victoria & around
"Victoria is all about the eclectic mix of architecture from the beautiful Sri Navasakthi Vinyagar Temple to the city's iconic clock tower. There is also a colourful market where you can buy fresh local produce and souvenirs to take home. If you head south of the city you will also find the stunning botanical gardens, which feature a wonderful spice grove, the famous coco de mer palms and of course the resident tortoises!"
At Responsible Travel, we think the best people to advise our travellers are often... other travellers. They always return from our tours with packing tips, weather reports, ideas about what to do - and opinions about what not to.

We have selected some of the most useful Seychelles travel advice that our guests have provided over the years to help you make the very most of your holiday - and the space inside your suitcase.

...Be prepared to mix in with the 150 permanent residents and make friends if you want to really get the most from your holiday.

"Be happy and confident enough to be able to enjoy the moments when you are alone with nature. Arrive early or stay on late if you want to see the rest of the Seychelles. Be prepared to mix in with the 150 permanent residents and make friends if you want to really get the most from your holiday." – Linda Vernon on a Seychelles conservation holiday

"The nature was a delight and Robbie the resident conservationist was always on hand to answer any questions about the 250 varieties of bird, the 18 giant land tortoises and the hawksbill and green turtles that were coming up to lay their eggs." – Caroline Newman on a turtle volunteering holiday in the Seychelles

"If noise at night bothers you, then bring ear plugs, as the birds nest all around the bungalows and are very noisy right from sunset through to sunrise the next day when they go back out to sea to feed!" – Jenny Davies staying in a Seychelles eco lodge

...The 250 varieties of bird...

– Caroline Newman on a turtle volunteering holiday in the Seychelles
More Seychelles articles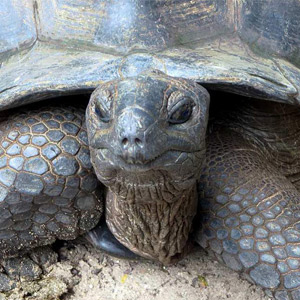 Let our Seychelles travel guide lead you bare-footed over a bone white sand beach as clear blue Indian Ocean waves lap against the shore.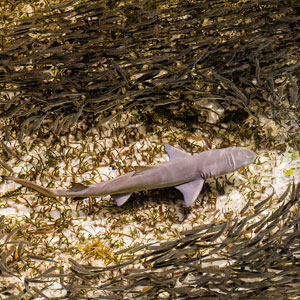 Volunteer with marine conservation in the Seychelles for a truly rewarding holiday in paradise.