Where to swim with whales & wild dolphins
While whales and dolphins roam all of the world's oceans, only a handful of destinations are suitable for jumping in the sea with them – and even fewer can ensure this is done responsibly, with well trained skippers and enforced regulations. When choosing a destination, take into consideration how much travelling you're prepared to do (even the Azores can be a day's journey unless you manage to book a direct flight), how much time you want to spend on the water when you're there, and whether or not you're keen to try out other activities – from trekking and land-based wildlife watching, to beach-lazing and cultural encounters.
1. Azores
(Best: May-Sep for calmer seas) The Azores has some of the most abundant dolphin sightings, with seven species commonly seen alongside sperm whales and orcas. This is one of the best places to
swim with dolphins
, with expert guides and boat drivers who can monitor the behaviour of each species. Week-long trips offer the chance to build your confidence in the open water and use a snorkel around the curious cetaceans.
2. Norway
Between fjords, following the herring migration, whales in Norway are a sight to behold with pods of up to 80 orcas congregating around coastlines close to Tromso to offer liveaboard boat passengers the chance to swim and snorkel - in dry suits - during the magical month of November. Combined with comfy conditions, USEA certified guides and, perhaps, the Aurora Borealis, Norway's come a long way from its whaling past.
3. Red Sea
(Best: Mar-Nov) A horseshoe-shaped coral reef marks the spot where a pod of spinner dolphins spend their days recuperating after a long night feeding. The reef is "zoned" to ensure boats don't disturb them – and only the curious will come out to inspect the boats. You can snorkel with dolphins, sea turtles and a huge variety of reef-dwelling creatures here, in safe, shallow bays – unusual night boat expeditions are also available.
4. Tahiti
The pilgrimage to Tahiti for expectant humpback whales takes place from Aug to Oct with the island of Moorea, 15kms from Tahiti, providing a breathtaking location from where to swim safely with whales and newborn calves in what will be an incredibly humbling experience. Set sail into the sheltered waters of the South Pacific onboard a catamaran and swim with whales surrounded by French Polynesian islands.
5. Tonga
(Late Jul - early Oct) The Antarctic winter sees humpback whales migrating thousands of miles to the balmy Tongan waters where they give birth. This is one of the only places in the world where you can snorkel with these 40-ton giants in crystal clear seas - and their newborns. Onboard hydrophones let the skippers locate singing whales – if you're bobbing above them, your whole body will softly vibrate.


Annah Evington, tour leader at our partner WhaleSwim Adventures, discusses her favourite destinations for swimming with whales: "A few years back I would have said emphatically Tonga, I love the tropics. But Norway is really special – orcas are the most intelligent beings, I'm in awe of their communities, their family structure – their pods have a matriarchal society, grandma is in charge. You can feel the wisdom. And the fjords are stunningly beautiful and remote. So it's very difficult to choose.

Tahiti is glorious too. It's different from Tonga where you do day-long expeditions. In Tahiti you can see the whales from shore so it's just a quick trip out to them. And they do half-day tours so you can do another activity on the same day. There's lovely snorkelling and diving there, and it's so gorgeous."
If you'd like to chat about Swimming with whales & wild dolphins or need help finding a holiday to suit you we're very happy to help.

Family swimming with dolphins trips

Taking your kids to swim with whales or dolphins may make you a contender for "parent of the year" - but age restrictions do apply.

The Red Sea is a great choice for young families. With warm, calm waters and most dolphin swimming trips take place in a safe, sheltered reef. Child-friendly resorts sit beside shallow beaches, and children will love snorkelling with the colourful reef fish. The Azores offers special family departures with presentations tailored for youngsters, and experienced guides well equipped to look after children. Travelling in family groups means that the children make friends – and parents get a little time to themselves. Whale swimming holidays in Tonga are recommended for over 18s only. However, there are some day trips which accept younger children – though these are not orientated specifically towards families, and parents will be fully responsible for their kids.
At Responsible Travel, we think the best people to advise our travellers are often... other travellers. They always return from our tours with packing tips, weather reports, ideas about what to do - and opinions about what not to.

We have selected some of the most useful swimming with whales and dolphins travel tips that our guests have provided over the years to help you make the very most of your holiday - and the space inside your suitcase.

Definitely take an underwater camera as the photos and footage you can get are amazing

- Claire Bartlett (Tonga)
"Take sea sickness tablets if you are inclined to nausea on boats as it can get quite choppy." - Rosie Sutcliffe

"Don't leave it until the last week of the season. It was cold! Also be aware these are wild animals, you wouldn't expect to stroke a lion on safari so why expect to be up-close to dolphins." - Carol Sissons

"The weather… is so changeable. Wet suits and layers, sun cream, hats. You might need them. One other thing that I also read on a review was to bring quick drying towels which was good advice." - Amanda Kirby

"Get out every single time you can, you can't see / interact with wild dolphins + whales + fish + turtles + shearwaters (sea-diving birds) in Oxford Street." - James Bromley

If you are quiet and calm and just wait they will swim to you and you can pretend just for a short time that you are part of their underwater world.

More Swimming with whales & wild dolphins articles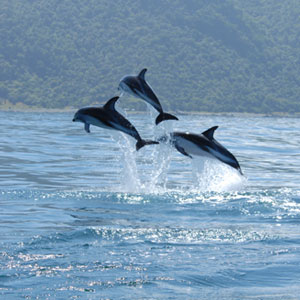 Swimming responsibly with whales and dolphins means both you and they stay happy and safe.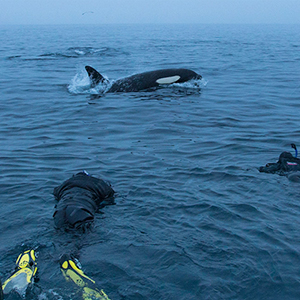 Done right, swimming with killer whales in Norway is ethical - we explain all in our guide.