Best time to go sailing on a tall ship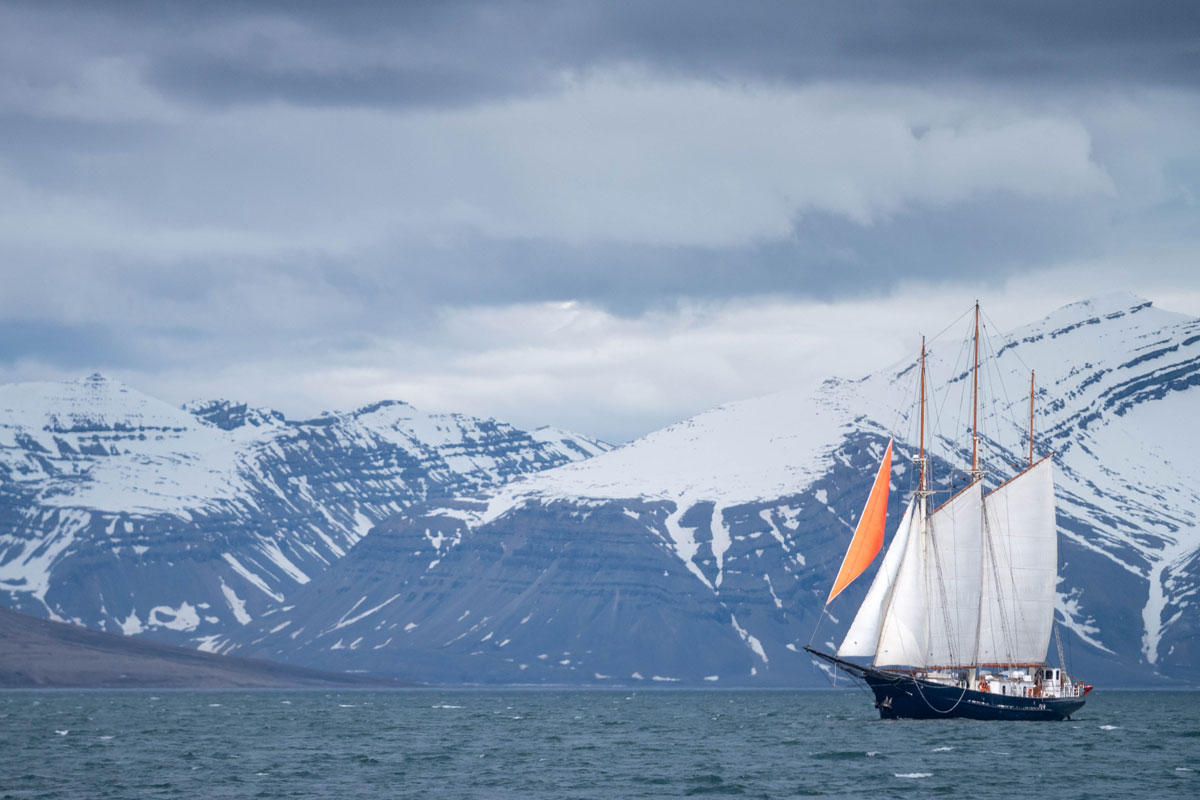 If you're going to the Arctic on your tall ship sailing holiday, and you don't want to become an ice cube, you need to travel from spring to autumn. Arctic trips sail around northerly areas like Svalbard, the remote Norwegian archipelago, and Spitsbergen, its largest island. To avoid ice, Arctic sailing trips run from April to early September. Tall ships are very seaworthy vessels and can handle most bad weather, but the majority of classic regattas take place in the summer – it's much more fun being on deck when it isn't blowing a hoolie. The Tall Ships' Race runs in Europe from July to August, when the weather is best.
Our Tall Ships sailing holidays Holidays
Tall ship sailing, month by month
Our tall ships cruises run in Europe and the Arctic and this means making use of the European summer. If you want to race, well, you won't find any regattas taking place in the winter months – so find something else to do during November, December, January, February and March. Most cruising starts in spring. In April the first trips to the Arctic start. In April and May, Arctic cruising will combine sailing with skiing on land. Come to the trip with a degree of flexibility: if there's too much ice, the captain might have to divert from the expected itinerary. In June, ditch the skis. Arctic cruising trips will combine sailing with hiking instead. Also in June, Europe wakes up. On the last week in June, Kiel Week – the largest sailing event in the world – begins on the German coast. There is a tall ships parade as part of the celebrations. In July the Tall Ships' Race is fully underway. Five weeks of racing and parading in four ports across Europe kicks off at the end of June and will last until August. In mid August is Hanse Sail, one of the largest traditional maritime festivals in Europe, which takes place in Rostock, Germany. Scores of beautiful tall ships will head for the city in time for the festivities, joining hundreds of traditional vessels. You could combine a tall ship cruise with some time in port for the festival. Between September and October, why not hit up the Amalfi coast? Regatta season is over, instead, lie back as luxury five-masted tall ship Star Clipper sweeps you from Amalfi to Sicily. Arctic cruises still run – the summer migratory birds have left, but there are plenty of mammals to spot in autumn.
Our top Tall Ships sailing holidays Holiday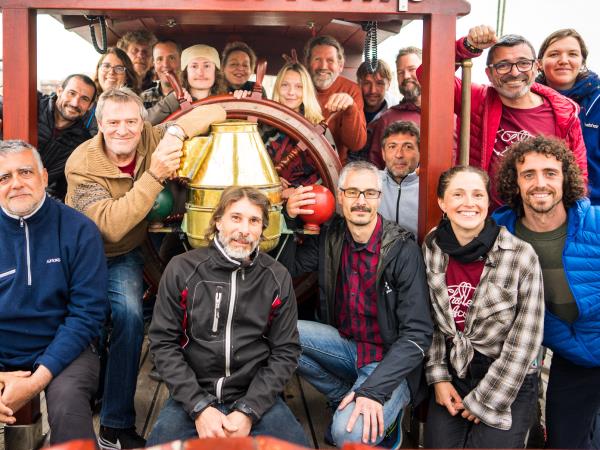 Hands-on Tall ship adventure holiday in Europe
From €740 6 days ex flights
Small group travel:
2023: 24 Sep
2024: 17 Mar, 24 Mar, 31 Mar, 7 Apr, 14 Apr, 21 Apr, 28 Apr, 5 May, 12 May, 19 May, 26 May, 2 Jun, 9 Jun, 16 Jun, 23 Jun, 30 Jun, 7 Jul, 14 Jul, 21 Jul, 28 Jul, 4 Aug, 11 Aug, 18 Aug, 25 Aug, 1 Sep, 8 Sep, 15 Sep, 22 Sep
If you'd like to chat about Tall Ships sailing holidays or need help finding a holiday to suit you we're very happy to help.

Charlotte Caffrey, co-founder of our supplier Aqua-Firma, advises on when to go sailing in the Arctic: "The seasons are very different. In June, there's a lot of snow and ice, so you're able only to visit parts of Spitsbergen. As the season goes on, you get a melting of the ice so you can do a circumnavigation. It's a longer trip and you're getting very different aspects of the Arctic. By September, there's no longer 24-hour daylight; you'll get more evening time. The birdlife stays from around June into early September – there's a lot of food around and the breeding activity is really high. So you have to think: what do I want to see? How long do I want to be there? Which parts do I want to explore?"
Why pick a tall ship?
Emma Kleinschnitz, who works for our specialist Tall Ships sailing holiday provider ATYLA Ship Foundation says:

"A Tall Ship gives you a safe environment to get out of your comfort zone. You do not need to know how to sail, they will teach you everything and there will always be likeminded people surrounding you for support. ATYLA especially has a trained coach that leads our personal development programme and who people can go to if they are having trouble. A tall ship gives the opportunity to climb, to live a traditional adventure like in the old times, it's more comfortable than a smaller ship and more space to move. It even gives space for a ships dog to live too!"

"What I personally love most about being part of a tall ship crew are two things: the community and the sea. The experience with the people you are with is double the intense as it would be under normal circumstances. You live close, you eat together, work together and have good and some scary moments together than bring you close in a very short time."
On managing your expectations
"Be open and adaptive to changes. Many come with high expectations, but the sea is unpredictable - sometimes we need to stop somewhere, or we take a day longer to arrive, or to leave the port due to bad weather. Also there are a lot of people from all backgrounds and cultures on board, so they should be happy to interact and communicate with hands and feet sometimes. Relax and enjoy the unknown!"
On what to pack
"Warm enough clothes. Even though we say this in the packing list, it's always underestimated how cold it can be at sea, or when a wave gets your feet and shoes wet. And a head torch, it's very important for night time sailing."
At Responsible Travel, we think the best people to advise our travellers are often... other travellers. They always return from our tours with packing tips, weather reports, ideas about what to do - and opinions about what not to.

We have selected some of the most useful tall ships travel tips that our guests have provided over the years to help you make the very most of your holiday – and the space inside your suitcase.

We had so many memorable moments. A Blue Whale and her calf cut across our bow when we were sailing, it was so exciting.

– Gayna Wallis on an Arctic sailing voyage
"Spitsbergen itself was without doubt the star, with spectacular scenery, rapidly changing lighting and fascinating history. The birdlife was sparse at the start of autumn as expected, but we saw polar bears, whales, Arctic fox, reindeer and walrus. The boat is warm, comfortable, but not luxurious. You do not need to be fit, but you do need to be agile to clamber in and out of the Zodiacs and for some of the walks." – Mike Bradburn on an Arctic sailing voyage

"The experience of life on board this classic ship really made the holiday for us - topping off the whole experience. A lovely ship and wonderful friendly crew. And great food!" – Paul Stubbs on an Arctic sailing voyage

"The whole experience of travelling in a 100 year-old sailing vessel felt really authentic." – Joshua Cox on an Arctic sailing voyage

"We had so many memorable moments. A Blue Whale and her calf cut across our bow when we were sailing, it was so exciting. Definitely need a snood to keep your face warm, but also bring shorts and tee shirt as it got very warm walking. Also something nice to wear for the Captain's dinner at the end of the trip." – Gayna Wallis on an Arctic sailing voyage
More about Tall Ships sailing holidays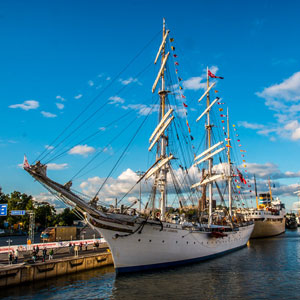 All I ask is a tall ship and a star to steer her by… Whether you're racing them or 'just' sailing, tall ships are a pretty poetic way to travel.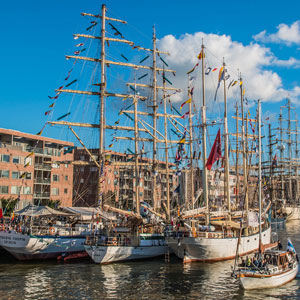 If tall ships have turned your head, then read on to learn about tall ships racing.