Jonny Bealby, from our supplier Wild Frontiers Travel, offers advice on coping with road travel in the Stans:

"The roads in Central Asia are very bad and travelling between places by mini bus or private car can be a bit hell raising although your driver will be very adept at swerving around pot holes. You will keep to a schedule because lengthy road journeys will be taken into account and extra time allowed for by your tour operators, but people should be aware that the roads are bumpy and uncomfortable, so it's best to keep calm and be patient."
Jim O'Brien, from our specialist Native Eye, explains the difference between Tajikistan and Kyrgyzstan, and gives an overview of the food and the visa requirements:

"The mountain scenery in Tajikistan tends to be more austere, more harsh than in Kyrgyzstan. The Pamirs are the 'roof of the world', and travelling through them in Tajikistan is more dramatic than what you would get in Kyrgyzstan. In Kyrgyzstan, there are better opportunities to interact with local people; a more accessible nomadic culture. The Pamirs in Tajikistan don't lend themselves well to nomadic cultures because there's no grazing. There's more grazing in Kyrgyzstan."
"The food is reasonable in the Stans, it's nothing outstanding. Somewhere like Turkmenistan doesn't have much of a culinary tradition. Anywhere you have more settled, larger populations the food tends to be a bit better, but it is quite heavily meat focused – you're going to eat a lot of plov."
Kazakhstan tips
Jim O'Brien, from our holiday specialist Native Eye, on managing your expectations of travel in Kazakhstan:

"Kazakhstan is probably the most developed in places. It had the strongest Russian influence in times of the Soviet Union because it borders it more closely. You go to somewhere like Astana and it's a big bright, shiny modern capital. It's quite different from somewhere like the nomadic camps in Kyrgyzstan."
Kyrgyzstan tips
Daniel Waters, from our supplier, Wild Frontiers Travel, shares his Kyrgyzstan travel advice:

"Kyrgyzstan offers so much to those that travel there from hiking in the strikingly beautiful Mountains of Heaven, watching frantic games of buzkashi played by impossibly agile horseman, drinking glasses of kumis in toasty yurts overlooking crystal clear lakes, beguiling walks in dense walnut forests, marvelling at the history of the ancient but perfectly preserved caravanserai you're standing in. You can create an amazing trip in Kyrgyzstan based around whatever your interest is: hiking, riding, family trips, the Silk Road. The warmth of the people and diversity of scenery will humble and awe in equal measure."
Tajikistan tips
Daniel Waters, from our supplier, Wild Frontiers Travel, shares his Tajikistan travel advice:

"Tajikistan is an adventure traveller's dream; it's so little travelled, you'll be hard pressed to see another tourist the entire time you're there. The country is nearly all mountainous, spectacular scenery is guaranteed throughout, from the azure blue lakes and waterfalls of the Fann Mountains to the snowy peaks of the Pamirs, and the raging rivers in the Wakhan Valley. The warmth of the people is so heartfelt, you'll be offered bread and fruit wherever you go in communities that seem to be frozen in time. The sense of remoteness, and the reality of being in a country so removed from the world as we know it, creates one of the most genuine travel experiences that can be found."
Turkmenistan tips
Daniel Steeger, from Wild Frontiers Travel, on the political climate in Turkmenistan and chatting to local people:

"If you think about Ashgabat, you would think it's almost a Dubai or Las Vegas type place. It's exceptional, especially the buildings – one in the shape of a lighter, one a book, another in the shape of a star. It's almost Dr Seuss like. What really gives it a sense of difference from the West, though, is that there are so many restrictions in Turkmenistan. This is the second most controlled nation in the world after North Korea. When passing into the country you will sometimes have four officers looking at you, from front and back. I wouldn't call it intimidating, unless you have something you shouldn't have in your suitcase! Then you're in trouble, as they will absolutely comb through everything. But there is a friendly side to the security guards, it's just extremely controlled.
"The Turkmen people in my experience are very friendly, but they will be reserved, because they are being observed. So, they don't ever want to talk badly, but you do have a sense that sometimes they are holding back what they would really like to say. They would be in a lot of trouble if they spoke openly about politics, so don't press your guide or local people on this. There is a strong sense of nationalism. Hotels have stars everywhere and there is a great deal of propaganda around the president. You'll be told, 'Turkmenbashi did this, he did that…'"
Uzbekistan tips
Andrew Appleyard, from our supplier Exodus, with his thoughts on Uzbek food:

"I actually think that the food is the worst I have tasted in the world. I think I lost five kilos during my stay. And if you're vegetarian, they really have no concept of it. If you are presented a meal with sausage in it and you say, no thanks I am vegetarian, they will take the sausage out and put it in the dish of the person sitting next to you. That sort of thing."
Jonny Bealby, from our supplier Wild Frontiers Travel, bigs up Uzbek food:

"Uzbek fare is delicious and since the publication of the cookbook Samarkand, is experiencing something of a revival. Plov is the national dish but I prefer laghman which is a kind of Central Asian spaghetti bolognaise. Eating this delicious dish, it's easy to see how food passed along the Silk Road, just as goods and ideas did."
Our top trip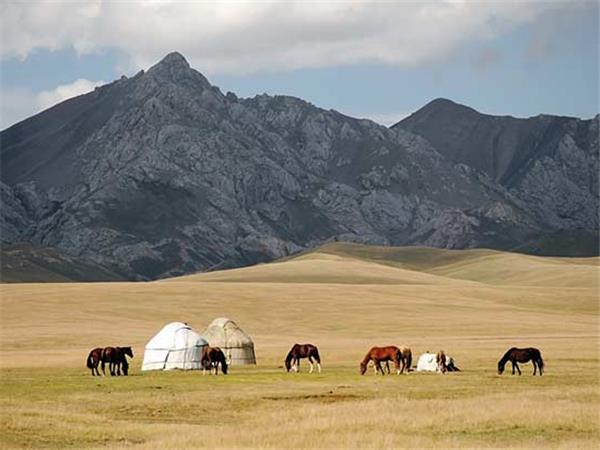 Discover the Silk Road in Uzbekistan, Kyrgyzstan and China
From
£3699

to

£4949
15 days
inc UK flights
Small group travel:
2024: 9 Apr, 23 Apr, 30 Apr, 14 May, 21 May, 28 May, 11 Jun, 19 Jun, 26 Jun, 17 Jul, 7 Aug, 21 Aug, 28 Aug, 4 Sep, 18 Sep, 25 Sep, 2 Oct, 9 Oct, 16 Oct
2025: 9 Apr, 23 Apr, 14 May, 21 May, 4 Jun, 11 Jun, 18 Jun, 25 Jun, 16 Jul, 6 Aug, 13 Aug, 20 Aug, 27 Aug, 3 Sep, 10 Sep, 17 Sep, 24 Sep, 8 Oct, 15 Oct
If you'd like to chat about The Stans or need help finding a holiday to suit you we're very happy to help.

HEALTH & SAFETY IN THE STANS
HEALTH
Visit your GP or travel clinic at least 6-8 weeks before departure to ensure you have all the necessary vaccinations and that they are up to date.
The quality of medical care throughout the Stans is poor. Medical facilities outside major cities are typically quite basic and, in some locations, almost non-existent. Most hospitals are badly equipped and unhygienic, with a shortage of basic medical supplies, and poorly trained staff. There is no guarantee that equipment will have been properly sterilised, especially in rural hospitals. You should avoid all but basic treatment or essential treatment in the event of an emergency.
Make sure you have adequate travel health insurance and accessible funds to cover the cost of any medical treatment abroad and emergency repatriation.
Typhoid and hepatitis A are endemic in Turkmenistan. TB (including multi drug resistant TB), typhoid and cholera occur in Tajikistan.
You should drink or use only boiled and filtered or bottled water and avoid ice in drinks. Avoid unpasteurised milk. We recommend self filtering bottles such as LifeStraw to save on plastic bottle usage.
Bring any medication with you, as it may be in short supply. Chat with your tour operator about this, because you will be required to carry your prescription with you, as medicines can be checked by police for legal amounts. Some medications are restricted, too, making it impossible to bring certain prescription drugs into the Stans. Be aware that brand name drugs for sale within the Stans may not be genuine.
Temperatures soar throughout Turkmenistan, Uzbekistan and at lower elevations in the other Stans in summer months, so make sure you are protected from sun and stay well hydrated. The sun can be harsh at high altitudes in the Pamirs, too, so bring a good sun hat and lots of sun cream.
Smoking is everywhere in Uzbekistan, so if you are a non smoker, be prepared for some unpleasant closed spaces.
SAFETY
All the Stans are generally pretty safe, but you should be vigilant, just as you would be in most foreign countries where tourists can be seen as easy prey. Don't flash cash or valuables, particularly in major cities, where petty crime is not unheard of.
There can also be security issues around the borders between the Stans and Afghanistan, and borders may be closed with little warning. Keep up to date on border and political issues on the FCO travel advice website.
Homosexuality is legal in Tajikistan, Kyrgyzstan and Kazakhstan but it's generally not recognised publicly and not tolerated, so exercise caution. It is illegal under Uzbek and Turkmen law and is still very much frowned upon socially.
You are required to carry ID at all times in the Stans. In Kazakhstan and Uzbekistan, you must carry your original passport, but in Tajikistan, Kyrgyzstan and Turkmenistan, a notarised copy should be enough. Check the FCO website for detailed advice and talk to you your tour operator, too.
The Stans lie in an active seismic zone. In Kyrgyzstan, there is a high risk of earthquakes. In Uzbekistan and Turkmenistan tremors are common, but not significant earthquakes. Tajikistan has seen an increase in earthquakes in recent years, and landslides can block roads. There hasn't been an earthquake involving loss of life in Kazakhstan since the 1920s.
All the Stans are subject to authoritarian leadership, with Uzbekistan and Turkmenistan police states. Photography can upset the authorities throughout the Stans, so taking photos of official buildings and sites of military or security interest can get you into trouble. In Uzbekistan and Turkmenistan, even taking photos at local bazaars, metro stations and bridges is sensitive, so check before using your camera.
Politics is a very sensitive issue in Central Asia and it's advisable not to involve yourself in conversations about or speak out against the governments and political leaders here as it is considered a crime.
THE STANS TIPS FROM OUR TRAVELLERS
At Responsible Travel, we think the best people to advise our travellers are often... other travellers. They always return from our tours with packing tips, weather reports, ideas about what to do – and opinions about what not to.

We have selected some of the most useful Stans travel tips that our guests have provided over the years to help you make the very most of your holiday – and the space inside your suitcase.

Be prepared for long days driving – often on very bumpy roads. However, nature's spectacles compensate for the travelling inconveniences. Sleeping in a yurt was a new adventure for me.

– Karen O'Driscoll, on our Silk Road Holidays, Central Asia
"Make sure you try the local food. Take socks and a torch for your night in the yurt, and a spoon and fork for picnic lunches. Take a fabric carrier bag for your shopping so you don't have to use a plastic bag." – Karen Harrison, on our Silk Road Small Group Tour

"It was very hot throughout, so take loose, cool clothing." – Gillian Urro, on our Silk Road Small Group Tour

"Enjoy. Do not bring so many things: it is not so cold, you do not need a slipping bag nor the sheet, nor gloves. All the stays, even yurts, are warm. Bring comfortable shoes for walking and a pair of slippers." – Ana Maria Lopez, on our Silk Road Holidays, Central Asia

Explore train travel and spending more time in Kyrgyzstan if you like nature.

– Deepak Bhatnagar, on our Tashkent to Bishkek Silk Road holiday
"Hopefully anyone booking this holiday will have some experience in remote locations so will be well prepared. Most people on the trip were sick in Kyrgyzstan (I think I was one of two who wasn't). I think everyone needs to be warned to be a bit more cautious about food and water/drink. We were much more cavalier about these things (I ate and drank everything put in front of me!) than I would be when somewhere like India." – Sue Noble, on our Silk Road Holidays, Central Asia

"Bring plenty of energy bars." – Karen O'Driscoll, on our Silk Road Holidays, Central Asia

"Check what medicines you can take into the country with a doctor's prescription info, otherwise may have problems at boarder control." – Anne Higgins, on our Silk Road holiday, small group