THE STANS, COUNTRY BY COUNTRY
You're never going to 'do' all five Stans in a single trip, but you can travel into all of them – or just a handful – to experience the contrasts that make Central Asia so intriguing. With the decline of the Silk Road trade in the mid 15th century, the Stans were seen as the middle of nowhere rather than the centre of Asia, where culture, art, philosophy and science had flowed and flowered.

This is a land that, under Soviet rule, was mostly off limits to travellers, so once you venture away from the handful of established tourist centres in Uzbekistan, you're all set for a genuine travel experience. Journey into lesser visited Turkmenistan for Silk Road sites and dusty Parthian ruins which contrast wildly with its bonkers and bling capital. Venture east, away from the desert, to discover the lofty mountains of the Pamir and Tian Shan ranges in Kyrgyzstan and Tajikistan. Here, a Stans holiday becomes less about historical sightseeing and more about active exploration: hiking between lakes, horse riding through mountain foothills and hanging out with nomadic herders on yurt homestays. And if you feel that sounds too mainstream, travel on into Kazakhstan, the biggest but perhaps least known of the Stans, where the south of the country boasts ruined cities, ancient fortresses, deep canyons and alpine lakes scattered across a vast landscape.
Colourful canyons & singing dunes
Singing dunes, canyons & a cosmopolitan second city
This is the big one.
Kazakhstan
is huge; we're talking the-size-of-Western-Europe huge. And with a population of just 18 million people – the same as Chile – that's a whole lot of country with not a lot of people. Tourism has barely made any inroads into the world's ninth largest nation, and Stans tours tend to visit only the south of Kazakhstan, close to its borders with Uzbekistan and Kyrgyzstan. Here, you can explore alpine lakes, colourful rock formations and deserts with 'singing' dunes. There are some Silk Road sites, including Turkestan, and the ruins at Sauran and Otrar, but the wilderness beckons in Kazakhstan, and friendly Kazakhs, descended from Genghis Khan, welcome you with smoked horsemeat sausages and fermented mare's milk. It's an acquired taste, but don't pass it up –
kumis
, as it's called, supposedly cures anything from a cold to tuberculosis.
Kazakhstan is the most economically advanced of the Stans, and the best developed, thanks to its abundant reserves of oil and not because, as Borat maintained, "Kazakhstan is number one exporter of potassium." Modern Almaty displays Kazakhstan's wealth in its glitzy downtown, although its name is more bucolic, meaning 'place with apples' – Kazakh apples are famously good. The Baikonur Cosmodrome is the world's first and largest operational space launch facility; it was from here that Tim Peake took off for the international Space Station.
Nomads, trekking & riding
Nomadic culture plus tremendous trekking & riding
Remote and romantic – that's
Kyrgyzstan
. It's a place of phenomenal natural beauty, where mountains dissect sweeping steppe, primal forest and vast lakes. More than half of the country lies above 3,000m altitude and a third is permanently covered in snow. It's as historical as its neighbouring Silk Road counterparts – Osh is 3,000 years old and the Burana tower is all that remains of a 9th century city – but it's not overflowing with the art and architecture of Uzbekistan. Instead, Kyrgyzstan's past is played out through the semi nomadic people of its deeply ingrained shepherd culture, who follow a lifestyle little changed in centuries.
Kyrgyzstan has few political issues and decent tourism infrastructure (UK citizens don't need a visa to visit) but it receives few tourists and remains adventure travel's best kept secret. You can spend days on foot or on horseback here, exploring alpine tracks and glacial lakes, with cosy yurt homestays and shared family meals after each day's exploration. The Pamir Highway starts in Osh in the west, before winding down into Tajikistan, but many Stans tours focus on the east of Kyrgyzstan, exploring exceptionally gorgeous Song Kul lake, Ala Archa National Park – a beautiful landscape to hike through just half an hour outside Bishkek – and the Jety-Oguz canyon, with its distinctive red sandstone cliffs.
Bishkek, the Soviet style capital, stands in contrast to all this wild beauty, with its boulevards wide enough to drive tanks down – literally. Its market is worth exploring, though, and here you can meet descendants of some of the 500,000 Koreans, forcibly exiled from the Soviet Far East in the 1930s to Central Asia, selling pickles and kimchi amongst the spices and horsemeat. Again, expect woeful roads (you sometimes travel in a 'zill', a converted ex-Soviet truck, built to endure the rough conditions) and plenty of meaty meals in Kyrgyzstan, but also perhaps the warmest welcome of all the Stans.
Our top The Stans Holiday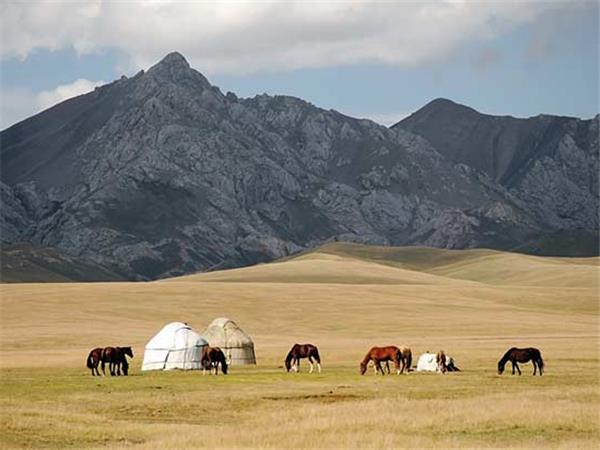 Discover the Silk Road in Uzbekistan, Kyrgyzstan and China
From
£3499

to

£3999
15 days
inc UK flights
Small group travel:
2023: 13 Jun, 18 Jul, 8 Aug, 29 Aug, 5 Sep, 12 Sep, 17 Oct
2024: 9 Apr, 23 Apr, 14 May, 21 May, 4 Jun, 11 Jun, 18 Jun, 16 Jul, 6 Aug, 20 Aug, 3 Sep, 10 Sep, 17 Sep, 24 Sep, 8 Oct, 15 Oct
If you'd like to chat about The Stans or need help finding a holiday to suit you we're very happy to help.

Elevated landscapes & the Pamir Highway
High altitude landscapes & the Pamir Highway
The smallest of the Stans, high altitude
Tajikistan
- it's 90 percent upland - is a sensory overload for those who like their scenery big, bold and rugged. It has a few historic towns (Khorog, Istaravshan and Gissar), but its big draw is its mountains. The Fann in the northwest are an extension of the great Pamir range that stretches through the south, with beautifully clear lakes and simple, desolate beauty. Villages are dotted throughout, their residents surviving extremes of temperature and harsh terrain, in a country where very little has changed for centuries.
Tajikistan has been continuously inhabited for over 4,000 years, when Aryan nomads first settled here, and branches of the Silk Road wound through, but since the country's independence in 1991 and the civil war that followed, few tourists have made it here. In fact, it can feel rather like you're the first and only person to visit, but that's what makes Tajikistan special. Trek around gorgeous Iskander-Kul Lake without meeting another person or stop off to see Bronze Age pertroglyphs or an ancient fortress, perched on a hill, with not a guard rail or gift shop in sight.
All this unspoiled glory doesn't come without some effort. Travelling conditions are primitive, journey times long and roads poor. Driving along the glorious, high altitude Pamir Highway, which threads through the remote east of the country before heading west towards the capital Dushanbe, is a chance to see spectacular scenery – the Hindu Kush, Karakoram and Tien Shan ranges spread out from here. However, driving on the 'roof of the world' means bouncing over potholes, too, created by erosion, earthquakes and landslides. Outside Dushanbe there are few hotels, but there is a network of friendly homestays. Some are quite basic, but they're always welcoming, with local food, tea and vodka offered generously. Forget any notions of Western comfort and erase the word 'luxury' from your vocabulary – you won't need it – and instead open your mind, your heart (but hopefully not your bowels, although upset tums do happen) to an incredibly genuine travel experience.
Desolate desert & a crazy capital
Desolate desert & a crazy capital
Turkmenistan
is sometimes nicknamed the North Korea of Central Asia. As catchy, 'come visit' comparisons go, this has to be one of the worst, but don't let it put you off. Yes, Turkmenistan is one of the most controlled countries in the world. Security is incredibly tight, photography is forbidden in many places and although the internet exists, the Turkmen people have zero communication with the outside world. But for all its police state credentials, it's also a fascinating country, with enormously friendly people and surprisingly good food.
Turkmenistan is one of the least explored Stans and perhaps the most eccentric; a country that's very much the product of its former president-dictator Saparmurat Niyazov, otherwise known as Turkmenbashi. Statues of him pepper the country and fill the capital Ashgabat, rubbing shoulders with white marble buildings, architectural follies (a monument shaped like a lighter!) and wide boulevards – think Vegas meets Dubai via Pyongyang. Beyond, by contrast, lie miles of desert and a dispersed population. Only 5.6 million people live in a country that is 80 percent covered by desert.
Dotted around this arid landscape are several historic sites, most notably Konye Urgench, the ancient capital of Khorezm and once the centre of the Islamic world, and the Silk Road metropolis of Merv. Tours usually include these ancient gems but also swerve deep into the Karakam desert to take in the bizarre but unforgettable Darvaza gas crater. This 30m deep pit of flaming methane has been nicknamed the 'door to hell', and it's a fittingly odd addition to the concise but quirky roll call of must-sees in this little visited country.
Silk Road & Islamic architecture
Super Silk Road history & Islamic architecture
You could never accuse the Stans of being 'touristy', but of all five countries,
Uzbekistan
is certainly the most visited. Its capital Tashkent, rebuilt in brutalist style by the Soviets after an earthquake, and the Aral Sea are all worth visiting, but mainly people come to Uzbekistan for its history. Uzbekistan has been a cultural colossus in Central Asia for two millennia, and lay at the very centre of the
Silk Road
, a place where East and West met, mingled and swapped cultural, scientific, religious and culinary ideas. As this famous route flourished, Uzbekistan was wrestled over. Alexander the Great conquered the region in 328BC, Arab invaders were in charge by the 8th century AD, Genghis Khan took over in the 13th century followed by Timur a century later, whose empire stretched from Iraq to India.
Consequently, there are enough architectural riches, majestic Madrassas and blue tiled mosques to keep you in raptures in Uzbekistan for an entire holiday, but most multi-Stan trips feature a trio of standout cities, all key staging posts on the Silk Road: exceptionally beautiful Bukhara and Samarkand, and Khiva, with its barely changed, mud-walled old town.
Travel within Uzbekistan suffers from the same Stans-wide issues: rubbish roads, long distances and slow speeds, plus crossing its borders involves thorough – and we mean thorough – checks and baggage searches. It's a harshly governed police state, with food that ranges from the sublime to the substandard, but it is also an extremely friendly country, with local people who are warmly hospitable, who love their footie and their ciggies, and are rightfully proud of their unique home.