Traversed by traders selling silks and spices for centuries, the Silk Road, and the historical cities along its spidering tributaries, shared the priceless gifts of art, architecture and inspiration from the curious East to the captivated West. At its crossroads, in the very heart of Central Asia, is Uzbekistan; a country slowly shaped by the influence of each individual culture that flourished there.

A country at the very core of the ancient Silk Road, Uzbekistan has been gifted with the artistry, spirit and quirks of every culture to have walked its paths.

From post-Soviet Tashkent, where an awkward but beguiling jumble of old meets very new; to Samarkand, a former kingdom of Alexander the Great and a treasure trove of intricate Islamic art and beautiful, emerald-tiled architecture; and Bukhara, a literal living museum with a skyline punctuated by dozens of azure mosques and Madrassas, kept lively by the charming chatter of local gossip – Uzbekistan's cities each tell their own story. A country that remains swathed in myth and mystery, it's possible to while away days at a time enraptured by the traditional culture and visual history, from which you will likely come away enthused with more questions than you arrived with.
Find out more in our Uzbekistan travel guide.
Uzbekistan is...
a place of palpable history where Islamic art, mosques and Madrassas take centre stage.
Uzbekistan isn't...
ideal for children.
WHAT WE RATE & WHAT WE DON'T
Uzbek desert
Uzbekistan is famous for its architecture and Silk Road history; so its landscape sometimes gets upstaged. But the Kyzyl Kum Desert, aka Yangikazgan, is the world's 11th largest and famous for its red sand which ripples into the horizon. The gateway village is Yangi Kazgan, north of Lake Aydarkul. Take treks on foot or camel, overnight in nomads' camel hair yurts, listen to traditional music and sleep under an explosion of stars.
Tashkent metro
The bulk of Tashkent's beauty sits underground in the stations of its stunning subway system which, having been built after the devastating 1966 earthquake, boasts Soviet style scale and grandeur, but also oozes the elegant flair and artistry of the country's Islamic heritage. Spend a day discovering the 29 stations rich in engraved metal, glass, granite, marble and smooth carved alabaster. Urban art at its most unique.
Karakalpakstan
A semi-autonomous, desert region home to the infamous Aral Sea, which is now dried up and yet an extraordinary sight. This region boasts many off-the-beaten-track archaeological sites, such as the 4th Century BCE Gyaur-Kala fortress. Its capital is Soviet built Nukus, where the Igor Savitsky Museum has one of the finest collections of Soviet modern art in the world. It's also a great region for staying in traditional yurt camps.
Modern influences
So much focus is on the ancient in Uzbekistan with Soviet influences still being swept under the carpet. Understandably, as independence was only in 1991. Eventually, and in an ideal world, Tashkent's brutal architecture will be converted into exquisitely designed modern art hotels, arts spaces or galleries. Spooky, empty factories will be restored in sustainable ways, and vast public parks will be places of peace.
The three Ms
Mosques, minarets and madrasas are what Uzbek architecture is all about, and Khiva, Bukhara and Samarkand are historic hotpoints. The ancient madrasas of Khiva include Allakuli-Khan Madrasa, one of the best examples of Khorezm medieval architecture. The mosques surrounding Registan Square in Samarkand are world famous, while Bukhara has the Kalyan minaret at Po-i-Kalyan mosque.
Samarkand
Samarkand, the heart of the Silk Road, is steeped in history and, not surprisingly, sought after by the likes of Alexander the Great, Genghis Khan and Tamerlane (aka Timur). Tamerlane made it his capital in the 14th century, with Registan Square at its heart. Indeed, it's like a mini kingdom in its own right. As Tamarlane said, "If you want to know about us, examine our buildings." And best not argue with Tamarlane.
Bukhara
Take a deep breath, ancient architecture fans, because Bukhara is bamboozling, with 140 ancient monuments dating back centuries, but in particular to the 17th century Khanate which really put it on the Silk Road map. With over 350 mosques and 100 madrasas, this really is a holy city. In fact, is name originates from the Sanskrit 'vihara', meaning 'monastery'. Sacred and sumptuous, it also still feels living and real.
Khiva
In the far north this really is, in many ways, pure, ancient Uzbekistan, and barely touched by tourism. Walk through the gates of the old town, Ichan Qala, and lap up the medieval magic of mosques, mausoleums and minarets, plus mysterious alleyways, mystical workshops and marvellous cafes and carpet makers. For real life, check out modern Dichon-Qala outside the ancient city walls, where real people lead real lives.
Cashmere & cotton
Cashmere in Uzbekistan is usually from China and often not from sustainable sources. And Uzbek cotton has been embargoed by international companies because of forced labour associated with its harvests and government led quotas. It is also draining the country dry, literally, of water and more sustainable farming opportunities.
Uzbek food
Oh dear, it's really not great. In spite of its many cultural influences, it hasn't caught up with the likes of Iran yet. The national dish is plov, which sounds as bland as it tastes. The basics are all there: meat (read: sheep) and rice, but the fat-to-meat ratio is often intolerable. If you're a nomadic carnivore, brilliant; if you're a vegetarian, prepare for a lot of bread and tomatoes.
Respecting human rights
Uzbekistan has had had its fair share of authoritarian regimes, and today this country is way up there on the watch list for
Amnesty International
and other human rights organisations. From homosexuality being illegal, to enforced labour in the cotton harvest, as well as a police state with a reputation of corruption and mass surveillance, Uzbekistan is complex. Do read up before you go.
Independent travel
The roads are poor, the police check points can be a drag, finding good food is tricky and the distances can be long. This really is a country where travelling with your own driver/guide or in a small group with a knowledge of good, responsible tourism practices will mean that you will get to see all of its incredible sites in as much comfort as possible. And have plenty of fun along the way.
Eating & drinking in Uzbekistan
Tea is the drink of choice in Uzbekistan, often green tea, with kefir yoghurt drink served with breakfast.

Samsas are everywhere, a bit like samosas or Greek pastries. Fillings vary from 'yalpiz' grass like vegetable, but also meat, pumpkin and herbs. Manty is like a ravioli or dumpling, filled with meat, veg and spices.

Bread is almost a religious affair. It's everywhere. Never cut it with a knife, but break it into pieces by right hand and always place it on the table flat side down.

Most people eat with their hands in Uzbekistan, so it is important to do so with your right hand, as this is predominantly a Muslim country.

Our top Uzbekistan Holiday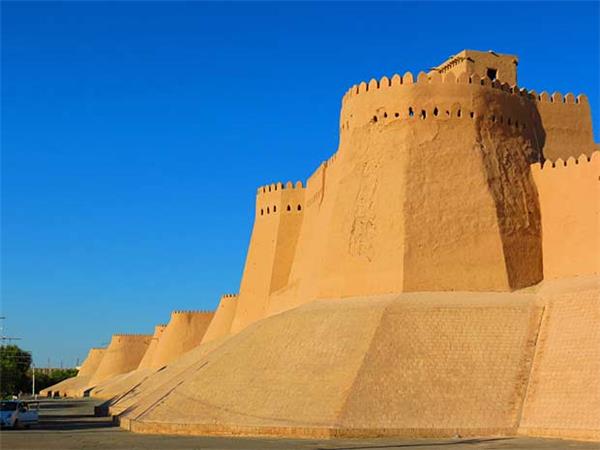 Explore cities and landscapes of the ancient Silk Road
From
£2499

to

£2949
12 days
inc UK flights
Small group travel:
2023: 25 Aug, 8 Sep, 15 Sep, 29 Sep, 6 Oct
2024: 29 Mar, 19 Apr, 3 May, 17 May, 31 May, 23 Aug, 6 Sep, 13 Sep, 27 Sep, 4 Oct
If you'd like to chat about Uzbekistan or need help finding a holiday to suit you we're very happy to help.

People & language
Uzbekistan alone is home to over 30 million people and has the largest population in Central Asia. 80 percent of its people are Uzbeks who are a Turkic people. Their language, Uzbek, is influenced by Persian, Arabic but also by Russian. Russian is also widely spoken especially in the cities. In Samarkand and Bukhara you are also likely to hear the native languages of Tajiks and Kazakhs. And just to add to the multi cultural mix, in Karalkalpakstan people speak their own language of Karalkalpak.

As-salomu alaykum = Hello/good morning

Rahmat = Thank you

Salom = How are you?

Kechirasiz = Sorry

Ha, iltimos! = Yes, please
Gifts & Shopping
It's on the Silk Road, and there is still plenty around, but do buy it handmade. Margilan is the place to buy the real thing and Bukhara's or Khiva's carpets are world renowned.

The Artisan Development Centre in Bukhara is a hive of productivity where you can watch artisans create hand-sewn tapestries, miniature paintings and chess sets.

Wine has been a feature of Uzbekistan since ancient times and there are 14 wineries here.

Samarkand paper is sublime, based on ancient techniques using mulberry bark, silk fibres and flower petals. Wiped out during Soviet times, it is now being revived but you have to seek it out. It's worth it, though.

Despite being a predominantly Muslim country, alcohol definitely features in Uzbekistan. Vodka stayed around long after the Russian rulers left.

How much does it cost?
Tashkent metro ticket: 30p

High speed train Tashkent
to Samarkand: £17

Entry fee to Registan: £1.50

Local beer: 70p

Sleeper train Tashkent to Urgench
(35km from Khiva): £75

Plov and tea for two in standard
restaurant: £1.50-2.50
A BRIEF HISTORY OF UZBEKISTAN
Much of Uzbekistan's history lies within the foundations of the Silk Road, as its affiliated trade and cultural input have influenced this Central Asian country since well before the Common Era, pioneered by the Chinese who wanted to trade and connect with countries in the west. Uzbekistan was on theirs and many others' paths and, consequently, the political and cultural influences over time became as active, valuable and influential as the silk worm itself.
Read more