People would be forgiven for grouping the 'Stans' under one – albeit captivating – Silk Road umbrella. They each offer entirely different experiences though, and Kyrgyzstan, a land of vast mountain ranges that's fast making headway as a leading climbing destination, is a country of varied landscape that gently shifts between golden granite cliffs, valleys packed with limestone fossils, and mountain cities decorated with colourful mosques and mausoleums.

Dominated by the celestial Tien Shan mountains, the Alpine wilderness, bubbling blue streams, and gentle people of Kyrgyzstan will command your attention from the minute you arrive.

Kyrgyzstan's calling card is its wilderness. You can spend days on foot or horseback getting lost in its alpine treks, thick walnut forests and ice-blue glacial lakes that stretch for miles. As historical as its neighbouring Silk Road counterparts, but not overflowing with the art and architecture for which others are famed, Kyrgyzstan's history is played out through the semi-nomadic people of its deeply ingrained shepherd culture. The lifestyle is as rough and rugged as the land that the Kyrgyz work so simply, but cleverly, to survive, and more than any other Central Asian people, the warm and friendly Kyrgyz have clung to their traditional ways of life.
Kyrgyzstan is...
an 80 per cent mountainous country where the best way to travel is on horseback across the plateau, or on two feet up soaring peaks.
Kyrgyzstan isn't…
the best place to relish the art and architecture of the Silk Road. Head to Uzbekistan for that.
Our top Kyrgyzstan Holiday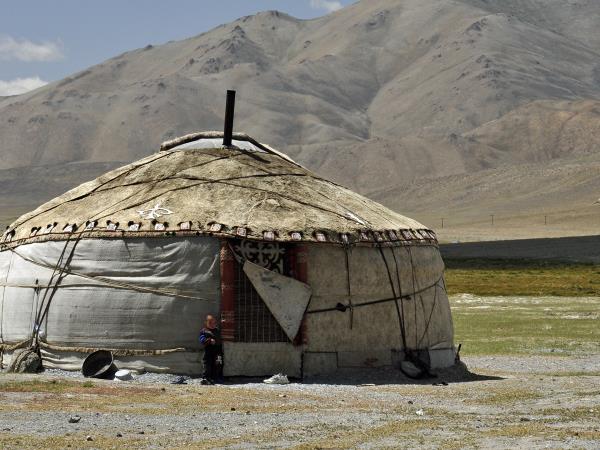 See spectacular mountain scenery on this Silk Road journey
From
£3250
16 days
ex flights
Small group travel:
2023: 24 Jun, 22 Jul, 2 Sep
If you'd like to chat about Kyrgyzstan or need help finding a holiday to suit you we're very happy to help.

Kyrgyzstan map & highlights
There's no two ways about it, Kyrgyzstan's roads are a patience-testing combination of pitfalls and potholes; a mixture that can only be overcome by deep breaths and lots of time. Fortunately, any tour here will involve lots of wonderful trekking and clip-clopping casually on horseback, but there will be some lengthy travel by road – expect a few stints of four to five hours – so it's important to accept that driving times are hard to estimate and speeds are slow. Your guide will get you where you need to be, so reward them with patience. If you're combining countries, crossing borders will take time; they'll search your luggage, your rucksack and perhaps even your pockets, but it's all in good faith so keep your cool.
1. Ala Archa National Park
If hiking's your thing, you will enter this national park and never want to leave. Watched over by the 4,000m+ peaks of the Kyrgyz Alatau Range, it is a captivating expanse of rugged rise and fall alongside huge glacial canyons where you can gently stroll along the valley floor; hike for half a day to rushing waterfalls; or climb all day along steep hill paths to the foot of the Ak-Say glacier.
2. Bishkek
Bishkek is too often shoved on the sightseeing scrapheap for fear that there's nothing to see. But, what it lacks in 'sights', it makes up for in bonkers eccentricity. Locals call is the 'Paris' of Central Asia; not quite… but well worth a visit for its rigid, tree-lined avenues a la Russia, and its crazy bazaar where nomads tout honey, Uzbeks sell horsemeat, and Koreans peddle kimchi by the bagload.
3. Issyk-Kul
Kyrgyzstan's largest lake, Issyk-Kul measures in at around 180km long, 70km wide, and over 660 metres deep at its deepest point. Bright cyan and translucent, it is the world's second largest mountain lake and is utterly mesmerising. Held in high regard by the Kyrgyz, it is known locally as 'the pearl of the Tian Shan' in reference to the massive mountain range that protects it.
4. Jety-Oguz Canyon
A mesmerising place of wildflower pastures, fir-covered hills and ice-blue mountain streams, the Jety-Oguz Canyon is a formation of burnt red, jutting sandstone cliffs from which it gets its name: 'Seven Bulls'. A magical spot for horse riding, walking and camping, there is a wealth of myth and legend surrounding the Seven Bulls, which the wonderful Kyrgyz are happy to impart.
5. Karakol
A city to the east of the phenomenal Lake Issyk-Kul, Karakol might not be the prettiest, but it's intriguing. You can Alpine trek, climb mountains and ski throughout the year; its architecture is a poignant, Russian-era spread of whitewashed houses with faded blue shutter; and the Animal Market is an unintentionally comical mix of fat sheep, hay bales, horses and exasperated shepherds.
6. Osh
Reportedly 3,000 years old, Osh is Kyrgyzstan's oldest city. It's marked at the centre by the Sulaiman Too, a mountain decorated with interesting Muslim mosques, shrines and mausoleums, and has a couple of notable museums that history fans will love – the Kurmanjan Datka, is an ethnographic museum detailing Kyrgyzstan's Silk Road past as well as tribes and clans that exist today.
7. Song Kul Lake
The green and gold grassland that stretches before it merges into this brilliant blue alpine lake as if in a watercolour painting. One perfectly composed against a backdrop of unobtrusive yurt camps, yaks scouring the marshland, and endless crisp sky. You can saddle up yourself and trot along its banks, or sit and watch as herds of horses gallop their way home freely.