Walking holidays in Kyrgyzstan

Footpaths are both off the beaten track and roads well-travelled. Nomadic herders, traders and armies have been using these paths for millennia, but most are little seen by tourists.

Just south of Bishkek, the capital city of Kyrgyzstan, the snowy Ala-Too range rises up in a wave. These mountains are the stomping ground of our
walking tours in Kyrgyzstan
. Taller than the Rockies and the Alps at their peak, they're really just a warmup, almost doubling to Himalayan heights as they transform into the backbone of the great Tian Shan mountains of Central Asia.
While sipping on a
kumis
in Bishkek, getting your first tastebud-zapping taste of the kefir-like national drink, this wall of mountains is a hint of the awesome sights to come while walking in Kyrgyzstan. The routes ahead will cover snow leopard country, national parks, the second largest alpine lake in world, rocky wilderness, and green valleys dotted with yurt camps.
Why go hiking in Kyrgyzstan?
Hiking is the best way to explore the Tian Shan mountains
When confronted with the rugged lay of the land, it's easy to see why hiking is one of the best ways to see Kyrgyzstan. Driving will get you from A to B eventually, but rural roads are often potholed from the harsh winters and either take the long route around seemingly impenetrable mountains – or make a death-defying zigzag over them.

With walking boots and an excellent local guide, however, the mountains of Kyrgyzstan are far from impassable.

Thousands of kilometres of footpaths have existed for as long as people have been living in this land – for more than 200,000 years, and long before Kyrgyzstan as a nation was a twinkle in the eye. After all, until the 9th century or so, most people moved their settlements and livestock with the seasons, creating paths as they went. Stories of the nomadic tribes, Silk Road traders and armies who have walked here are around every bend – and a great guide will share them with gusto.
City homestays, yurt camps & noodle making
Small group walking holidays in Kyrgyzstan usually have a group size of just 6-16 people, making it much easier to stay in small, locally run accommodation. Hikers will be welcomed warmly into a guest house in Bishkek and snooze in a homestay in Chon-Kemin National Park. In Karakol, you'll be invited into a Dungan household to share stories over a homecooked meal.

A real highlight is staying at a yurt camp on the shores of Issyk-Kul Lake. Most visitors stay for the day, but settling in for longer gives you the chance to get into the rhythm of sunrise swims, meals in the shared dining room and stargazing under some of the clearest skies on the planet. As well as being a great stay, visits to yurt camps help preserve the demand for yurts themselves – and of the skills of the people who make them. These camps are extraordinarily low impact too; once dismantled, it's almost like the camp was never there.

Homestays and camping aren't just unforgettable experiences – at every step, they ensure that your money remains in the communities you visit.
Hiking is the easiest way to meet people
Hiking between the surreal Mars-red mountains of Djety-Oguz Gorge, you'll get the chance to meet people who hunt with eagles. In Kochkor, you'll learn how craftswomen painstakingly make felt rugs by hand, weaving in images of the steppe – shepherds, goat horns and yurts. (The challenge is deciding how to roll one into your suitcase.) And you can have a go at making the Uighur staple of hand-pulled laghman noodles with a family in Karakol.

The whole way along, you'll be in the great company of a driver, trek leader and local guide who will tie together the storied histories of Kyrgyzstan. They'll also show which paths to stick to, keeping both you and the fragile mountain slopes safe and sound.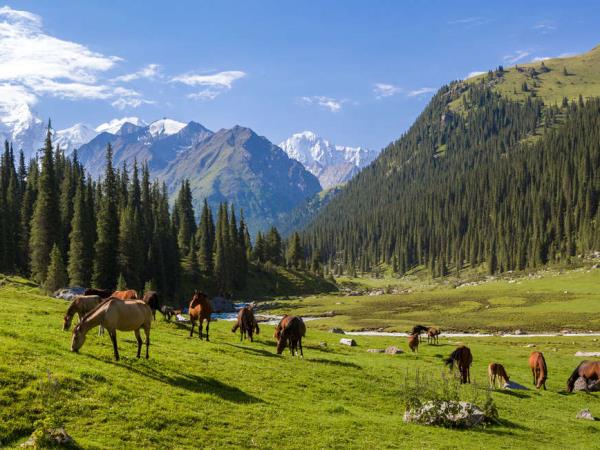 Hike through the gorges of the Tien Shan mountains
From
£1180

to

£1220
9 days
ex flights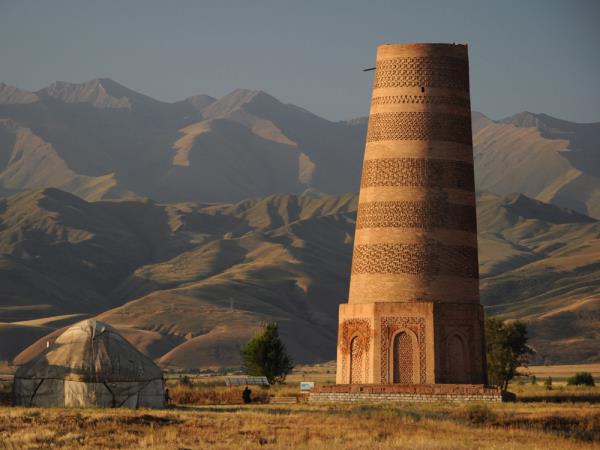 Spectacular trekking through alpine meadows and wild pastures
From
£4749
16 days
inc UK flights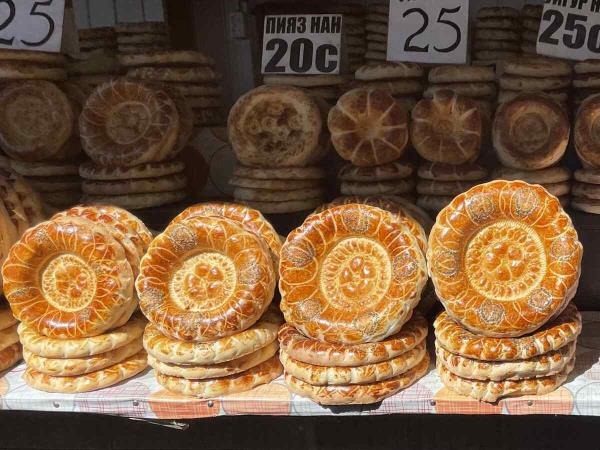 Tour stunning lakes and experience a Nomadic way of life
From
£2099
9 days
ex flights
If you'd like to chat about Kyrgyzstan or need help finding a holiday to suit you we're very happy to help.

Where to go walking in Kyrgyzstan
Most walking tours in Kyrgyzstan begin and end in the capital city of Bishkek – your first stop if flying into Manas International Airport. They then loop out across northern Kyrgyzstan and around the lake of Issyk-Kul, exploring the national parks. Park entry fees are included in the cost of the tour and are a brilliant way to help fund, promote and protect these landscapes. Most hikes are moderate day hikes that range from three to six hours long, plus there's the chance for more challenging treks and wild camping.
Bishkek
City walking tour Silk Road origins Markets and monuments While not exactly a hike, you can certainly up your step count while wandering around Bishkek. The capital of Kyrgyzstan started life as a single clay fortress in 1825, built by the Khanate of Kokand to keep an eye on Silk Road caravan routes and extract tolls from Kyrgyz tribes passing through. It was flattened by Russian troops just over 30 years later – before being rebuilt and growing into the sprawling city you can explore today.

Stroll leafy boulevards to Ala-Too Square, an ominously orderly Brutalist piazza that was the stage of the anti-government Tulip Revolution in 2005. Lenin's statue once loomed in the middle, swapped for Manas – the hero of the national epic poem – after Kyrgyzstan gained independence. Osh Bazaar is another highlight, where you can pick up baked snacks, dried fruit and nuts for the walks ahead. There are also flea markets to scour and sculptures to peruse in Oak Park.
Ala-Archa National Park
Alpine views Gorge, rivers and waterfall Close to Bishkek Ala-Archa National Park is one of the first stops on a Kyrgyzstan walking holiday. It's less than an hour's drive south of Bishkek and beloved by weekend walkers from the city. Snow leopards, wolves, lynx, bears and wild boar sequester themselves amongst the pine forests and alpine meadows here. They're some of the shyest animals in Asia, so you're more likely to spy footprints than furry faces. Hike along the valley of Ala-Archa Gorge for a waterfall finale – Ak-Sai washes down the rocky side of the gorge.
Chon-Kemin National Park
Remote landscapes Glaciers, rivers and forest Burana Tower nearby Hiking in Chon-Kemin National Park reveals peaceful paths through green-gold meadows, fir forests and – this being Kyrgyzstan – mountain views all around. Some of the dramatic vistas were formed from the fallout of one of Central Asia's strongest recorded earthquakes. It's a geologist's dream: the tectonic plates shifted enough to dam rivers and create lakes, and there are visible fault lines. Visit in spring for carpets of wildflowers or autumn for golden larch trees.

Most trips to Chon-Kemin National Park stop at the Burana Tower en route. Climb this 25m-tall minaret for 360-degree views of the Ala-Too range and valley, before descending back to earth to admire the carved balbals – Turkic memorial stones from the 6th century.
Issyk-Kul Lake
Vast mountain lake Beaches and resort towns Petroglyph museum At 182km long and 60km wide, Issyk-Kul is the second largest mountain lake in the world. Issyk-Kul means "warm lake" in Kyrgyz; its sits at 1,600m high and yet, thanks to the high salt content, never freezes over. This relatively toasty microclimate has tempted people to its beach-lined shores for millennia. Head to Cholpon-Ata, an old Soviet resort town that's still a popular summer escape. As well as parasols and piers, there's a rock art museum piled high with over 5,000 stone petroglyphs from the 7th century BC. Trails wind up into the mountains behind for views over the blue lake far below.
Altyn Arashan Valley
Mountains and hot springs Snow leopard country Dramatic scenery Snow leopards are the most famous resident of the Altyn Arashan Valley. You're incredibly unlikely to see them, even with the eagle eyes of your guide, but it's enough to know that around 20 are padding around these mountainous vistas of eastern Kyrgyzstan.

The walks around Altyn Arashan Valley crescendo like a particularly dramatic opera – from riverside paths to pine forests, then higher for views up to the perpetually snowy peak of Palatka, and higher again as paths nudge up to rock-strewn Telety pass (3,800m). Here, you can picnic in meadows decked out with snowdrops, tulips, edelweiss and primroses in summer, with the bulk of Karakol Peak (5,216m) rising above for a suitably impressive finale.

It's like the landscape knows hikers will need something to soothe the inevitable adrenaline crash after hiking such exhilarating landscapes, so on the way back there's the chance to soak in the valley's natural sulphur hot springs.
Djety-Oguz Gorge
Gorge, rivers and pastures Eagle hunter country Stay in a yurt camp Djety-Oguz (Valley of the Seven Bulls) is named after the seven sandstone rock formations on the south-east edge of Issyk-Kul Lake. You'll be far from the only one here; the Seven Bulls are practically a national monument, with the day-trippers to prove it. Turn your back on the lake and wander along the river, past spruce-covered mountains and through green pastures where nomadic communities lay out their yurts.

There's a more permanent yurt camp back by Issyk-Kul Lake. The best hiking trips spend the night here, so you can enjoy the area at its most peaceful. Only a few people still follow the ancient traditions of hunting with golden eagles – but this is where you can meet them and get the chance to see this ancient skill in action.
Karakol
Lakeside city City tour and cooking lessons Gateway to mountain trekking Karakol sits on the eastern tip of Issyk-Kul Lake and is often used as a launch pad for trekking trips. The best tours spend some time here, giving you the chance to learn more about this crossroads city that began life as a garrison town occupying the furthest reach of the Russian Empire. Visit the bright blue pagoda-like Dungan Mosque, built by Muslims fleeing persecution in China's Xinjiang province, and the ornate Orthodox Cathedral of the Holy Trinity. The lanes around the Small Bazaar sizzle with chefs cooking up bowls of ashlan-fu noodle soup; there's the chance to learn how to make the ubiquitous laghman noodles too.
For the adventurous: trekking in Kyrgyzstan
Trekking holidays
 warm up with some of the walks above, before delving further east, looping up into the higher reaches of the mountains. Highlights include Chon Kyzyl-Suu Gorge, where the bright white yurts of nomadic families dot the green, river-threaded pastures.
These are intermediate and challenging hikes that you can take on with the help of porters. Travelling with a responsible travel company will ensure that they have full workers' rights and a fair wage that isn't siphoned off by a company from out of town. The big climbs are always rewarded too – usually with wild camping in beautiful canyons or a stay in a Silk Road-style
caravanserai
inn, all wrapped up in sweeping mountain panoramas.
Tips for walking in Kyrgyzstan
Most walking holidays are guided small group tours of 6-16 people. Accommodation, transport and national park fees are included, as well as your breakfasts. A few dinners are included too, but some nights give you the freedom to take your pick from the restaurants around. The minimum recommended age is 16. Mid-June to early September is the best time to go walking in Kyrgyzstan. Most hikes are 3-6 hours long and rated moderate, so suitable for active walkers. You're in the mountains, though, so they sometimes include short but demanding ascents or descents. You'll walk for four days of a nine-day holiday, leaving time to explore. Transfers between walks are included – a mix of public transport around the cities and a bus or four-wheel drive in the bumpier roads of the mountains. Pack light, comfortable layers and a waterproof jacket. You'll explore mountain areas, so temperatures can vary hugely; it might be 30°C by the lake in summer, but zero if you're camping in the mountains in autumn. Lightweight hiking boots will do for most walking holidays – just make sure they're worn in before you set off. If you usually use walking poles, bring them too. Bring reusable water bottles with water purifiers or purifying tablets to minimise plastic waste. Kyrgyz and Russian are the main languages in Kyrgyzstan, but Uzbek is widely spoken too and – just to keep you on your toes – many people mix and match these languages, along with scores of regional languages. Learning a few hellos and thank yous is always appreciated; a tour guide can help with regional pronunciations. Solo travellers are welcome and can choose to pay a single supplement for a private room.