There's a herd in the road, if you can call it a road. Technically, you think, there's plenty of space to pass – there's a meadow either side of the dirt track, and it stretches all the way to the foot of the mountains. But the horses are unconcerned by your stopped biking group, by the concept of biking in general, and move as they please.
"It's just amazing to see these herds of horse free range in the mountains," says John. He and Mandy are the owners and operators of Escape Adventures, our Kyrgyzstan cycling specialists. "The Kyrgyzstani people farm horses – but they don't have any fences so the horses are free roaming." At night, the herds will come home. They are corralled back to the yurts, where they can be watched. There are wolves about. And the mares need to be milked.
You're heading to camp too, on your trusty metal steed: a mountain bike which, whilst it can't match the speed of a galloping horse, is certainly less stubborn. "That's one of the things I love about Kyrgyzstan," Mandy says. "Because of its history, it only has hotels in the city. In the countryside they have CBT (community based tourism). Families put their homes on the system so that people can come and stay with them. We've found families that we've really enjoyed the company of and we've gone back many times."
The Kyrgyzstani people have a reputation for being reserved. But staying in a community, gathering outside your yurt to listen to the first gasp of the accordion, helps strip away any reservations either party might have about the other."It's just very genuine. You'll stop outside a small shop to eat and an old man will offer you a glass of vodka," John says.
John and Mandy from our cycling specialists Escape Adventures spent months researching and planning their cycle tour through Kyrgyzstan. Horses aren't even the strangest roadblock on the way. There are sheep, yaks and even shaggy Bactrian camels capable of stopping what little traffic there is – but the benefits of being off the beaten track are huge. "The cool thing about Kyrgyzstan is that its tourism is very new. I don't think we've ever seen another bike group there," John says.
This is one of the least densely populated countries on earth. Between Kyrgyzstan's high mountain villages – some 80 percent of the country sits over 1,500m above sea level – there are meadows that seem to go on forever. There are marmots in their millions, attracting circling birds of prey.
Wildflowers are easy to spot, poking through your spokes when you go to lay your bike on the ground; edelweiss grows in carpets. Don't be too frustrated when a herd of horses blocks your path – it will be the only thing in your way all trip.
Our top Kyrgyzstan Holiday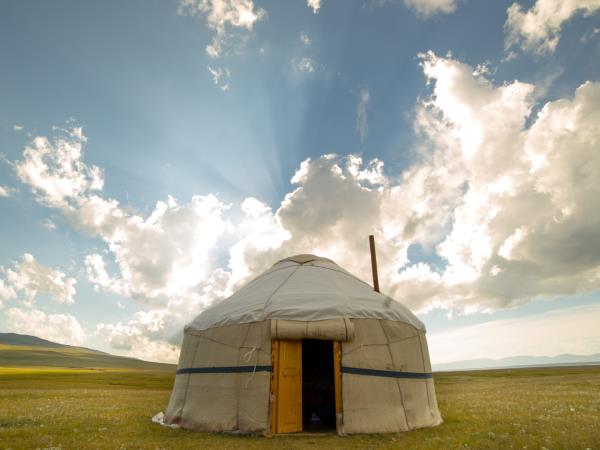 An adventurous off-road cycle tour in remote Kyrgyzstan
From
NZ $6550
14 days
ex flights
Small group travel:
2024: 1 Jul
2025: 1 Jul
If you'd like to chat about Kyrgyzstan or need help finding a holiday to suit you we're very happy to help.

What does a cycling holiday in Kyrgyzstan entail?
Spend 14 days cycling in Kyrgyzstan on a small group trip and you'll get a variety of terrain – long, downhill valley rides, lakeside rides, meadow rides, and view-heavy cycles across 3,000m-high mountain passes. From Bishkek, your first glimpse of the Tian Shan mountains will be a surprise. The city haze often obscures the surrounding countryside, but the impressive mountains are just a few hours' drive away.

When you do spot it, the Tian Shan mountain range is famously beautiful, provides bowls of windswept grassland and long downhill valley rides. Watch sunset after unobscured sunset over Son-Kol, a mountain lake, then spend a few days with the shoreline of Issyk Kol, the country's largest lake, on your shoulder.
All trips come with vehicle support – reassuring in this remote part of the world, and great if you get tired on the hills, as you can pop your bike away and rest your legs. Aside from the capital, where there are hotels, home stays are the way to go, and you could also spend a couple of nights in a yurt.
Vegetarians may have to put up with repetitive food, as meat dishes are a staple. Rice, meat and potatoes will crop up on a lot on menus. Farming is difficult, and there is little agriculture, though your tour leader will do their best to get as many vegetables in as possible. "We do picnic lunches so we can go shopping in the markets – and try the produce that you don't see in the restaurants," John says. Vodka, on the other hand, is plentiful: "If you go to a supermarket in Kyrgyzstan – if there are four rows of food, there will be one complete row of vodka."
Small groups
Travelling in a small group of less than 12 people is the best way to visit small communities without overwhelming them – especially important somewhere like Kyrgyzstan where people aren't always used to lots of visitors. It means that you won't overrun the small store where the woman on the till uses an abacus to tot up your lunch supplies, and you'll comfortably fit in the communal yurt.