Best time to visit Tunisia

VISIT TUNISIA EITHER SIDE OF THE SWELTERING SUMMER AND YOUíLL FIND APRICOT TREES IN SPRING BLOSSOM OR DATE PLANTATIONS AND OLIVE GROVES DURING THE LATE AUTUMNAL HARVEST

Tunisia has two contrasting climates with the north coast boasting wet and mild Mediterranean winters and long hot summers, whilst the south, around Douz and Tozeur, is distinctly desert and pretty much hot, dry and dusty all-year-round. The best time to go to Tunisia is outside of summer in the spring (April/May) or autumn (Oct/early Nov). For sun worshippers, July and August are absolutely sweltering. September also sees the sun but beaches are less crowded. You really do get the best of both worlds either side of summer with comfortable temperatures and far fewer tourists.
At the start of the year, on the coast in northern Tunisia, January and February are quite changeable with mild and wet Mediterranean conditions by day giving way to chilly winterís nights. However, the further south you travel into the Sahara the more temperatures rise, which can make for a good opportunity to explore the oases around Douz and Tozeur without the heat associated with summer. It will still be extremely cold at night though Ė wrap up warm; layers are the key. March and April can still see showers along the coast and higher northern ground but it will be warming up with poppies appearing on hillsides and apricot blossom decorating spring meadows. The holy Muslim month of Ramadan is observed in Tunisia. Itís the ninth month in the traditional Islamic lunar calendar and so dates change from year to year. The main archaeological sites and tourist areas will operate as normal but maybe with some changes to opening hours. Cities and towns can become eerily deserted in the late afternoon only to come alive again after night falls. Eid al-Fitr marks the end of Ramadan and often features fireworks and traditional food in villages and towns all over Tunisia to celebrate the end of the fast. Eid can be slightly chaotic but just go with the flow and celebrate with a smile rather than wishing Tunisia stuck to a steadfast timetable. April, May and June are considered the best months for cultural tourists looking to explore archaeological sites against clear blue skies. Southern Tunisia is still accessible in spring but by July and August itís almost unbearable Ė not the best time to go unless youíre a sun worshipper. September is basically still the summer although youíll find many of the Mediterranean beaches all but bereft of tourists. October and November are when the date plantations, in the middle of the country and down south, and the olive groves around Sfax and Djerba, come to life, with agricultural landscapes turning into industrious hives of activity during the hand-picked autumnal harvest. November still finds plenty of blue sky days in Tunisia, as well as one or two showers, and evenings are drawing in earlier than in October. A clear nightís sky in winter will be pinpricked with stars and well worth experiencing after an evening meal, if you donít mind a cooler breeze along the coast. December finds beaches and archaeological sites deserted and Christmas is considered more of an opportunity to sell, sell, sell rather than shut up shop within the city centre souks of Tunis.
Sidi Bou SaÔd Weather Chart
Our top Tunisia Holiday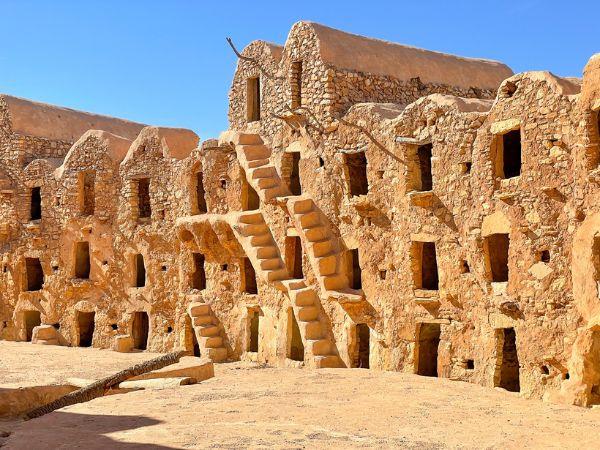 An immersive journey through the history of Tunisia
From US $3770 9 days ex flights
Tailor made:
This trip can be tailor made throughout the year to suit your requirements
If you'd like to chat about Tunisia or need help finding a holiday to suit you we're very happy to help.