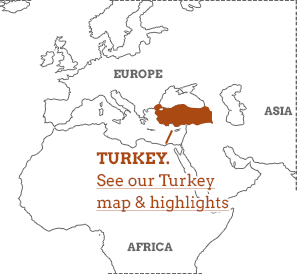 Geography and belief suggest Noah's Ark may have come to rest between the mighty twin peaks of Mt Ararat after the Biblical Flood. And Turkey still feels like a blessed landfall for travellers from afar. White-capped mountains contrast white sand beaches where giant turtles lay eggs in the shade of honey-stoned ruins that include the world's oldest city. The very rocks of Turkey seem magical: eroded into 'fairy chimneys' amid the cave dwellings of Cappadocia, or bringing forth eternal natural flames in Lycia.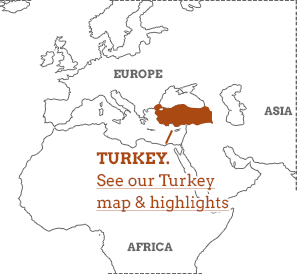 Turkey unites continents and cultures in myriad landscapes scattered with the world's earliest cities - including legendary Troy.

Timeless traditions combine the spiritual and surreal, from religious fervour embodied in endless whirling to wrestlers grappling for grip on bodies smeared with olive oil. Multiple cultures find harmony here too. Muslim calls to prayer blend with Byzantine church bells, sizzling street food stalls and the chatter of locals in vibrant markets and cafes. Our Turkey travel guide salutes a uniquely stimulating kaleidoscope.
Turkey is...
a miscellany of magical landscape, history and simple pleasures
Turkey isn't...
a turbulent, religious buffer between war zones
What we rate & what we don't
Cirali
Set in an environmentally protected enclave, this mellow resort nestles between pine-clad headlands on the Lycian peninsula. It's not just savvy humans that love it – loggerhead turtles paddle through pale blue ocean to lay their eggs beneath the coarse sand of a 3km beach backed by groves of orange, lemon and eucalyptus, plus charming old farms.
Activity holidays
Hikers and bikers will love Turkey's rugged peaks: legendary Mt Ararat; the rugged Taurus range; the forested Kackars. Add beautiful 500km walks like the Lycian Way or ancient St Paul's Trail. Sea kayak over ancient underwater ruins at Kekova, canoe the Xanthos River's eco wonderland, get white-water kicks on the Coruh, and enjoy world-class windsurfing at Alcati.
Hamams
Turkey's body-tingling bath-and-rub routine (aka Turkish baths) can be post-activity ache-relievers or just a blissful treat - often in beautiful historic Ottoman surroundings, such as Antalya's 13th century Sefa Hamam or 16th century Sokollu in Edirne. The locals may go for a full monty of twisting and being walked over - but you decide your comfort level!
Combining with other countries
Turkey's location, straddling both Europe and Asia, makes it perfect for combining with other countries. Take a cultural tour of Eastern Europe that includes Hungary, Bulgaria and Romania, too, or head east to Georgia and Armenia, Iran and Turkmenistan, on a long but fascinating overland adventure.
Gulet cruises
Voyages on gulets – traditional sailing boats based on former sponge-diving vessels – are traditionally called 'Blue Cruises' (mavi yolculuk), referring to the sea and sky that envelop guests along the Turquoise Coast from traditional start point Fethiye. Drop into secluded coves, idyllic island anchorages, ancient sites and beguiling fishing hamlets, with exciting inland excursions thrown in.
Kayaking
Where else can you kayak over the ruins of a submerged classical city? Or paddle by steep rugged cliffs into deserted sandy bays ripe for snorkelling, or coves backed by ancient ruins awaiting stretch-your-legs exploration. For company, you might have dolphins or sea turtles. End each day camping on wild beaches beneath starry skies.
Ancient ruins
Blockbuster sites like Ephesus and Pergamum (aka Pergamon) are magnificent, but so are less-crowded gems: the mountain-top sanctuary of Zeus at Labraunda; Eastern Anatolia's 10th century Armenian ruins; painted churches in Cappadocia's volcanic valleys; eerie stone heads scattered across Mt Nemrut; and Gobleki Tepi – a Neolithic site 6,500 years older than Stonehenge.
Beaches
Turkey's beaches turn sand and sea into sophisticated art forms. Patara combines 18km of white strand with glorious ancient ruins, while the Turquoise Coast offers dreamy coves like Kaputas and boho camping idylls like Kabak. For seclusion, hit the Teke peninsula and its sandy pauses on the Lycian Way. Want sand-fringed islands? Try Gokceada and Bozcaada.
Tourist food
Skip tourist menus and dodgy kebabs! Chow on real local cuisine at simple diners (lokantas) and taverns (meyhane), or amid the fire and smoke of street stalls. You'll discover a vibrant culinary tradition - and the food will be better and cheaper! Look too for distinctive Turkish wines such as elegant red Kalecik Karasi or floral white Emir.
Fezes
The fez has a storied history, but Turks aren't necessarily as keen on the truncated conical hat as famous fez-wearers like Tommy Cooper. Revered leader Kemal Ataturk actually banned them in 1925 in his drive to make Turkey a secular modern society. Tourist shops sell them, but don't consider them popular local wear.
All-inclusive package resorts
Turkey's fantastic coastline sadly has its share of fly-and-flop resorts low on ethical cred and high on ugliness and environmental impact. All-inclusive resorts get particular black marks - research suggests less than 10 percent of daily tourist spend goes to local permanent shops outside the holiday bunker. You'll enjoy Turkey more if you get out and connect with local life.
Ankara
Ankara is Turkey's capital (no, it's not Istanbul), but this Anatolian metropolis is a bit 'meh'; a place for business and acting sophisticated rather than enjoying an atmospheric historic vibe. If you are passing through, though, visit the superb Museum of Anatolian Civilisations in a lovely 15th century building, and potter the lanes by the 9th century Citadel.
If you'd like to chat about Turkey or need help finding a holiday to suit you we're very happy to help.

Eating & drinking in Turkey
Kokorec might not be to everyone's taste - it's lamb's intestines, served in bread.
Turks love strong Black Sea tea (çay) – but only tourist cafes will offer milk (süt). To get it weaker, say açik.
Sweet treats include almond-stuffed dried figs, baklava or local dondurma ice-cream.
Classic meze dishes include lakerda (salted kingfish), muhammara (walnut, tahini and lemon dip) and sigara boregi (cigar-shaped pastries stuffed with cheese)

The ancient Lycian port Patara was the 4th century birthplace of gift-giving St Nicholas inspiration for Santa Claus!

People & language
Some English is spoken in major cities and resorts, far less in rural areas. Hello is merhaba, yes is evet, no is hayir ('ha-yuhr'), please is lutfen and thank you is tesekkur ederim. 'Do you speak English?' is Ingilizce konusuyor musunuz? Note that little squiggles under letters like 'ç' and 's' softens the sound to 'ch' and 'sh' respectively.
Turkish waiters can sometimes try to take your plate before you've finished. Saying ('let it stay' should help. When you have finished put your cutlery together.
Gifts and shopping
Beautifully crafted carpets and kilims are classic Turkish products. Buy with a knowledgeable guide for advice on quality and price

Hammered bronze or copper vessels are striking souvenirs

Bags of fresh almonds, pistachios, pine nuts and sumac spice at a fraction of UK prices make ideal foodie gifts, as does pomegranate syrup (great for salad dressings)

Wire-filigree jewellery (telkari) is a beautiful memento. Do NOT buy coral jewellery, plundered from a vulnerable marine eco-system.

Sweet-tooth? Buy multi-flavoured Turkish Delight (lokum)!

Traditional chewy Turkish ice-cream –
dondurma
– is thickened with salep, made from the powdered bulbs of wild orchids.

How much does it cost?
Meal in an inexpensive restaurant - £4
Half-litre (about a pint) of local beer - £2
Taxi from Dalaman airport to Fethiye - £55
Public bus from Dalaman to Fethiye - £3
1-day windsurfer hire in Alcati - £35
A brief history of Turkey
Turkey's location twixt Europe, Asia and the Middle East puts it front-line in various 21st century geo-political balancing acts. As well as troubled neighbours like Syria, Iraq, Iran and Greece, Turkey faces internal insurgency involving Kurdish separatists which since 1984 has claimed over 30,000 lives. An ever-present challenge is Turkey's effort to run an essentially secular society with an 80 percent Muslim population in a region where Islamic fundamentalist pressures simmer. The country's most recent problems have focused on its borders with Iraq and Syria, where years of war have seen vast numbers of refugees flee into Turkey.
Read more