Responsible tourism in Turkey
---
Travel right in Turkey
Turkey deserves huge credit for the way it has handle a geographically and culturally precarious position straddling East & West, bordered by troubled Islamic states and nations torn apart by war. It remains largely peaceful and politically stable, while maintaining an admirable separation of religion and state that allows an overwhelmingly Muslim country to function without major rancour – something too few Islamic countries can claim.

In terms of responsible tourism in Turkey, coastal over-development is a common bugbear here as other sun-drenched lands – and one where visitors can help push things towards a better path by choosing sustainable and socially responsible options. Energy generation and Kurdish rights are thornier issues – but not yet major blemishes on a country that could be doing a lot worse in its efforts to find a balance.
People & Culture
---
MINORITY CONFLICT
Can the Kurds be heard
---
The conflict that erupted for over two decades from the 1980s between Turkey's central government and its sizeable Kurdish ethnic population – estimated at between 10-25 percent depending on who you ask – saw over 40,000 people die as groups like the Kurdistan Workers' Party (PKK) fought for demands ranging from greater rights to a completely separate Kurdish state. Tensions were magnified by compulsory military service which saw thousands of young Turks drafted into an army forced to fight its own citizens. Thankfully, a fragile peace deal negotiated in 2012 seems to be holding, just.
The present unrest is part of long term unease that has existed since Turkey's 1920s foundation. In 1937-38 alone, 50,000-70,000 people are believed to have been killed in Kurd-related violence. Things aren't helped in this long-standing dispute by government attitudes that see some officials deny the very existence of Kurds as a distinct group, dubbing them things like 'mountain Turks' instead.
Matters are further complicated by the authorities' very different attitude to Iraqi Kurds, seen as crucial allies of Turkey's position with regard to conflict in Iraq and also the wider battle against bloodthirsty organisations like Islamic State. Another reason for official niceness to Iraqi Kurds, of course, is the oil now pumped through a 960km-long pipeline from Iraqi Kurdistan to the southern Turkish port of Ceyhan. Iraq is now, in fact, Turkey's second biggest export market, much of the trade to the Kurdistan region.
Turkey's government is treading a delicate line. It is attempting to calm nationalist voters at home while maintaining peace with an unhappy Kurdish population. It is also dealing with pressure from the US and other Western powers to aid Iraqi Kurds battle Islamic State – while blocking Turkish Kurds who wish to join that battle. For once, it's almost possible to be sorry for politicians.
What you can do
Keep abreast of the ever-changing situation between the Turkish government and Kurds in both Turkey and Iraq from expert sources such as
The Middle East Quarterly
and
Al Jazeera
. Donate to international agencies such as
Oxfam
,
Care International
or
British Red Cross
trying to help the desperate refugee situation on the Turkish borders with Syria and Iraq.
Wildlife & environment
---
BATTLING OVERDEVELOPMENT
Coastal blight
---
Turkey has not been immune to the fast-buck promise of high-rise, low-ethic resorts which, while offering cheap sunshine and sea, discourage experiencing Turkey beyond a Westernised and sanitised vision. Particular culprits include Marmaris and Kusadesi, which have become seaside concrete bunkers lacking in any great Turkish character – and which become moribund outside the main summer season, making it difficult for a significant number of local people to earn a decent year-round income. Over-development can also cause damage to fragile ocean eco-systems via such things as pollution or damage caused by tourist pleasure boats. While in principle, coastal tourism can be a huge boon for local economies, responsible tourism guidelines can ensure long-term benefit for both local communities and the environment and avoid the risk of tourism becoming a desperate and ultimately damaging high-season money-grabbing exercise.
Some all-inclusive resorts get particular black marks for failing to spread benefits into the wider community. Research suggests that tourists at these places spend less than 10 percent of their money outside the resort in permanent outlets (shops or restaurants). Initiatives are finally in place to improve matters by creating more jobs for local residents and also boosting sales of produce from local farmers to resort hotels. Support them.
What you can do
Avoid all-inclusive holidays generally and spread your wings beyond mass market resorts like Bodrum, Marmaris and Kusadasi. Get out and spend money in permanent local shops and restaurants, plus local markets (not ones set up inside resorts) – and buy local products whenever you can. Try to book tours owned and run by locals. Choose accommodation likely to give more back to local communities such as B&Bs, campsites or gulets, rather than mass-market hotels. And choose places to stay and eat that display logos showing they support initiatives to boost local incomes such as
Taste Of Fethiye
.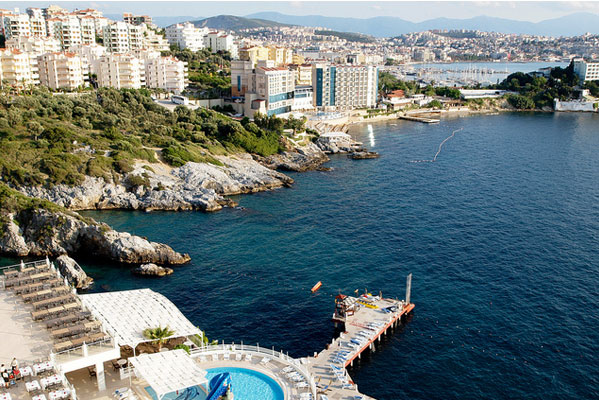 Power - but not the glory
---
Turkey has become one of the world's major builders of dams. So far, over 600 have been created in a drive to meet a government target of over 4,000 hydroelectric schemes by 2023 to mark Turkey's centenary as a nation and provide a huge boost to its economy from what is, on the surface, one of the best forms of renewable energy. Turkey's decision to opt for hydro-electric power generation on a grand scale rather than simply building a host of noxious power plants is a clear commitment to sustainable energy.
But while hydropower done in the right way - and in the right places – is an admirable source of renewable energy in a world crying out for it, there is increasingly widespread protest both within Turkey and outside at the scale and manner of its massive dam-building programme on a range of grounds – environmental, cultural and political.
Dam-building companies have been given extraordinary powers to destroy villages, expropriate precious land from small community farmers, and also destroy designated nature reserves and other environmentally-vulnerable land. Local environmental groups such as The Turkish Water Assembly have pointed out that up to two million people may be displaced by hydro-power schemes, flying in the face not just of basic human rights but also Turkey's avowed commitments to preserve its extraordinary biodiversity and cultural heritage. Protesters argue that many of Turkey's dams violate international UN treaties on social and cultural rights.
A glaring example of a problem dam is the huge Southeast Anatolia Project (known as GAP), which harnesses the headwaters of both the Tigris and Euphrates rivers – but has drawn fierce protest from downstream countries including Iraq, Syria and Georgia. The UN has ruled the dam to be a breach of human rights to water.
The Ilisu Dam Project also provides a clear example of some of the issues involved, and the bitter struggle being waged between a government keen to generate hydro-electric power to boost the economy, and a range of other equally important interests. In February 2013, Turkey's highest court ordered construction to halt until an environmental impact assessment had been carried out. "Then the Turkish government just changed the regulation so that the Ilisu Dam doesn't need an environmental impact assessment," according to Dicle Tuba Kiliç, the Hasankeyf campaign coordinator for Turkey's Nature Foundation in an interview with National Geographic.
Having arbitrarily removed a key plank of environmental protection, the authorities plan to restart construction of the dam in 2015 with potentially catastrophic impact in several areas. The dam will result in the forced removal of up to 70,000 people – many of them Kurds and other minorities – who have lived here for centuries. The dam will also result in the destruction of around 300 historic sites, including the still largely-unexcavated ancient site of Hasankeyf – now on the UN World Monuments Watch list of endangered sites due to threatened inundation. Finally, the Ilisu Dam is expected to significantly reduce the flow of the Tigris into Syria and Iraq, threatening fresh water supplies to these troubled and volatile countries, as well as crippling much-needed agriculture.
Speaking in 2011, tourism minister Ertugrul Gunay bravely spoke out against his own government policy on dams: "If hydroelectric energy projects are carried out in a reckless manner, cutting out each brook, levelling each mountain and destroying forests just to be able to produce a few watts of energy, tourism would be an impossible dream". It's not responsible tourism under threat, though – it is some of Turkey's most environmentally wonderful landscape and deep-rooted culture.
SOURCE:
The Guardian
SOURCE:
National Geographic

SOURCE:
Middle East Policy Council
What you can do:
Visit threatened historic sites and areas before they are inundated.
Saving sea life
---
One of the delights of certain gorgeous Turkish beaches is that you can find yourself sharing the shore with giant loggerhead and green turtles, who haul themselves up on the sand to lay eggs in holes scraped in the sand then covered again, during a breeding season that runs from May to the end of September. Thankfully, the tourist industry seems to appreciate this natural spectacle and put measures in place to allow humans and turtles to share the sands e.g. banning beach umbrellas from being put into the sand at various turtle nesting beaches due to the risk of damaging buried eggs.
Just to make sure good practice continues, the Travel Foundation in conjunction with the Marine Conservation Society deliver training in sea turtle conservation to hoteliers and tour operators, and also distribute a DVD 'Turtles In Trouble' to resorts in Turkey. The DVD explains how tour operators can make a positive difference to the conservation of endangered loggerhead and green turtles during the summer holiday season. You can see the video
here
.
While turtles have become a green tourism draw, issues have arisen as some local operators have attempted to cash in on visitor interest. In areas such as the Dalyan delta, there are hundreds of motorboats offering visitors a chance to see the turtles at sea and as they come to land to lay eggs. But unless a boat is fitted with propeller guards, they risk causing serious injury to the turtles. Organisations such as the
Kaptan June Sea Turtle Conservation Foundation
campaign on this and other issues, and issue a logo to boats that conform to its turtle safety standards.
Also look out for cafe owners who toss scraps into the water to attract turtles. This can, however, do more harm than good. Inappropriate food can make the turtles ill or even kill them, while the promise of 'free food' may keep them too close to shore, where they are at risk of injury from boats. Local conservationists want to see turtle feeding banned.
Turkey is also seeking to combat the perils of overfishing by establishing 'No Take Fishing Zones' in places like Gökova Bay, an area popular with local fishermen. But with no other way to earn a living, the bay continues to be fished, and fish stocks continue to deplete.
The Travel Foundation
have, however, established a project that aims to help local fishing families earn an additional living from tourism, allowing fish stocks and the marine habitat to recover. They are working with
Fauna and Flora International
to help the local fishing community take advantage of recent Turkish law changes to tourists to take excursions on operational fishing boats, offering suggested excursion itineraries, gathering local insights and stories to pass onto tourists, providing training workshops in health and safety, customer service and languages. With this support, fishing communities began to run their first excursions in August 2014.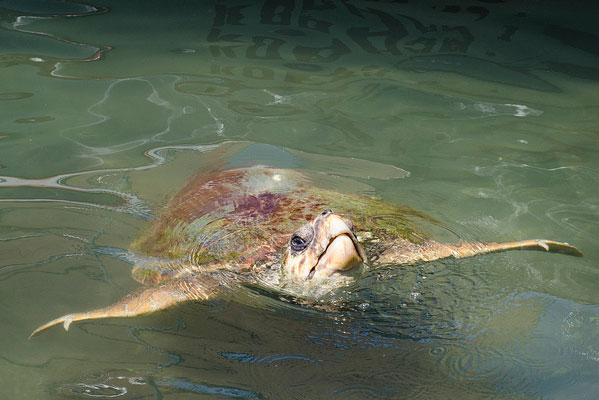 What you can do
:
Ask tour operators their company policy on conservation, and what they are specifically doing to minimise disruption to the turtles during the holiday season. And if you have a free day at the beach, why not give business to local fishermen offering excursions on their boats?
Responsible tourism tips
---
Travel better in Turkey
Don't buy souvenirs or jewellery featuring coral or seashells
During Ramazan (known as Ramadan elsewhere) show empathy with fasting Muslims and do not eat, drink or smoke outdoors in public between sunrise and sunset. Instead, eat indoors in restaurants or in private. Muslim restaurant and cafe staff, who may be fasting themselves, will understand if you are non-Muslim and will be happy to serve you.
Much of Turkey is fairly conservative when it comes to clothing – though in Istanbul and the Aegean/Mediterranean resorts people are more used to differing Western standards. Anywhere, women should cover their heads if entering a mosque – even if this is not strictly enforced. Headscarves are often provided, as are plastic bags for you to stow your shoes (men and women) before entering. Away from the beach, dress with a degree of modesty. This applies particularly to female tourists, who should avoid tiny shorts/skirts and tops that expose too much flesh. In eastern and central Anatolia, men should also wear long trousers. In staunchly Islamic cities such as Erzurum even T-shirts and sandals are unwise. Locals may not actually say anything but many consider inappropriate clothing disrespectful and shocking. Also, do not go in for overly demonstrative displays of affection in public.
Be aware that some Whirling Dervish 'performances' in tourist hotels have nothing at all to do with the genuine religious celebration dating back centuries – they are just people employed to dress up and go through the motions. And if you are fortunate enough to witness a genuine Dervish ceremony, do not treat it as something in any way amusing – the whirling is part of a religious act and should be accorded suitable respect as such.
Haggling is a respected part of Turkish sales practice in some shops, bazaars and markets. Only begin haggling if you have a genuine interest in buying something – to the locals it is part of their livelihood, not a tourist game. Don't, however, feel obliged to buy if you really can't agree a price. As a general guideline, offer half (or slightly less) of the initial quoted price, then work your way up to try and find a price halfway between the trader's starting point and yours. If you feel the trader is really not budging, feel free to thank them and walk out. You may find this triggers further price movement! Do be aware that Turkey is not a cheap country – and while prices may be slightly lower than in the UK, you won't find bargains for pennies. What you will find is superb craftsmanship, and conversation-sparking unique items. The kilims, carpets, tiles and ceramics are priced to reflect the painstaking workmanship that has gone into them – so be sure that the amount you are offering is fair, or it simply won't be accepted.
If you are on an excursion boat that you believe is discharging sewage into the sea or anchoring in an environmentally-sensitive area, report this to your tour operator and/or inform Greenpeace Mediterranean.
Turkey still has a long way to go when it comes to recycling, so try not to buy water in plastic bottles. In restaurants, water is widely served in glass bottles, while for travel, bring a reusable water bottle which can be refilled from larger bottles of shop-bought water.
Some Turkish toilets – especially in old quarters of cities (including Istanbul) – may flood if you put toilet paper down them. If you see a bin beside the toilet bowl (or hole in the ground) that is where to put the paper. Some toilets will also have a jet-spray, which is what locals use to clean after using the loo, using toilet paper only to dry themselves. It's actually more hygienic!
There are several dolphinariums in Turkey which not only have captive dolphins but also allow visitors to swim and play with them in Bodrum, Antalya and other tourist centres. Responsible Travel is strongly opposed to keeping dolphins in captivity. For more information on how to watch or swim with them – responsibly – in the wild, see our Dolphin Watching guide.