One of the delights of certain gorgeous Turkish beaches is that you can find yourself sharing the shore with giant loggerhead and green turtles, who haul themselves up on the sand to lay eggs in holes scraped in the sand then covered again, during a breeding season that runs from May to the end of September. Thankfully, the tourist industry seems to appreciate this natural spectacle and put measures in place to allow humans and turtles to share the sands e.g. banning beach umbrellas from being put into the sand at various turtle nesting beaches due to the risk of damaging buried eggs.
Just to make sure good practice continues, the Travel Foundation in conjunction with the Marine Conservation Society deliver training in sea turtle conservation to hoteliers and tour operators, and also distribute a DVD 'Turtles In Trouble' to resorts in Turkey. The DVD explains how tour operators can make a positive difference to the conservation of endangered loggerhead and green turtles during the summer holiday season. You can see the video
here
.
While turtles have become a green tourism draw, issues have arisen as some local operators have attempted to cash in on visitor interest. In areas such as the Dalyan delta, there are hundreds of motorboats offering visitors a chance to see the turtles at sea and as they come to land to lay eggs. But unless a boat is fitted with propeller guards, they risk causing serious injury to the turtles. Organisations such as the
Kaptan June Sea Turtle Conservation Foundation
campaign on this and other issues, and issue a logo to boats that conform to its turtle safety standards.
Also look out for cafe owners who toss scraps into the water to attract turtles. This can, however, do more harm than good. Inappropriate food can make the turtles ill or even kill them, while the promise of 'free food' may keep them too close to shore, where they are at risk of injury from boats. Local conservationists want to see turtle feeding banned.
Turkey is also seeking to combat the perils of overfishing by establishing 'No Take Fishing Zones' in places like Gökova Bay, an area popular with local fishermen. But with no other way to earn a living, the bay continues to be fished, and fish stocks continue to deplete.
The Travel Foundation
have, however, established a project that aims to help local fishing families earn an additional living from tourism, allowing fish stocks and the marine habitat to recover. They are working with
Fauna and Flora International
to help the local fishing community take advantage of recent Turkish law changes to tourists to take excursions on operational fishing boats, offering suggested excursion itineraries, gathering local insights and stories to pass onto tourists, providing training workshops in health and safety, customer service and languages. With this support, fishing communities began to run their first excursions in August 2014.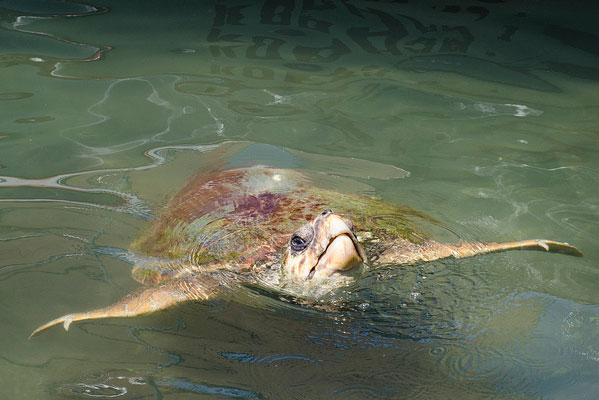 What you can do
:
Ask tour operators their company policy on conservation, and what they are specifically doing to minimise disruption to the turtles during the holiday season. And if you have a free day at the beach, why not give business to local fishermen offering excursions on their boats?