Where to go walking in Wales
The appeal of Snowdonia National Park to walkers is immediately obvious – not only for the challenge, including Wales' highest peak, but also the range of other activities you can combine with hiking. Rafting, cycling, river bugging (floating downriver on an inflatable), wild swimming – all there ready and waiting. Wales also boasts some idyllic coastline, from Anglesey and the Gower Peninsula to Pembrokeshire, where you can enjoy fresh air from the clifftops and sightings of seals and birdlife. Most walking holidays in Wales are based close to towns or cities – or begin and end near them – so there's little stopping you from getting there by train if you want an even more eco-friendly getaway.
1. 14 Peaks Challenge
The 14 Peaks (there's actually 15 now) comprise one of the most demanding walks in Snowdonia, all of them over 900m. In 1988, Colin Donnelly ran it in just over four hours, and many serious hikers aim to walk it in 24 hours. Fit and experienced walkers, however, can enjoy themselves over a much more sedate three days, with 8-10 hours on the trail each day.
2. Anglesey
Wales' largest island is a dreamy destination for walkers, lying just off the north-west coast. Small group tours roam all four corners of Anglesey, taking in mountains, marshes, grasslands, woodlands and sandy bays with regular views of the Llyn Peninsula and Snowdonia. Routes are generally easy-going with a few tougher ascents, and you can opt for a longer stay if you have the stamina.
3. Gower Peninsula
Jutting out from the South Wales coast, the Gower Peninsula was Britain's first Area of Outstanding National Beauty. Here you can stay a stone's throw from pretty Oxwich Bay and explore the peninsula and sections of the Gower Coastal Path. Expect golden beaches, caves and gullies, Norman castles, cliffs where noisy seabirds nest, and charming little villages such as Rhossili.
4. Offa's Dyke Path
This long-distance (285km) route roughly follows the border between England and Wales, and for much of the way runs alongside Offa's Dyke, an ancient earthwork. The path is broadly divided into three sections: the Black Mountains and Tintern Abbey, the Clwydian Range, and the Welsh Marches. Self guided or guided small group trips take you through hugely diverse scenery.
Pembrokeshire Coast National Park
5. Pembrokeshire Coast National Park
Hike the northern section of the Pembrokeshire Coast Path from St Dogmaels to St Davids, through unspoilt wild landscapes dotted with secluded bays and beaches from which dolphins and seals can often be spotted. Self guided holidays let you have your pick of routes according to your fitness, and the Pembrokeshire Coast can easily be reached by public transport for a low carbon holiday.
6. Snowdonia National Park
Snowdonia National Park in northern Wales is home to Snowdon, the highest mountain in England and Wales. But it also has a coastline frequented by wildlife, including seals and puffins. Your guide is not there solely to get you up and down the mountains safely, but to fill you in on the region's history, geology, culture and wildlife. You can even pick up some bushcraft and foraging knowledge.
Our Wales Walking Holidays
If you'd like to chat about Wales Walking or need help finding a holiday to suit you we're very happy to help.

Wales walking holidays travel tips
Claire Copeman, from our partner Adventure Tours UK, shares her advice on leaving smaller footprints and mindful walking.
Car free hiking
"There's no need for a car from the time you arrive till the time you leave. We get around in a minibus and keep journeys to a minimum. We might replace or shorten journeys to reduce our trips' carbon footprint, but the main thing is we try to work with our hotel partners – asking them 'who do you use for your energy?' and 'can you work with more local food providers?' It's a long process at times, but we emphasise that sustainable needn't mean complex or expensive."
And mindful walking
"Mindful walking is a beautiful, relaxing experience of the type that I think really came into its own during the Covid-19 pandemic, giving people the escapism they need. You're thinking with your senses, connecting with nature and learning skills you can take home with you. It's a lovely day out that's about so much more than simply walking."
David Kay, from our partner Ramblers Walking Holidays, reveals his Wales walking highlights.
Accessible walking
"Wales is very well-regarded for walkers. Snowdonia, Brecon Beacons and the Pembrokeshire coast are all great and offer all grades of walking. They're also all fairly close to major centres of population and so they're easily accessible."
Anglesey & Offa's Dyke Path
"Anglesey offers brilliant walking, but there are no well-known highlights like Snowdonia. However, any coastal walk on Anglesey is a treat. And then you've got the Offa's Dyke Path which is world-famous. It's easy walking with some great culture and history along the way."
When to go hiking
"The summer months are best for walking in Wales, as the lack of daylight in winter creates problems. I've holidayed in Wales at Easter for years and have enjoyed lovely weather."
More about Wales Walking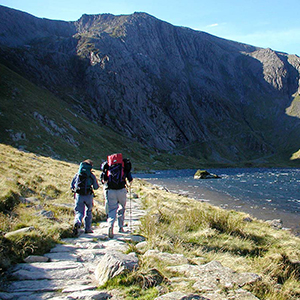 Our walking holidays in Wales are all about diversity in landscapes, wildlife, and experiences.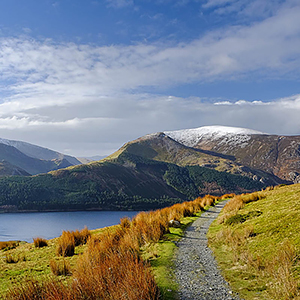 Snowdonia is not a walk in any old park - this is the realm of the country's highest peak after all.