Safety tips
Amanda Stafford, from our supplier Dolphin and Whale Connection, shares her whale watching tips for those still getting their sealegs: "Whale watching is about what you see, but it's also about the safety and the standard of the boats, and how well you're looked after. Our clients are briefed on the sea conditions, they fill in a medical form and we don't let them on the hard-hulled, rigid inflatable boats if they've got a history of back problems. Check that your operator can advise you what the sea conditions are going to be like, and what it's like on the boat: where to sit; how to look after your back; if it impacts on a wave, take the impact with your knees... We also have a catamaran which is a little bit easier, there are places to hold on, you may fall over but you're not going to have one of those jolts - and that's the thing to watch on the inflatables."
Land-based whale watching tips
Natasha Preston is a whale watching expert with our supplier, Exodus. She shares her whale watching tips for those who prefer to stay on dry land: "If you've got people who suffer from seasickness or who are not confident on the water, then the south coast of South Africa - around Hermanus, on the Garden Route - is probably one of the best places in the world to do land-based whale watching. In our autumn - South Africa's spring time - in September-November, southern right whales come around that coast. There are some high cliffs around there, so as long as you've got a good pair of binoculars you can do some good whale watching just sitting on your terrace which is quite nice, and in September there's a big whale festival. So for anyone who wants to see these incredible creatures but doesn't want to get on a boat, it's the best place to be."
Tips on choosing a boat
Rae Gill is the tour director of our supplier WhaleSwim Adventures, in Tonga. She shares her whale watching tips: "If there's a choice of boats and operators, that's always good. I always recommend small boats with no more than 20 passengers because it's not great to be manoeuvring large boats around whales. On top of that, you don't get the same, personalised information. With large groups, they're likely to be talking over a speaker, reading off a piece of paper - whereas with small groups, some people want large amounts of scientific information and other people don't want any; they're just there to swim with whales. They don't care how many gallons of milk the baby drinks a day or any of that stuff. We only have eight guests, so we can tailor that on a one-to-one basis on our boat, it's much more personal."
Tips on swimming with whales
Rae Gill:
"People need to be fit and agile enough to get up a ladder in choppy water - that's very hard if you're not fit. They also need to be able to snorkel 50m at quite a good speed and be confident with their snorkelling gear, not just go out and buy a set of gear and think they will be able to do it, because if they can't, our guides then have to look after one person and it affects the whole group. So we ask them to start getting fit in the swimming pool, to go to there with their snorkel and fins, do lengths to get their speed up and get confident. That way they're not worried about getting water in their snorkel when they're in the water, and they can focus 100 percent on the experience with the whales."
Health & safety on the ocean
HEALTH
Be generous with the sun block. You may not notice the sun because of the ocean spray or chilly winds - but the water will magnify it, and you can get burned without even noticing.
Cover up when snorkelling - your back, legs and bum can get burnt!
Speak to your tour operator if you have back problems - some of the smaller boats may not be suitable, especially if out in rough seas. They can also advise you on how to minimize the impact of waves.
If you are prone to seasickness, choose a land-based tour with shorter times out at sea. Some regions have rougher water than others, and larger boats are more stable than shorter boats. Take medication with you if you are worried - ginger is also a good, natural remedy.
You may spend a long time scanning the ocean - wear good sunglasses with UV protection to save your eyes from the reflective glare. Polarising lenses may also help you see more clearly.
Some regions, including Sri Lanka, will require specific vaccinations and other health precautions including antimalarial tablets. Mosquito-borne dengue fever is prevalent in both Sri Lanka and Tonga.
Check the CDC website for up-to-date health advice for your destination.
SAFETY
Check that your company has life jackets (adult and child-sized) and appropriate health and safety procedures in place - with specific guidelines for children if necessary.
Do not approach whales or orcas if in a kayak or swimming. Even though most species are non-aggressive, they are huge and powerful - and could cause serious harm if they breach or slap their tails.
It's not just you and your kids that need protecting from the elements - your camera does too. Pack plastic bags to wrap it in when in your bag, and use a protective filter and a lens hood to avoid it getting splashed. Keep the lens cap on when not in use.
Check the FCO website for the latest safety advice for your destination.
Our top trip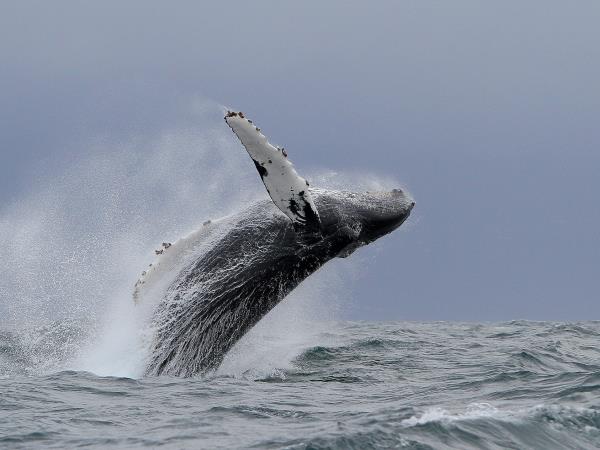 Classic whale watching trip in the Azores archipelago
From
£830
7 days
ex flights
Tailor made:
This trip can be tailor made to start on any day of the week from March to October
If you'd like to chat about Whale watching or need help finding a holiday to suit you we're very happy to help.

Whale watching tips from travellers
At Responsible Travel, we think the best people to advise our travellers are often... other travellers. They always return from our tours with packing tips, weather reports, ideas about what to do - and opinions about what not to.

We have selected some of the most useful whale watching tips that our guests have provided over the years to help you make the very most of your holiday - and the space inside your suitcase.

Take a good camera and a hat that stays on your head!

It is worth spending a bit of time deciding when to go depending on what you want to see. Certain animals seem to be more prevalent at certain times during the summer season. - Richard Burgess-Gamble

Travel light, put on lots of sun block and take part in all the activities, research and tasks if possible. Do not go with any agendas as the weather plays a big part in the research. - Rita Montebello

Be prepared for cramped conditions - it's a fairly small boat - and don't expect a relaxing holiday! Early starts (and possibly some night shifts) and being at sea all day can be very, very tiring. And take some warm clothes - even when it's beautifully hot in the harbour, it can be windy and chilly out at sea. - Louise Banbury, research trip in Liguria

Bring warm clothing, but in layers. It can get nice and hot, but it can also get chilly and wet. Waterproof trousers and jacket is an absolute must.

Be prepared for the beauty of the natural landscape and seascape. Be prepared for possible rough waters on the orca viewing expedition and also accept that a complete soaking is likely due to the small size of the craft. However, the soaking is fully acceptable once the orcas are located and the small craft allows for more personal viewing. - Robert Roberto, Vancouver Island

Be aware that this is not a BBC wildlife programme, so come with realistic expectations of what you might see. You might not actually see very much of the whales themselves unless they happen to breach right out of the water or come close to the boat. Most of the animal is below the surface. A camera/videocam with a good zoom or a pair of binoculars gives a much enhanced view, but take a plastic bag to protect from salt spray. - Alison Pemble, Azores
More Whale watching articles