Whale watching travel guide
There is something mysterious and almost mystical about whales. Thanks to their epic migrations, their phenomenally deep dives, their great age and the virtual impossibility of keeping them in captivity there are still many mysteries surrounding these great mammals of the sea. Yet still, due perhaps to their immense intelligence, their strong social bonds and their gentle nature despite their mammoth size, many people feel a strange connection to whales, and seeing them in the wild can be a virtually spiritual experience.

Imagine seeing something the size of a house, over a century old, singing, suckling and spinning beneath you in the middle of a sparkling sea.

Sadly, for many people, their whale holiday involves seeing orcas in "dolphinariums" - small swimming pools far from their natural habitat. Seeing these wise, wild creatures perform circus tricks for fish is, in our opinion, one of the cruellest forms of "entertainment", and gives no insight into their natural behaviour, their social interactions or their charming curiosity - the characteristics which make them so appealing to us in the first place. In our opinion the only place to see whales is in their own, natural home, whether that be the poles or the tropics. You may not always get as close, but you'll feel a much greater connection.
Is a whale watching holiday for you?
Go if...
...you're fascinated by wildlife, marine ecology, photography or sailing.
...you want to contribute to their conservation. Numerous research and monitoring trips are available, while others donate funds to local marine programmes.
...you're into being somewhere remote. Many whale watching trips will take you to far-flung islands and isolated bays (Greenland, Tonga, Nova Scotia…) so be prepared to get out of your comfort zone!
...you want to learn more about whales and their behaviour. Many whale watching trips are accompanied by marine biologists who will give talks and presentations, and guide you on the trips.
Don't go if...
...your operator uses rigid-hulled inflatable boats (RIBs), and you have back problems. These can cause serious back pain out on the open seas in rough weather, so speak to your operator to find out what type of boat is used. ...you are expecting SeaWorld-style acrobatics. These are wild animals, and they'll approach your boat if and when they wish. Sometimes they'll do backflips and introduce you to their calves, sometimes they're little bumps in the distance. This is the beauty of nature - you're not in control, the animals are. Don't swim with whales if you are not fit. You'll be expected to snorkel confidently and climb ladders back onto the boat. You want to concentrate on having the experience of a lifetime, not on your snorkelling equipment. ...you want to get as close as possible. Regulations state that boats must remain a minimum distance away from the whales - although fortunately the whales themselves aren't always aware of this.
Our top trip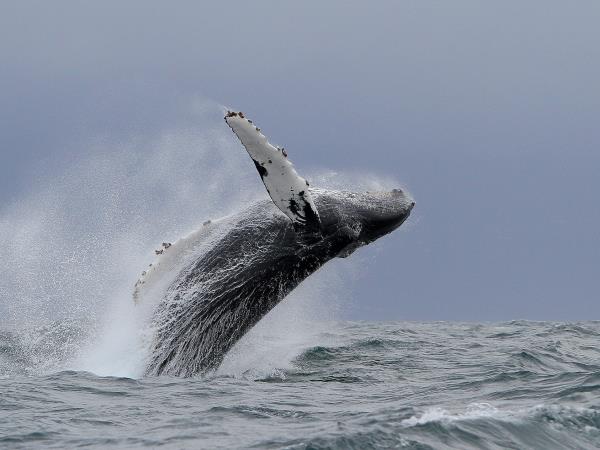 Classic whale watching trip in the Azores archipelago
From
£830
7 days
ex flights
Tailor made:
This trip can be tailor made to start on any day of the week from March to October
If you'd like to chat about Whale watching or need help finding a holiday to suit you we're very happy to help.

What does whale watching entail?
Whale watching holidays are as diverse as the locations that host them. From Alaska to Africa, Scotland to Sri Lanka, the species you will see and the conditions you will see them in vary greatly - so it's important to have an idea of the kind of holiday you want, and to share this with your tour operator.
Live aboard trips are much more intense; you'll be in close contact with 12 or 16 other passengers, with little flexibility in terms of schedules. However, this will completely immerse you in ocean life, with the chance to get far from land, so for the right kind of passenger this could be the marine adventure of a lifetime.
During research trips, you'll learn to identify whales, monitor their behaviour and enter data into a computer. You'll also be up early, and take turns to navigate, clean the ship and cook - so this is not a holiday for the workshy. However, you'll be contributing to vital research and are sure to learn a lot and make friends along the way.
Land-based tours involve daily boat trips - sometimes with a different focus for each excursion: different types of whales, marine life or birds. You may be able to anchor on remote islets, hike around the shore and get involved in local community life during the evenings. These are more relaxing and slower paced holidays - with the chance to combine marine and land-based wildlife watching.
More Whale watching articles