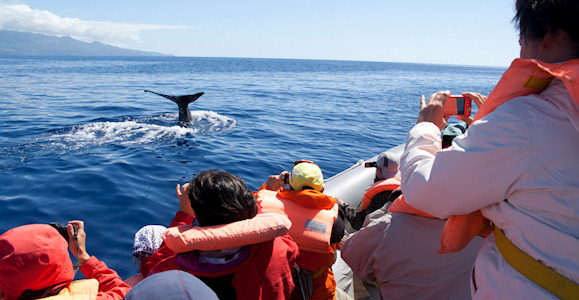 The
International Whaling Commission
(IWC) was originally formed to regulate commercial whaling, but since the global moratorium on whaling was put in place in 1986, the IWC's role has broadened to include the coordination of global efforts to research threats to cetaceans, including habitat degradation and entanglement in nets. They also research the impact of whale watching on whales, and have compiled in-depth information about best practices, and are a font of information on the subject, ensuring
guidelines
are available to operators and national regulators, who are ultimately responsible for the management of whale watching in their countries.
However, even though there are guidelines and codes of practice, there is very little policing or control. Blanket codes of conduct are ineffective. It is purely good, compassionate and ethical practice that makes a good responsible whale watching adventure the best thing in the world for animals and people alike.
Kate Wilson, IWC:
"One key bit of information that helps customers identify responsible, sustainable operators is whether they adhere to safe approach distances. Of course this is hard to judge when you're out on the water, but many national regulations include maximum approach distances and you might expect to see these referred to in promotional literature for responsible operators."