The quietest beaches usually are in the south. The northern beaches are less tidal however, they are really busy with lots of other tourists and travellers around.

– Izzy Greaves, Zanzibar expert at our tailor-made holiday specialists, Audley Travel
Swathes of talcum powder sand fringe the islands of the Zanzibar archipelago, lapped by the impossibly clear Indian Ocean, resplendent with coral reefs, tall coconut palms and a smattering of Swahili fishing villages. It's not surprising that beach holidays in Zanzibar have flourished, with tourism now one of the mainstays of Zanzibar's economy and the livelihoods of thousands dependent on the income tourists bring. You can enjoy the beaches in a host of different ways. Watch the sunset from the deck of a traditional Swahili dhow, snorkel in aquarium like conditions or simply soak up the blissful warm breeze with a book. Zanzibar's picture perfect beaches are so plentiful it can be hard to work out where to go – read on for a run-down of the best.
The northern beaches
Popular, lively Nungwi is Zanzibar's coastal capital, home to a plethora of beach resorts from the basic to the more boutique, dive shops and bars along its picture perfect stretch of sand. There's very little tidal variation here, so you are guaranteed a spot next to the ocean almost all day long. Nungwi itself is a bustling Swahili village whose sandy streets are home to fishermen, boat builders, small shops, cafes and souvenir stalls. Most of the tourist-oriented businesses are close to the beach, but cultural tours will take you deeper into the Swahili heart of the village and to the nearby traditional dhow boat building yard. Nearby Kendwa, on the northwest coast is equally lively – particularly in the evenings – although happily the real party-hard beach vibe found on some of the Thai islands, for example, hasn't reached here yet.
The northeast coast
Busy, but beautiful, and perhaps Zanzibar's crowning jewel, the northeast coast with its glorious stretches of powdery beach is fringed by a coral reef that keeps the coastal waters mirror-flat and ideal for swimming and snorkelling. The reefs around Mnemba Island – a designated marine conservation area and arguably the best dive sites in Zanzibar – are accessible from here, home to around 600 species of coral fish and endangered green turtles. Whalesharks are visitors in September to November, humpback whales from July to September and dolphins can also be spotted. In general, the northeast coast, while home to a plethora of resorts, is a little quieter than its nearby northern neighbour with a handful of small Swahili villages such as Matemwe to explore among its towering coconut palms.
The east coast
Idyllic, peaceful and dotted with upmarket accommodation, Zanzibar's east coast may be more tidal than its northern counterparts, and therefore swimming may not be possible at all times, but it offers plenty of quiet beaches and excellent watersports once the coral reef is covered at high tide. The east is home to some of the best beaches on the island, around the small fishing villages of Bwejuu or Paje, or the bay at Pongwe for example, with a selection of exclusive, luxurious lodges offering barefoot, beach bliss. Day trips to Jozani Forest are an easy option from the east coast beaches as is a meal at the fairytale Rock Restaurant, sat on a tiny, idyllic outcrop of rock surrounded by the Indian Ocean.

It is good to note that Zanzibar is very tidal so often it is not always possible to swim throughout the day.

– Izzy Greaves from our Zanzibar tailor-made specialists Audley Travel
The south coast
Only a few, exclusive accommodations dot Zanzibar's south where the white sand gives way to stretches of rocky coastline. The beaches may be fewer, smaller and further between but the snorkelling and diving is top notch – with options to jump in directly from the shore. This is Zanzibar at its most serene, and most secluded.
Pemba
Tourism is still in its infancy in Pemba, the second largest island in the Zanzibar archipelago, but it is here that responsible tourism could have a huge impact. To put this in context, Tanzania is one of the poorest countries in the world; people living on Unguja (the main island) are poorer than the mainland, and those in Pemba poorer than Unguja. Poverty levels here, unlike the rest of Zanzibar, are increasing, exacerbated by over-exploitation of marine resources. There is little industry, with most people reliant on subsistence fishing and agriculture. Just a handful of small resorts dot the coastline, but those that do can offer an alternative, sustainable source of income to local people. If you want true secluded beach bliss, where your stay can really make an impact on community livelihoods, Pemba delivers in spades.
Our top Zanzibar Holiday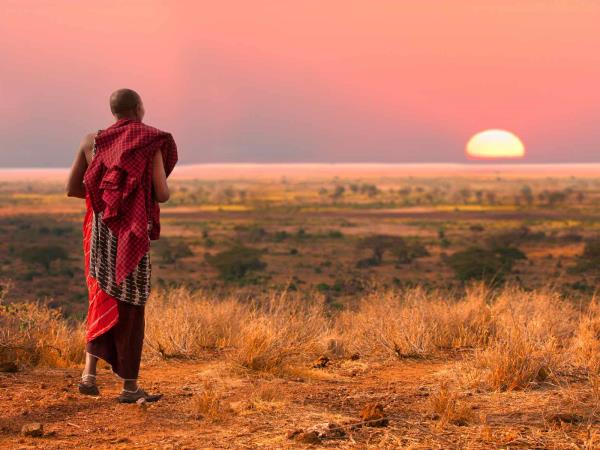 Safari in the Masai Mara & paradise beaches on Zanzibar
From
£5450
13 days
ex flights
Tailor made:
This trip can be tailor made throughout the year to suit your requirements
If you'd like to chat about Zanzibar or need help finding a holiday to suit you we're very happy to help.

Things to do on Zanzibar's beaches
Take a dhow trip. The exotic outline of a traditional Swahili dhow, sailing on the still Indian Ocean in the warm glow of the setting sun is one of Zanzibar's most iconic and romantic sights. Dhow trips are a peaceful way to explore the coastline, sailing to remote sandbanks and admiring the sunset with a sundowner on deck. Dive in. Zanzibar offers some of the world's best scuba diving, particularly on the reefs around Mnemba Island and Pemba Island. If diving isn't for you then the snorkelling is equally fantastic – either directly from the beach or on day-long boat trips out to more remote sections of reef. It goes without saying that the crystal clear, bath-like waters are perfect for a relaxing dip. Go gourmet. Picnic on a secluded sandbank, tuck into an octopus curry at a beachside stall, pick up tasty exotic fruits like coconuts, papaya, passionfruit, jack fruit, star fruit and even durian (when in season) in village street markets, or sit back and enjoy a simple meal of freshly caught, just-off-the-dhow grilled fish or pilau rice, washed down with freshly squeezed sugarcane juice.
Embrace Swahili time. Pole pole, slowly, slowly, take it easy – Zanzibaris have a laid-back attitude to life. And punctuality. You might also come across actual Swahili time, which measures the day from sunrise to sunset and is set six hours behind the international clock. So 7am, for example becomes, saa moja asubuhi (one in the morning). Confusing? It can be – so double check when arranging to meet anyone local. Test out your Swahili. You'll hear the Swahili greeting jambo a lot, but this is the abbreviated tourist version of the word. To sound truly Zanzibari, greet people with hujambo, to which the stock response is sijambo, which means I'm fine. You could also ask habari gani? which can be translated, literally, as what is the news? The reply is nzuri sana (very good). While Asante sana (thank you very much) is well used, it's simply not seen as impolite to not say please, so you'll hardly ever hear the Swahili word tafadhali.
Most Zanzibar holidays will base you at the beach, but give you the chance to visit crumbling, intoxicating Stone Town or even spend a couple of nights there, to soak up its atmosphere. Both bespoke itineraries and small group tours will arrange comfortable, safe private transport for you between the beach and Stone Town, or you could opt to use the ubiquitous dalla-dallas, shared minibus taxis, which criss-cross the island. From Stone Town, the northern beaches of Nungwi and Kendwa are around one hour by taxi, while the easterly beaches around Bwejuu and Puje take around 45 minutes.

While even the smallest of Zanzibar's beachside fishing villages will usually have a couple of small (often very rudimentary) local shops, a basic café/restaurant or two, and a few souvenir stalls, some villages have more amenities than others. The only ATMs available on Zanzibar are in Stone Town and while hotels will take credit cards and US dollars, many local shops will not, so plan your cash accordingly.
Being responsible on Zanzibar's beaches
Rapid tourism development, despite its promise of poverty alleviation, has brought its own problems to Zanzibar. Hotel development has been little regulated, leaving local communities without access to stretches of beach they've previously relied on for fishing and other income, and with little of the economic benefit from new tourism ventures being directed back to them. The island's marine parks, packed with coral, are starting to show signs of stress and, in some communities, local children are being kept home from school in order to beg for money on the beaches.

Beach tourism has the potential to be a powerful and sustainable source of income for Zanzibaris, so choose your beach and resort carefully to ensure your wiggling toes in the soft sand, your sunset dhow cruise and your snorkelling adventures will be directly supporting local people. There are already some excellent examples of responsible tourism here; resorts which don't just employ local people but empower them to take up management positions, use local entrepreneurs to provide excursions and experiences for guests; which carefully protect the fragile environment they rely on and, crucially, educate guests and Zanzibaris alike about the value of preserving the islands' unique ecosystems.
More about Zanzibar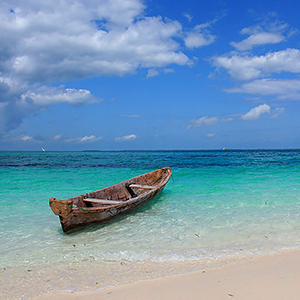 It's hot all year round on Zanzibar, but avoid Tanzania's torrential March to early May rainy season if you want to make the most of its beautiful beaches and spectacular diving.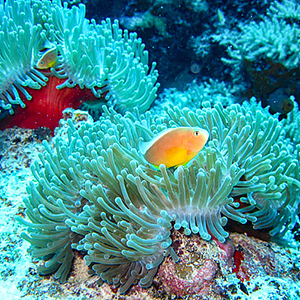 Its powdery perfect swathes of white sand, lapped by an impossibly turquoise ocean are famous, but Zanzibar has more to offer than just a beach break.