It's the epitome of exoticism – a name that conjures up magic, mystery and Indian Ocean perfection. The islands of the Zanzibar archipelago may be known for their powder-white coral sands, impossibly clear sea and spectacular diving and snorkelling, but they are so much more than a beach destination, with a unique spice trade heritage providing a rich history and cultural life.

This hot, heady island is African, Omani-Arabian and Indian all at once; a unique Swahili cultural soup seasoned by the spice trade, but haunted by a prolific slaving past.

Swahili fishing dhows ply the perfect coastline, the intricately carved doorways of UNESCO-listed Stone Town hide crumbling opulent courtyards – relics of the town's spice trading heyday – while tiny, family run plantations still grow fragrant vanilla, pepper, cinnamon, nutmeg and cloves. And don't miss a walk through tangled Jozani Forest, home to endangered, endemic red colobus monkeys.
Zanzibar map & highlights
Only an hour's light aircraft flight from Tanzania's northern safari circuit or southern Selous National Park, or a two-hour ferry ride from Dar Es Salaam, the Zanzibar archipelago, a semi-autonomous region of Tanzania, offers a convenient post-safari escape, a gloriously perfect antidote to bumpy, dusty game drives. Most tourists head to the main island, Unguja, home of UNESCO-listed Stone Town and a swathe of breathtaking beaches, although other islands, includng Chumbe, Mnemba, Pemba and Mafia, all offer more secluded options. A Zanzibar add-on is a popular option on tailor-made tours, and while your total beach time is up to you, three days to a week in Zanzibar is the usual post-safari prescription.
1. Coral reefs
You need to look underwater for some of Zanzibar's most beautiful sights – lush coral gardens teeming with colourful fish, turtles and sharks. Visibility is exceptional, and the corals are in relatively good condition. However, these fragile reefs are extremely vulnerable and are starting to show signs of stress. Take care not to touch or damage the corals while snorkelling or diving and wear sea-safe sunscreen.
2. Jozani Forest
Wander the boardwalks in Jozani's tangled forest and you might come across endangered red colobus monkeys swinging between the treetops. This shady, steamy forest in the south of Zanzibar's main island is an easy day trip from Stone Town, and not only offers rare endemic primates but also nocturnal bush babies, duiker, tree hyrax, over 50 species of butterfly and vibrant birdlife.
3. Northeast coast
Fringed by a coral reef that keeps the waters here placid and calm, Zanzibar's pristine northeast coast is blessed with very little tidal variation and a swathe of powdery white sand backed by palm trees and boutique beach resorts. This is barefoot luxury at its finest, but don't miss a wander into one of the small Swahili fishing villages that dot the coastline – tourism is a lifeline for tiny businesses here.
4. Pemba
Technically Zanzibar refers to the whole Zanzibar Archipelago and Pemba is the northerly sister to the main island Unguja. It's more lush, harder to reach, less developed and little visited. Its beaches are untouched and the diving is spectacular. Unlike Unguja, Pemba is still more reliant on agriculture than tourism, English isn't widely spoken and its small, mainly Muslim Swahili communities are less exposed to the outside world and noticeably more conservative.
5. Spice plantations
Once the source of immense wealth to Arab traders, Zanzibar's exports of cloves, vanilla, nutmeg, cinnamon, turmeric, ginger and black pepper to Europe and beyond may be in serious decline, but family run tours of the small, often subsistence spice plantations inland from Stone Town still provide an eye-opening, aromatic insight into this cornerstone of Zanzibari culture.
6. Stone Town
The crumbling stone walls of UNESCO-listed Stone Town glow amber in the evening sun. Wander its labyrinth of alleyways, where intricately-carved doors hide the once opulent courtyards of wealthy Omani-Arab traders, and you'll discover the heart of East Africa's spice and slave trades. Don't miss a (somewhat harrowing) visit to the former slave market under Christ Church Cathedral, the old dhow port, the Sultan's Palace and the House of Wonders.
Our top Zanzibar Holiday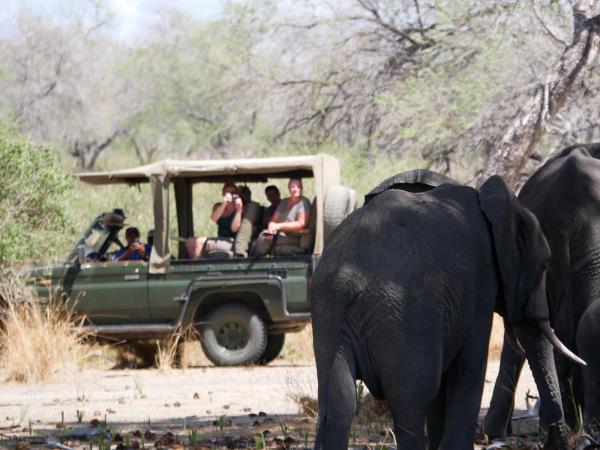 Off-the-beaten track safari experiences & paradise beaches
From
£4250
10 days
ex flights
Tailor made:
This trip can be tailor made throughout the year to suit your requirements
If you'd like to chat about Zanzibar or need help finding a holiday to suit you we're very happy to help.

More about Zanzibar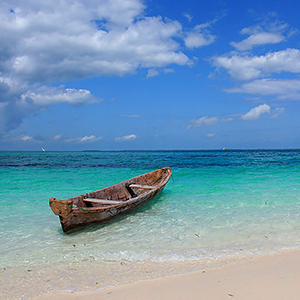 It's hot all year round on Zanzibar, but avoid Tanzania's torrential March to early May rainy season if you want to make the most of its beautiful beaches and spectacular diving.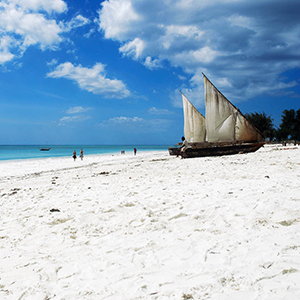 While all offering powdery white sand and turquoise waters, not all of Zanzibar's beaches were created equal.