Members logo
For websites
You've done the hard work in meeting the criteria to join Responsible Travel. Separate yourselves from tourism businesses who do not do as much (or anything) to minimise environmental impacts or contribute to the local community by downloading your free member's logo, available to all current Responsible Travel members.
How to get your membership badge
Step 1.
Log in to our
console
Step 2.
Click on the 'Members logo' tab
Step 3.
Copy the code provided and paste it into the html code of your website.
If you'd like to place your badge more than once on a page, please refresh the members logo tab page to get another version of the code.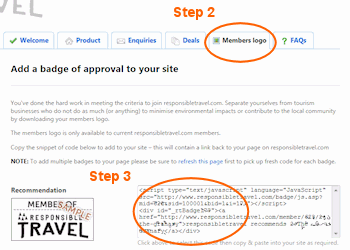 For print
For higher quality logos for newspapers, magazines, brochures, etc please contact
press@responsibletravel.com