Guide to small ship cruising in Alaska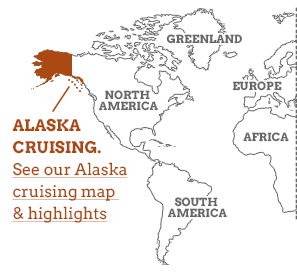 Alaska is vast. It is the USA's largest state, it has humungous national parks, the largest national forest at Tongass, North America's deepest fjords in, the world's largest population of brown bears, and some of the country's largest islands, such as Admiralty and Prince of Wales. Or Prince of Whales as it should be called, as the Alexander Archipelago to which it belongs is home to orcas, humpbacks, and so many other greats.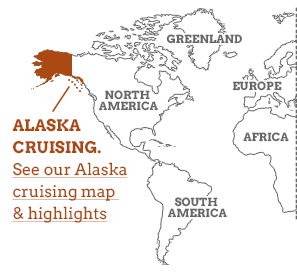 Alaska's Alexander archipelago has long been home to the indigenous Tlingit. Their language is Lingít, meaning 'People of the Tides'. Now that's the sort of person you want as skipper here. Which, thankfully, we did.

The best news is that you don't need vast vessels to explore it – far from it. There are superb small ship cruise options, with ships varying in size from 70-100 passengers, and where activities such as sea kayaking, stand up paddle boarding and hiking are all about being on the water or the land, rather than on the boat. Unless you are just struck dumb watching whales breach in front of you while you sip your morning coffee on deck, of course.
What does an Alaska cruise entail?
How big is a "small" cruise ship?
How big is a "small" cruise ship?
Most of our responsible cruise ships are expedition boats designed to cope with Alaskan conditions, so they are not tiny, but they are certainly not the behemoths that sleep thousands. Nature is the ruler of the waves on these trips, and our expedition boats sleep between 70-100 guests. If you are going into the wilderness areas of southeast Alaska on a specific wildlife watching holiday, you may find yourself on board a 10-passenger, converted fishing vessel, but with cruising classiness of course.
What are the cabins like?
What are the cabins like?
They may be expedition ships by nature, but they have all been refurbished to cater for happy travellers. The cabins on traditional small ship cruises are clean and comfortable with en suite bathrooms, and most ships offer single, double or triple cabins. On a sailing trip that carries fewer passengers, the norm is about eight double cabins, with a mix of double bunks or twins and shared bathrooms. Solo travellers may need to bunk up on these ones, so ask your tour operator for details.
What about other facilities?
What about other facilities?
The facilities on board Alaskan small ship cruises are all about connecting with nature and the outdoors, rather than counting swimming pools or cinemas. Most have libraries with nature or local history books; underwater cameras which transmit images to the cosy lounge; kayaks, stand up paddle boards, inflatable skiffs, hiking poles and yoga mats, even snorkelling equipment for those who dare. If a hot tub or sauna on deck lit by shooting stars rather than a spa down on level -3 speaks your language, then you are definitely more of a small ship cruise type of person.
Can I travel solo?
If you are travelling solo and there are no single cabins, you usually have two choices: pay around a 50 percent supplement for your own double cabin, or choose to share a twin cabin with someone of the same gender, at no extra cost. If the cruise is not fully booked, you may get lucky and end up with your own double cabin without paying a supplement, but there are no guarantees. Check with your tour operator to see if it is possible to reserve your specific cabin in advance.
Can I travel with my children?
Families are always welcome on board. For a supplement, the ship may be able to put an extra single bed into a cabin to sleep three people. Ask your tour operator for details.
Our Alaska cruising Holidays
If you'd like to chat about Alaska cruising or need help finding a holiday to suit you we're very happy to help.


My father has a summer solstice birthday and he'd always wanted to celebrate it seeing whales. And we did, for his 70th. I think we saw almost as many whales as he had years.

The skipper always knows the best time to go on a small ship cruise in Alaska, and most head off into the thawing waters around May, docking up for winter around late September. Temperatures range between 12-15°C but reach 20°C in Jun. Peak season for prices is Jul-Aug. Wildlife wise, Jun-Jul are great for humpback whales and May-Jun for orcas. Bears are busy between Jul-early Sep at the mouths of rivers where salmon are taking a chance with destiny in search of spawning grounds. On land, mid Jun-end Jul is pretty bad for mossies, so be prepared.
The best time to go on a small cruise ship in Alaska is between May and September. This is when most set sail, and waters are navigable. The giant cruiser bruisers are at their most prolific in July and August, so be prepared for crowds in the Alaskan capital, Juneau. May is wonderful in Alaska because the wildflowers burst into bloom. Rain does occur all year round; the famous temperate rainforests are a feature of that. Ketchikan has the highest rainfall in the country, although the driest months are between May and September. Alaska does get mosquitoes but on the open water they won't be a problem. The worst mossie time is mid June until the end of July, so protect yourself if you are on land at dusk or dawn. A night frost kicks in by August in Alaska, so bring a warm fleece for hanging out on deck. Although Alaska's main summer solstice celebrations in June take place in Anchorage, which isn't on our small ship cruise itineraries, this splendid longest day of the year will be celebrated on board, no doubt. A ship is a spectacular place to experience it, too. Although it feels like another world, Alaska is of course a US state so the 4th July celebrations are bigly. To see bears banqueting, July and August is when migratory salmon start to arrive. This is like Christmas for grizzlies. The best time to see humpback whales in southeast Alaska is July and August. You may be lucky enough to spot moose during late August or September. These autumn months are also when the leaves start to turn. The best time to see the Northern Lights on a small ship cruise in Alaska is in September, but also in the early morning hours between midnight and about 4am.
How are they responsible?

The owners don't just support the local community, they
are
the local community. The vessel belongs to members of the Kaagwaantaan Clans, one of the Tlingit clans of southeast Alaska.

How are they responsible?
Many of the ships on these routes are operated by companies that are members of the 'Passenger Vessel Association Green WATERS Program', or PVA. This scheme recognises commitment to a green and clean marine environment, by reducing fuel consumption, managing waste responsibly, conserving drinking water, using marine friendly cleaning products when possible, and so on. Many trips tie in with local community conservation efforts, by fundraising or collecting donations, and of course by doing plenty of land excursions in order to spread the tourism income. Responsible cruise operators also purchase food supplies locally, with many ships' chefs being members of a 'Chefs Collaborative' to encourage sustainable food supply and respect seasonality. Organisers of these small ship cruises partner with local operators for land excursions such as guided hikes, wildlife safaris and cultural visits to indigenous communities.
Wildlife
Most small ship cruises in Alaska will have on board naturalists, zoologists or marine conservation experts, as well as libraries to keep you well informed about all the wildlife around you. From the Sitka blacktailed deer of the Tongass National Forest to the bald eagles soaring above its temperate rainforest canopy; from the moose and grizzlies on the shores of Misty Fjords, and the orcas and humpbacks of Stephens Passage to the black bears of Prince of Wales Island and many more, these trips are like Attenborough on all cylinders.
More about Alaska cruising