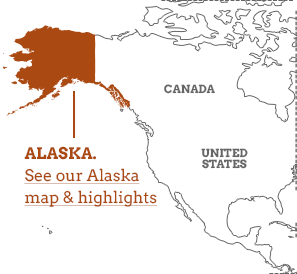 Talk to people who have been on an Alaska holiday and their face turns into one large grin. Then they take a large breath. And then they grin again. Because people have an emotional reaction to Alaska that they can't put into words. Most Alaska travel guides reel off all the usual clichés: it's enormous and exhilarating; an expedition into one of the earth's last wildernesses. And they are right, of course. For example, Wrangell-St. Elias National Park is the largest in the USA, at over 50,000km². The highest peak in the USA, Mount Denali, is located in Denali National Park.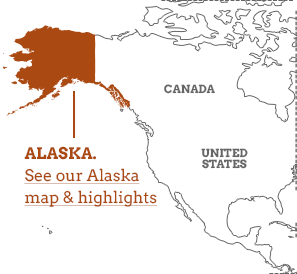 To the lover of wilderness, Alaska is one of the most wonderful countries in the world.

So with giant glaciers and myriad mountains, Alaska is a place to embrace the extreme. Go ice climbing, kayak through fjords, hike the frozen fantasias of the tumultuous taiga and sub-arctic tundra with its resident wildlife wonders such as whales, grizzly bears and wolves. Alaska hovers somewhere between real and surreal, and maybe that's why people just can't find the words. But their grin says it all.
Alaska is…
VAST. Biggest state, biggest national parks and biggest mountain. And they have polar bears. The biggest carnivores on earth.
Alaska isn't…
great if you get motion sickness. Long transits and boat journeys are all part of the Alaskan adventure.
What we rate & what we don't
Small ship cruises
Ditch the massive ocean liners and try small ship cruising for size. These boats hold 20 to 100 people as a general rule; big enough to hold their ground against the Alaskan weather, but small enough not to feel like a floating city. And the only razzmatazz shows you'll see are the natural kind – such as breaching whales unperturbed by your presence.
Sleeping under canvas
Pitching up on the edge of Denali National Park or beside rushing Kennecott River is all well and good. But really, most campers will tell you that the best bit about camping is putting the world to rights or listening to your guide's (mis)adventures over a campfire. Waking up to silence and glacier views isn't too shabby, either.
Float planes
Once the province of bush pilots and postmen, float planes are a lifeline for the many off-road towns in the far flung 49th state. Some places are still not connected by road, so it's that or hiking for days. The perks of the float plane? You'll be flying low enough to see right into the craters of the volcanoes.
Alaska Native culture
Haida, Tlingit and Tsimshian communities stick to the southeast, where the milder climate keeps hand carved kayaks and totem poles in good nick. The interior is the stomping ground of the Athabaskans, who are famous for tracking moose and caribou in impossibly harsh conditions. Meanwhile, you'll see coastal communities (Inupiat in the north and Yupik in the southwest) set up reed fishing wheels along the rivers to catch salmon.
Bear watching
The bear is practically the Alaskan state symbol. Here, you're in the realm of over 100,000 black bears and 30,000 Alaskan brown bears (including grizzlies). Most tours don't venture far enough north for polar bears, but it's exciting just to know they're plodding over the horizon somewhere. Our advice: go with an expert wildlife guide and camera in hand.
Photography tours
Sharpen your camera skills in the hands of a wildlife wizard and professional photographer with a well honed instinct of the rituals of Alaskan fauna. A photography holiday is the ultimate in non-invasive wildlife watching. Your guide will plant you in bear territory and let the animals do their thing in the wild landscape around.
Northern Lights
The aurora borealis is generally visible in the Alaska skies between September and April. You'll want to avoid the full moon (predictable), light pollution (easy) and cloudy skies (more challenging). Best bet is to travel with a guide who can drive you to places where the sky turns into a bowl of stars – and if you're lucky, dancing lights.
Denali National Park
Volcanoes, boreal forest, snowy mountains, alpine tundra – Denali is very much rated. With around 2.5 million hectares for your perusal and only one road, you'll need a good guide to point out secretive foraging bears and fleeting caribou. They'll also fill you in on the park's millennia-old Alaska Native history and gold rush days. Camp here, and it's true wilderness camping – tundra views included.
Giant cruise ships
Taking ocean liners into this territory is cruising for a bruising. As well as the environmental footprint, the lack of tourist money being made available to sustain local communities and also their downright blot on the landscape, the hotels on ice do not make room for community led businesses to become involved in tourism.
Whale meat
The killing of whales for meat is still legal in Alaska, carried out by indigenous Alaskan communities, in keeping with cultural traditions. Although we accept the cultural significance and need for subsistence hunting, we do not support the eating of whale meat by tourists, which just commodifies the killing of these magnificent mammals. Go whale watching instead and show that whales are worth more alive than dead.
Sitting on your backside
Get fit before you go and get the most out of this stupendous state. Hike the mountains, kayak the fjords or cycle along the curvaceous coves of Kachemak Bay. Alaska is far out there, so just get out there.
Downhill skiing
We're not the biggest fans of alpine ski resorts. Low impact cross country skiing and snowshoeing – yes. Snow cannons, habitat destruction and huge water waste – no, thank you. Alaska only has a handful of ski resorts, but there are many more authentic and beneficial ways to make the most of these white winter landscapes. Find out
why we say no to fake snow
.
Food, shopping & people in Alaska
Eating & drinking in Alaska
Alaskan salmon is the pinkest, tastiest salmon you'll ever eat. It's also something of a superfood, packed with vitamins B6 and B12, as well as a load of life-lengthening omega-3 fatty acids.

Berries aren't just for grizzlies. Cafés also load their menus with blueberry pies, raspberry crumbles, crowberry muffins and sour redcurrant jams.

Craft beer is as small batch as it gets in Alaska. Look out for Arkose Brewery, where a husband and wife team make beer inspired by jazz songs.

Alaska comes from the Aleut word alyeska, roughly translating as 'the great land'.

If you'd like to chat about Alaska, USA or need help finding a holiday to suit you we're very happy to help.

People & language
Although Alaska Natives make up 16 percent of the state population, only around five percent speak aboriginal languages – resulting in a 'language emergency' being announced in 2018. Sounds serious? It certainly is: a loss of language is recognised as one of the first signs of a loss of culture. You'll get an idea of the complexity of the issue when you realise that there are 20 aboriginal language groups in Alaska and even more dialects, so do your bit and learn a few versions of hello.

"Aang" means "hello" and "yes" to the Aleut people in the south.

If you're meeting the central Yup'ik villagers, greet them with, "Cama'i!" It's the same in Inuit-Yupik-Unangan and Alutiiq languages, doubling as "hello" and "welcome".

Welcome a Tlingit guide with, "Yak'éi haat yigoodée." A greeting that literally translates as, "It's good that you have come here."
Gifts & shopping
Swing by the Alaska Native Heritage Centre in Anchorage for hand-whittled birch wood spoons and bowls.

Qiviut cardis and jumpers are about as sustainable a souvenir as you can get, woven with wool shed from the soft undercoat of the mammoth-like muskox by women from often isolated communities.

Birch syrup is Alaska's answer to maple syrup.

Take home Alaskan salmon. It's traditionally cured or candied for the winter.

The capital of Alaska isn't Anchorage, but the one-time gold rush town of Juneau. Population: a miniscule 32,000. Route in: plane and boat only.

How much does it cost?
Pint of Alaskan amber ale: £4

Sea kayak rental: from £50/day

Reindeer hot dog: £3.50

Entrance to the Alaska Native Heritage Centre, Anchorage: £13 to £19.50
A brief history of Alaska
Traces of herdspeople living in Alaska date back to 10,000 BCE, before the Bering Sea swept over the land between Siberia and Alaska. These days, the Athabaskans, Aleuts, Inuit, Yupik, Tlingit and Haida are the only aboriginal groups that remain here. Alaska's written history didn't begin until the 18th century, however, when Russia had its eye on the vast wilderness just over the sea. Aboriginal reports of land to the east inspired Tsar Peter the Great to send out a couple of expeditions in 1700. The second voyage was successful, with sailors sighting Mount Elias and kicking off a fur trade that would go on to demolish the sea otter population. Many Alaska Natives from the Aleutian Islands were killed by the newcomers, while others worked with the fur traders.
Read more