Natalie Morawietz, co-founder of our Alaska specialist supplier Infinite Adventures, tells us her tips:
Into the wild
"Two things capture my heart in Alaska. The trails in Denali National Park, where you are completely off road. You can climb up mountains so big you are made to feel totally small. And secondly, wilderness camps, with no phone reception. There are no hiking trails, no other people, and you really get the sense that you are just out there in the wilds."
Walk & talk
"Go and talk to local people. They are so interesting, still living off subsistence hunting and storing it for the winters, and they are fascinating to talk to and learn from. And so my tip is to go into a local bakery or shop, and just talk to people. Tell them what you are interested in seeing locally and they will be more than willing to help you."
Itinerary tips
Iain Shiels, from our leading Alaska holidays supplier TrekAmerica, fell for the south:
"Never have I seen as much wildlife on one trip, never have I hiked trails as magnificent. The Harding Icefields trail in Seward is like something from another planet."
Zoom in
Tom Brown from our friends at Natural World Safaris offers his bear photography tips:
"As bear specialists, we find that people have a thing about all bears. If you want good photographs, then you need an SLR camera because you will often be taking photographs from a distance. I would say use lenses that are at least 300mm for the best photographs. Light-wise, you have 24 hours' daylight during the summer season, which is great for photographers."
Lara Paxton at our supplier The Small Ship Cruise Collection gives some insight into Alaska small ship cruises:
Casually does it
"There's no ball gown and no black tie. It's all very relaxed and personal. You can sit down with the captain, go up on the bridge and ask them what you are up to for the day. On board you have expedition crew who are amazing, and all have different areas of expertise."
Flexible itineraries
"The itineraries are very flexible, as they are all weather and wildlife dependent. The different seasons offer something new, so a lot of people will do the same trip in the Inside Passage and it will be completely different in May and September. I have known people in the past who have done the same trip two or three times because they love the boat, and it has never been the same."
Be an onion
"You need to dress like an onion. It is all about layers. People always think of Alaska as being really freezing cold, but it isn't that bad when you go there. You can go from doing walks on shore, when you can get really hot, to then getting back on the Zodiacs where it can get really windy and you get very cold again."
Smooth sailing
"Don't worry about sea sickness too much. Often the small ships stay closer to the shoreline, so they don't get as much of the bad weather. And if there is bad weather, they just dip into a bay."
Our top trip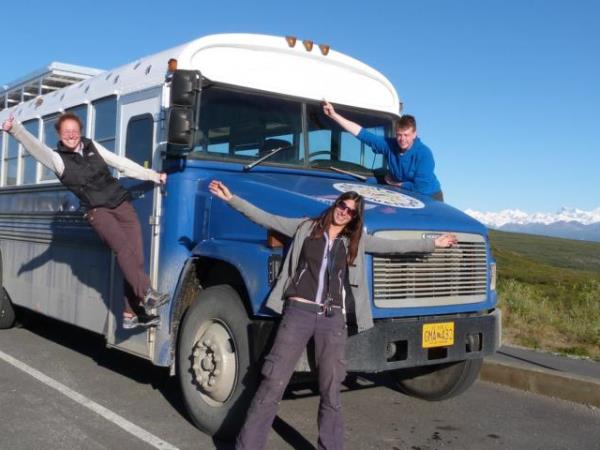 Active small group adventures in a retrofitted school bus
From
US $4980
20 days
ex flights
Small group travel:
2024: 8 Jun, 29 Jun, 20 Jul, 10 Aug
If you'd like to chat about Alaska, USA or need help finding a holiday to suit you we're very happy to help.

Health & safety in Alaska
HEALTH
Dial 911 in an emergency. Medical care is expensive in the USA, so travel insurance is a must too.
There are occasional outbreaks of mosquito-borne illnesses, so wear strong insect repellent in the summer. It also helps bat away black flies that breed in lakes and stagnant water in June and July.
Alaska holidays are outdoorsy holidays, so make sure you're up on your tetanus jab.
Tick bites can carry a double whammy of West Nile virus and Lyme disease, so avoid them like the plague. It's almost impossible to detour the long grass and forests they hang out in, so just wear loose clothing with long sleeves, and give up any sense of staying cool and tuck your socks into your trousers. Oh, and pack fine tweezers for prompt plucking.
It's likely that you'll be venturing into remote wilderness, so keep any medication you need on your person, not at the lodge.
If you're exploring wet tundra, glaciers or snowfields, avoid wearing cotton. Think like a winter skier and don quick-drying synthetic materials or wool.
SAFETY
Stay alert when hiking for both wildlife and weather. You'll probably be with a guide who'll brief you on all the dos and don'ts of hiking in Alaska, but don't just leave it up to them. Make lots of noise when walking to avoid surprising a bear. And when stopping for a breather, keep an eye out in all directions. Wildland fires and landslides might mean you have to tweak your hike; a good guide will keep an eye on the ever-changing national park advisories. Winter storms equal hazardous driving conditions. If travelling in winter, be prepared for delays, power cuts and icy roads. You should plan for bad weather even in midsummer, when snow flurries are still likely. Pack a rain jacket, waterproof trousers, hat and gloves. Trekking poles and ankle-high boots can be handy hiking tools on the rough terrain. Check whether poles are provided by your tour operator before trying to jam them in your suitcase. Alaska sprawls out across a very active fault line, so minor earthquakes are frequent, though very occasionally fatal. Just remember the old Alaskan adage of drop, cover and hold. If you're in bed, stay there. If you're outside, then stay there. Don't run outside or brace yourself in a doorway.
Alaska tips from our holiday reviews
At Responsible Travel, we think the best people to advise our travellers are often...other travellers. They always return from our tours with packing tips, weather reports, ideas about what to do – and opinions about what not to.

We have selected some of the most useful Alaska travel tips that our guests have provided over the years to help you make the very most of your holiday – and the space inside your suitcase.

Go! Beautiful landscape, glaciers, range of outdoor activities, whales, grizzly bears and salmon (latter to eat) galore – way more than make up for long drives and changeable weather.

"Be prepared for the infamous pit toilets and days without access to showers and running water. But you couldn't be in better hands – your guide will make it fun and enjoyable. Alaskan rain will certainly improve your speed at putting up a tent… Accept that you are going to be wearing the same clothes for a few days and pack appropriately. Use a soft bag/duffel to pack. This is not the place for roll along suitcases!" – Terry Banham on a Denali National Park holiday

"Arrive a couple of days early and acclimatise after flights into Anchorage before joining the tour group. Discover Uncle Joe's Pizzas in Anchorage! Get bikes and cycle along the coast towards the airport to see moose. Buy a foam pillow for $10 to use! Take DEET for mosquitos, although these were not a big issue for us. Finally, don't underestimate how long it will take you to get over jet lag after returning, or indeed the way in which the wilderness experience will change your outlook on everything." – Howard Robinson on an Alaska Camping Tour

"First of all, book it!! You won't regret it. Pack layers but don't overpack as you will get a chance to do some laundry. Bring books and music for the van journeys and keep a journal so that you won't forget all the amazing places you'll visit." – Maria Sarsa on an Alaska Camping Tour

"Be sure to get clear information about the optional activities, when they will be available and how much they will cost." – Jane Mahoney on an Alaska Camping Tour

Be prepared for all weathers. Things change quickly in Alaska, so you need the right clothing and the right attitude to get the most from the experience.

More Alaska, USA articles